In the latest in this series on the greatest matches he ever witnessed, RTÉ GAA commentator Darragh Maloney recalls the 1996 Leinster SHC final between Wexford and Offaly.
***
Wexford hurling great Tom Dempsey says it's the game "that changed everything" and pushed them to an All-Ireland title and another Leinster crown in 1997.
The game was the 1996 Leinster final against reigning champions Offaly, who were favourites to win three-in-a-row. They had narrowly lost to Clare in the previous year's All-Ireland final and had beaten Wexford well in the last two years.
In fact, Offaly had been getting the better of Wexford in the province since 1979, leading to their breakthrough All-Ireland in '81.
That mid-90s period was an amazing time for hurling, with the emergence of other forces in the game. Offaly followed up their two All-Irelands with a win in 1994, while Limerick were right at their heels and so unlucky not to end their long barren spell.
Clare ended their wait of over 80 years for Liam in '95 but Wexford were one of the superpowers who had become the bridesmaids and there wasn't much evidence that they would become the bride as the summer of 1996 came around.
Offaly had become their bogey side and Tom Dempsey told me recently they were their "nemesis". Wexford hadn't had much luck in this decade in big games and had developed a habit of getting into winning positions and then fading.
They had a four-point cushion on Kilkenny in the 1993 Leinster decider but couldn't close it out.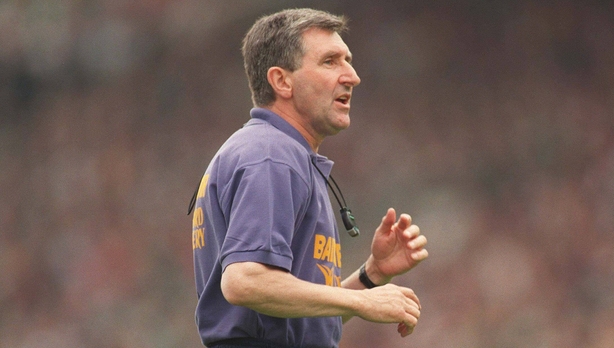 The Wexford County Board made a very shrewd appointment in 1995 with Liam Griffin (above) taking over the team. It didn't bring major silverware in his first year but the following summer was different.
Griffin was ahead of his time in so many ways. He used a sports psychologist with the group when most people had never even heard of them, and had developed multiple ways to motivate his players.
On the morning of the Leinster final, Griffin stopped the team bus, bound for Dublin, on the Wexford-Wicklow border. He took the panel off the coach and gave them a rousing five-minute speech, which included references to the Wexford Rebellion of 1798 and the Wexford blood that ran through their veins.
Ahead of the game, a journalist had questioned the commitment of the Wexford players after so many near misses and this was Griffin's way of burying that. He told the players that they would not be coming back down that same road without the Bob O'Keeffe Cup.
The players didn't know why they were being taken off the bus and it's said that some Wexford fans, who were driving by, thought they had broken down but the speech certainly did the trick. 
Dempsey says that one Wexford player asked him afterwards, "how will we get home if we lose?" and somebody said, "we can come back down the Naas Road!"
There wasn't a great deal of pressure on Wexford in the lead-up to the Leinster Championship that year. Offaly were in rude shape with John Troy, the Dooleys and the Pilkingtons in flying form.
The likes of Tom Dempsey, Martin Storey and George O'Connor had hurled for Wexford for years without winning anything of significance. They hadn't won Leinster in 19 years but had taken the scalp of Kilkenny on their way to the final. But Kilkenny weren't the problem at that time; it was Offaly.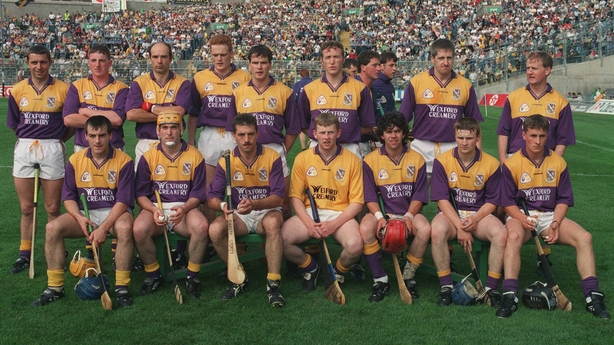 I watched the game from the Canal End that day with my Dad and we were standing just behind weather forecaster Gerald Fleming, who is from Wexford. There was quite a buzz around him as other supporters noticed "the guy from the telly".
It was a classic game of the time and was what you describe as real "end to end hurling".
Offaly were the favourites and made the better start with a 1-05 to 0-04 points lead after 18 minutes when Wexford were awarded a penalty. Their goalkeeper Damien Fitzhenry came up to score it and then captain Martin Storey quickly equalised.
Wexford were narrowly in front at the break and then went three points up. What looked like the crucial score was a goal that Tom Dempsey says he "headed in" after an Adrian Fenlon line-ball was flicked onto the upright by Gary Laffan and Dempsey was the quickest to react.
It was a big move by Wexford but in the next attack, Michael Duignan scored an Offaly goal which brought them back into it. Strangely, Griffin had spoken to his players ahead of the game about that very scenario, where his team would score a goal and then Offaly would get one of their own.
It was another example of how he used psychology when little was known about it at that time in a sporting context. There would be frequent one-on-one psychology sessions with the players who clearly embraced the concept and were asked to visualise certain situations and asked how they would deal with them.
Wexford were three points clear with five minutes remaining and the thoughts of their previous failures would certainly have been in their minds. Those defeats had been at the centre of the newspaper article questioning their performances in the years before.
But then Dempsey got the ball in front of the Cusack Stand and slotted it over for what Tom describes as "the best point I have ever scored". That gave Wexford a four-point lead and unlike other times, there was to be no Wexford collapse.
There was no bad luck or hard luck story this time. Griffin had drilled into his players that he was looking for a performance against Offaly. He said that a performance "constituted a thousand different things and it was about trying to get as many of those things right on the day".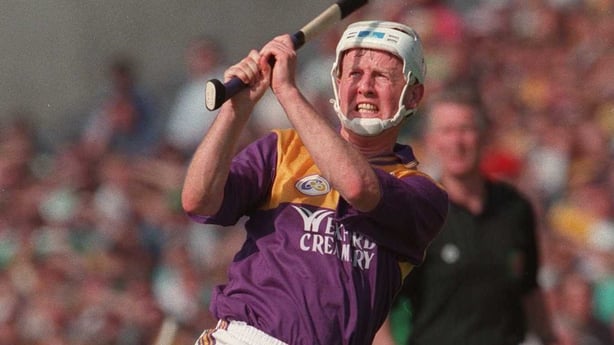 Dempsey (above) scored two more points and Storey hit three in a breathless last few minutes. Hundreds of Wexford fans surrounded the pitch as Storey got the last of his points and they prepared to celebrate their first Leinster crown in 19 years.
Wexford won by 2-23 to 2-15 and went on to win the All-Ireland.
The Wexford supporters and the players celebrated their Leinster win like an All-Ireland but the panel returned to training the following Wednesday.
They sat in a circle around Liam Griffin on the pitch.
He asked them if they had enough. Did they want to do more in 1996? He told them to go away and have a think about it and come back with their answers the next evening.
Griffin said if they wanted to do more, they would start training to try to win the All-Ireland.
Listen to the RTÉ GAA Podcast at Apple Podcasts, Soundcloud, Spotify, or wherever you get your podcasts.