In this new series, RTÉ GAA commentator Darragh Maloney recalls the greatest GAA matches he has attended. First up, Clare's dramatic defeat of Offaly in the 1995 All-Ireland hurling final.
***
With my Offaly connections you might think it's odd that I would go for a game and a defeat that still bothers some Faithful folk a quarter of a century later but the match was historic and I had a front-row seat.
All things going to plan, this brilliant Clare team will be presented to the crowd on All-Ireland Final Day as the Jubilee Team of 2020. The likes of Anthony Daly, Jamesie O'Connor, Seanie McMahon and the Lohans, along with their team-mates, will go down in history as the team that ended an 81-year wait for the Liam MacCarthy Cup in 1995.
It's only right to point out that Clare beat a brilliant Offaly team, who were reigning champions after their win over Limerick 12 months earlier. They had some amazing hurlers and the names of Brian Whelehan, John Troy, Martin Hanamy and the Dooleys and the Pilkingtons rank among some of the best I have seen.
Offaly were the favourites after they hammered Kilkenny in the Leinster final by 11 points and some believed that Clare would find it hard to deal with the occasion and the baggage that came with over 80 years of trying to win. Their win in Munster was their first since 1932 and was a huge milestone.
I had joined RTÉ Radio that spring and was one of two sideline reporters for the coverage on Radio 1. In those days you got more access to the players and the dressing-rooms and we were allowed to move about pretty freely, provided we didn't get in the way, obviously.
There are many things about the day, apart from the result, which stay with me even now. The first was the noise the Clare supporters made when their team ran out onto the field. It was deafening and I don't think I have ever heard a noise like it.
The "Clare Shout" was big at the time and if you don't know what that sounded like, just Google it as it's impossible to describe!
We need your consent to load this rte-player contentWe use rte-player to manage extra content that can set cookies on your device and collect data about your activity. Please review their details and accept them to load the content.Manage Preferences
The game itself wasn't amazing but it was incredibly tense from start to finish and the fact that Clare scored 14 times to Offaly's 10 (1-13 to 2-8) backs that up. Offaly led at half-time after a Michael Duignan goal and were three points up with a quarter of an hour to go thanks to a Johnny Pilkington goal.
The Clare manager Ger Loughnane had told Marty Morrissey on TV at half-time that they were "going to do it" but the smart money was still on Offaly coming into the closing minutes.
Clare appeared fitter in that second half and in the build-up to the game that was an area where they felt they could get the better of Offaly. It was something their players and management seized upon after they saw Offaly labouring against Down on a very hot day in the semi-final.
Clare made the decisive move in the dying minutes as Offaly goalkeeper David Hughes batted an Anthony Daly place-ball back down into the path of substitute Eamonn Taaffe, who scored the goal that put Clare into the lead.
It was a lead they would not lose and the full-time whistle was greeted by another incredible roar from the Clare supporters and then queue total bedlam.
There was no Plan A or B in 1995 and it was just a free for all. My desperate attempts to get some reaction from a Clare player failed multiple times as I was surrounded by jubilant fans.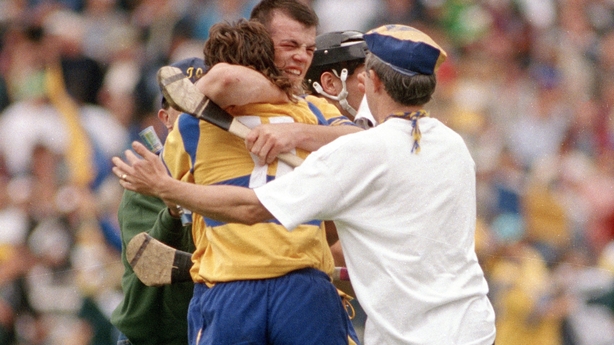 The other big image that stays with me is trying to get away from the crowds and noticing Offaly defender Shane McGuckin standing all on his own in front of the Canal End goal, leaning on his hurley.
It was a strange sight with all the celebrations going on and there was one of the losing players just alone with his thoughts. Shane kindly agreed to do an interview and while he was heartbroken, he was very gracious.
It seemed the whole county of Clare was out on the pitch but after he had collected the Liam MacCarthy from GAA President Jack Boothman, I managed to grab a word or two with Anthony Daly in one of the old dressing-rooms under the Hogan Stand.
His knuckles were torn and bloodied and the captain was exhausted and like a lot of Clare people, was just taking it all in. The cup was on the ground in front of him but was in the possession of a Clare person for the first time since 1914.