In the second of a new series, RTÉ GAA commentator Darragh Maloney recalls the greatest GAA matches he has attended. This time it's Owen Mulligan's tour de force against Dublin in 2005.
***
There is only one place you can start with this game and that is with the goal!
I met Owen Mulligan at the All-Stars dinner in Autumn 2005 at the Citywest Hotel and I remember thanking him for the goal as I was the one who was lucky enough to describe it alongside Martin Carney. I am not sure if Owen knew who I was but at least I did get to say it.
That goal is always remembered as the legendary Eugene McGee described it in the Irish Independent the following Monday, as "one of the greatest goals of all-time" and Eugene would certainly know what he was looking at!
What is often forgotten is that the game itself was a cracker with two teams, at the peak of their powers, just going at it for 70-odd minutes. Dublin, under Paul Caffrey, were Leinster champions while Tyrone had lost the Ulster Final after a replay in Croke Park, to their old friends from Armagh. It was always going to be tight but the 2003 champions had got that loss out of their systems with a qualifier win over Monaghan.
Owen Mulligan's name didn't feature hugely in the build-up to the game but we always knew the talent he had and the fact that the incredible Peter Canavan had taught him at school! He was part of the '03 All-Ireland winning team and had burst onto the scene with an Ulster Championship goal inside a minute against Down. But Owen was in a team that included Peter Canavan, Stephen O'Neill, Brian McGuigan, Brian Dooher and Sean Cavanagh so there was a big battle for the headline act. That was until 13 August 2005.
---
DAY THE CLARE SHOUT DROWNED OUT PRAYERS OF THE FAITHFUL
---
Dublin had been playing some great football under Pillar that year. They squeezed by Laois by a point in the Leinster Final and were continuing on their quest for a first Sam Maguire in 10 years when they had beaten Tyrone in the final.
Alan Brogan, Conal Keaney, Mossy Quinn and Ciaran Whelan were in outstanding form and they had developed this habit of coming out of the blocks really quickly and building up a healthy lead.
Dublin were five points clear at half-time after a Mossy Quinn goal right on the blow and they were well placed to book a place in the last four. Tyrone made some alterations to their team at the break and scored the first point of the second half through Sean Cavanagh.
They were still trailing by three points in the 49th minute and were in some difficulty. Dublin seemed to have their number but then came the moment which changed this game and arguably changed the year and led to Tyrone's second All-Ireland title.
Dublin were actually on the attack in the 49th minute but the move broke down and the ball was played into the middle of the field where a Dublin player had the chance to claim possession but he was put under pressure and it ran to Stephen O'Neill. He played it forward to Mulligan who claimed it in front of Dublin full-back Paddy Christie close to the 45-metre line and the next few seconds would define a career which ended with three All-Ireland senior medals.
Nothing had gone right for Mulligan up to that point. If you look at the game again, you will see his passes going astray and in Laochra Gael for TG4, substitute Peter Canavan says Tyrone manager Mickey Harte was about to take Mulligan off. Canavan argued that he always linked up well with his former student and "Peter The Great" was brought into the game just before the goal was scored but he wasn't involved in it. It was all Owen Mulligan.
The ball is played to him and I said on commentary that Tyrone needed a score because they were three points down at the time. He takes the ball and then we see that pace and the trickery. Mulligan did two punch-pass dummies and then ends up in front of Dublin goalkeeper Stephen Cluxton. The rest is history and the game is level and a star is born.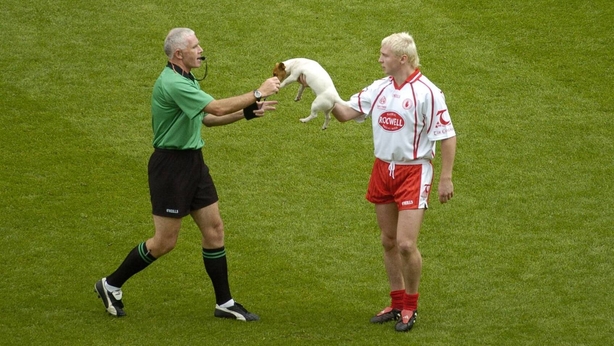 Those moments rightly overshadow the rest of the game which was superb. We had brilliant points from Alan Brogan, Brian McGuigan, Stephen O'Neill, Conal Keaney, Brian Dooher and Mossy Quinn who forced the replay with a 30-metre free which was pretty much the last kick of the game.
We saw Ciaran Whelan ruling the air with some incredible fielding but that day was all about one player. Mulligan always stood out with his bleach-blonde hair which was a tribute to England soccer player Paul Gascoigne. I always think that players who bring attention to themselves with flashy boots or flashy hair need to be extra good and Mulligan didn't let them down.
Mulligan was a headline act after that goal but he was even better in the replay. He scored 1-7 and his goal featured an "Eric Cantona-strutting" celebration in front of Hill 16 which is almost as memorable as the strike in the first game.
He even had time to retrieve a stray dog.
Mullligan was at the peak of his powers in those weeks and was even able to remove a stray dog from the field during the replay. It was as if everything he touched in August 2005 turned to gold but that's what happens when you are "Magic Magic Mulligan!"