It's unclear what shape the first All-Ireland football championship of the new decade will take as the coronavirus continues to upend Irish life.
Sporting outlets are turning rapidly to their All-Ireland Gold style output. Expect plenty more of it.
Let us go back 10 years to the first All-Ireland football championship of the decade just passed, one of the wildest and strangest editions of all.
What makes the 2010 campaign particularly noteworthy is that it was violently out of sync with the years that followed.
A number of curious things happened, unthinkable in the years ahead.
A team without a provincial title in 16 years reached an All-Ireland final, another team bound for Division 4 won their provincial title, four teams who hadn't even reached a provincial final filled the four All-Ireland semi-final slots, one poor county beat Galway and Mayo in Connacht and still didn't win the province, the two teams who had dominated the All-Ireland championship for seven years failed to get by the quarters. And Dublin – the mighty Dubs – failed to win Leinster.
With the Kerry-Tyrone duopoly on the wane, but before Dublin evolved into their current incarnation, it was a gap year when everything was up in the air and all still seemed possible.
A Leinster championship like no other: Dubs regroup
The noughties - Dublin's frustrated pretender years - appeared to end with them drifting further and further away from the summit.
It was an era of wild buzz, great anticipation, bumper crowds from beginning to (invariably premature) end but it concluded on a grimly jarring note with the infamous 'startled earwigs' quarter-final against Kerry in August 2009. The team again fell short of the All-Ireland final, this time considerably short.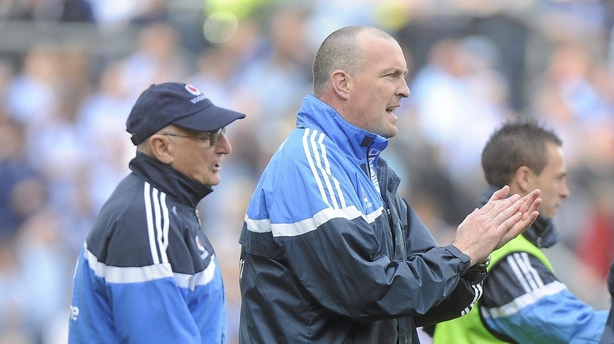 Pat Gilroy, Dublin's phlegmatic and far-seeing manager, decided to perform some fairly aggressive surgery on the team, on both its structure and its mindset.
While necessary, this left them in a rather fragile state by the time the Leinster championship rolled around.
The Meath game - the five goals rattled past Cluxton – is well recalled. Less well remembered is their alarming first half display against Wexford in the opening round.
By the time the referee blew the whistle for half-time, the scoreboard read 'Dublin 0-02 Wexford 0-08' and Hill 16 jeered their own players down the tunnel.
With desperation rising in the final quarter, Dublin discarded their recently acquired defensive template and put on a late Bernard Brogan inspired spurt to force extra-time. From there, they cut loose, with Brogan and substitute Mossie Quinn doing ample damage as they ran out seven-point winners.
We know what happened in the Meath game. If young Dublin fans are curious about what it's like to see their team get pasted in the Leinster championship, they can check it out on YouTube.
The pressure ratcheted up on the management team, especially Gilroy and Mickey Whelan. The latter, in particular, carried a lot of baggage. His role as manager during an unhappy and contentious period in the late 90s made him a popular target for ire.
Mossie Quinn told this writer before that prior to the Meath game, Gilroy had abandoned the defensive gameplan they'd been trialling during the league. They vowed never to do so again.
"We had gone defensive in the league but returned to the traditional game-plan for Meath in the championship. After that game, Pat decided that if we were going to lose again, it wasn't going to be by a big score."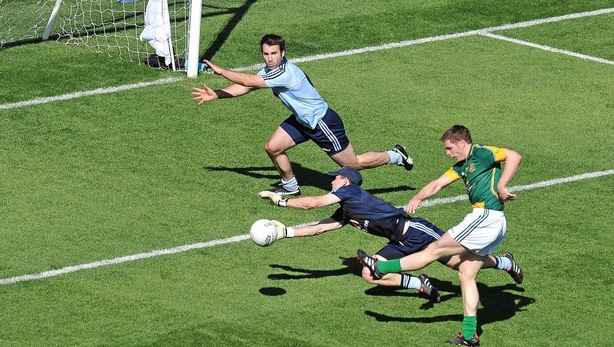 The challenge of Tipperary was navigated in the Dubs' first qualifier game since the Tommy Lyons era.
Up next were a declining Armagh team. The atmosphere in Croke Park was restless with the crowd especially baffled by Gilroy's persistence with Eoghan O'Gara at full-forward. The game was messy and uneven but Dublin improved as it wore on and surged to a three-point victory in the closing stages. The colour had gradually returned to their cheeks.
Soon, they would stun Tyrone in the quarter-final. They were over the hump.
'A perfect goal'
The only Leinster championship of the last 15 years not won by Dublin ended with a ruck on the pitch and a Garda escort for the besieged referee.
Garda escorts for referees are not, as we know, uncommon in Gaelic football but this one was harder to forget. The thin blue line proved a bit too thin in the beginning and was breached by irate Louth supporters.
Referee Martin Sludden was barreled into with a few dunts and shoves from behind and from the side before his security hurried him down the tunnel.
Within a few hours, he was disowning his decision to award an injury-time goal to Meath and the victors were being asked to consider offering a replay to the distraught underdogs.
Louth had just been denied a first Leinster title in 50 years in the most brutal fashion imaginable.
JP Rooney's beautifully finished goal with seven minutes left saw Louth open up a three point gap at a crucial stage of a cagey encounter.
Meath scrambled to try and get back on terms, Louth defended frantically. In the final minute of injury-time, the lead stood at a point.
By now, the Croke Park soundtrack just consisted of anxiety-ridden screeching from four corners of the ground.
Graham Reilly hoisted a high ball into the square, Seamus Kenny grabbed it, Paddy Keenan executed a heroic block, the covering Louth defenders inexplicably failed to grab it, Joe Sheridan lunged across, claimed the ball and hurled himself over the line, offering a rather half-hearted attempt to kick it with his arse already 'in-goal'.
A fan who missed the goal but just saw the Sportsfile shot below would be bemused as to how in the hell everyone in the photo ended up where they did.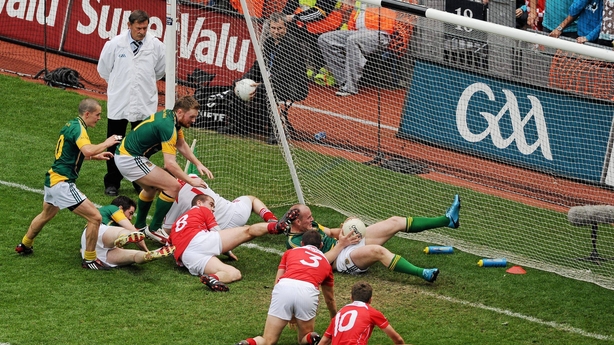 The umpires didn't reach for the flag but Sludden, to the consternation and disbelief of the Louth players, seemed determined to jot down the goal.
He was urged to consult with his umpires. The resulting consultation lasted a split second and appeared to consist of a simple direction to put up the green flag.
Cue anarchy.
In his post-match interview, Joe Sheridan claimed it was a "perfect goal" before insisting in the next breath "it was a penalty if it wasn't a goal".
O'Mahony meets his waterloo in Longford
The summer of 2010 is surely remembered with great bitterness in Sligo. The county doesn't win enough Connacht titles - only three in their history - and they've rarely had a team as powerful and in-form as that year's crop.
It may well be the only time in history that a team has beaten both Mayo and Galway in the Connacht championship and failed to win that provincial title.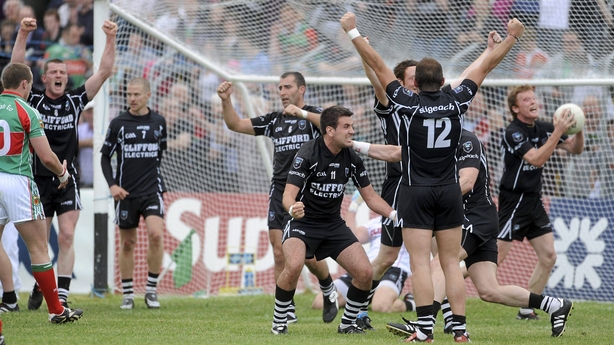 The west's big two had contested the two previous Connacht finals but some uncertainty hovered around them.
John O'Mahony's long-demanded second spell in charge of Mayo hadn't gone as swimmingly as his many admirers had hoped.
It took until his third year back, 2009, to collect a Connacht title and that was followed by a loss to a hardly world-beating Meath team in the All-Ireland quarter-final.
Still they had reached a league final that spring and were justly installed as favourites in the province.
Galway, after a discouraging league campaign, were in worse shape. All the promise of 2008 – that QF against Kerry has been fetishized by purists ever since – fizzled away almost as soon as it arrived and manager Liam Sammon departed after a flat 2009 campaign.
In arrived Armagh hero Joe Kernan. The northern legend was deemed an odd fit for Galway, widely held to be the most cavalier and laid-back of the big football counties.
Sligo were primed to take both of them. Kevin Walsh's opening season had sparked some optimism. Only a late penalty miss by the electric David Kelly cost them victory against Jack O'Connor's Kerry in Tralee.
On 11 June, Sligo dumped Mayo out of the Connacht championship, their first win over their neighbours in ten years.
Reeling from another false start in the championship, Mayo made for the qualifiers. The draw sent them to Pearse Park in Longford, which had developed a reputation as a graveyard of championship pretenders. Well maybe not quite a graveyard. But at least a place where they got an awkward bloody game.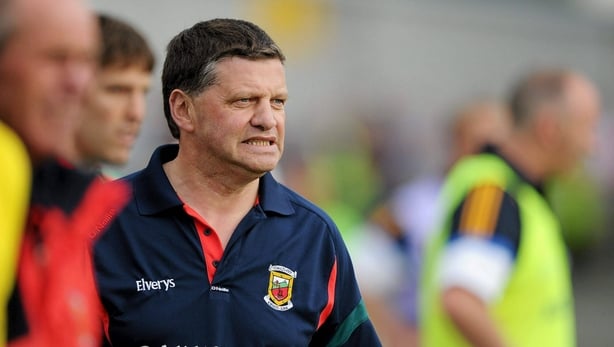 The midlanders were in dismal shape. How dismal? Well, they'd finished sixth in Division 4 that spring, only London and Kilkenny finishing below them.
But strange things happened that summer.
Subsidence wasn't yet afflicting the Main Stand in Longford (it has since been fixed) but Mayo's hopes were sunk that sunny Saturday evening in June. Sean McCormack's late point gave the hosts a 1-12 to 0-14 victory.
John O'Mahony wasted little time in resigning, telling reporters he was gone outside the Pearse Park dressing room.
After almost two and a half-decades, eight Connacht titles and two All-Irelands, his often glorious inter-county managerial career ended up on a bum note.
Mayo blogger 'An Spailpin Fanach' alluded to Ballinamuck and 1798 in his post-match inquisition – 'John O'Mahony, like Humbert, meets his Waterloo in Longford'.
'Roscommon love to gate-crash'
Sligo's odyssey continued. They had Galway more or less beaten in Salthill but the home side rustled up 1-02 in injury-time to snatch a barely deserved draw.
A week later, they did get the job done. In windy conditions, late points from Kenneth Sweeney, Mark Breheny and Colm McGee saw them snatch a 1-14 to 0-16 victory.
Galway, their malaise deepening further, lost at home to Wexford in their next game and Kernan walked after just one season in charge.
In Sligo, they expected a coronation. If the long awaited 2007 provincial title had been an ambush of an aging Galway team, this would mark their true coming of age. They were now clearly the best team in the province.
Who was there to stop them? Roscommon?
The Rossies had probably never entered a championship in less promising shape.
They did have several graduates of the 2006 All-Ireland minor winning side, most notably Donie Shine, but these were struggling to make the step-up to senior.
They had been humiliated in the previous year's Connacht championship. 3-18 to 0-07 was the final score against Mayo in Castlebar. And the scoring sequence suggested the home team eased off considerably in the second half (3-10 to 0-01 was the score at half-time).
They were relegated to Division 4 the following spring, finishing bottom of the third tier, whilst their erstwhile rivals Sligo were promoted as champions.
Single-digit victories over London and Leitrim weren't greeted by the world as evidence that a shock was coming.
It was widely assumed Sligo would complete the job in McHale Park. This was the easiest leg of their quest for a fourth Nestor Cup.
The only warnings were of the folksy variety, leaning heavily on tradition. Darragh O Se, in his Irish Times column, said Roscommon wouldn't fear Sligo in the way they might Galway or Mayo, and tipped the outsiders to win.
And in a radio preview on the Friday, Martin Carney warned "Roscommon love to gate-crash the dreams of other teams."
And gate-crash they did. Donie Shine enjoyed his greatest day as a senior footballer, kicking 0-10 as Roscommon claimed a one-point win in Castlebar.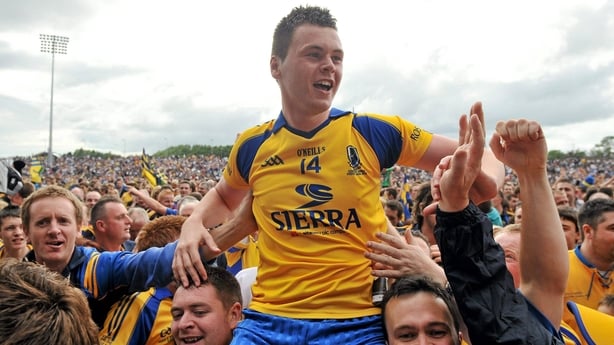 One of the least distinguished Roscommon teams had beaten one of the best Sligo teams and as the Rossies celebrated on the pitch, the losing players and supporters slunk away distraught. Charlie Harrison scooped an All-Star that year but on his retirement admitted that the 2010 Connacht final was the hardest cut of all.
Munster – Galvin-mania hits new heights
The Cork-Kerry rivalry was at its zenith in 2010. With Tyrone's challenge waning and the Dubs still bearing the underachieving chokers tag, they were widely understood to be the two best teams in the country.
For Cork, this was little consolation. They'd been banging so hard on the door by now, their knuckles were in near constant pain.
As in the 70s and 80s, Kerry were their nemesis. Between 2005 and 2010, Cork lost to no one in the All-Ireland football championship – only Kerry.
Kerry beat Cork in three All-Ireland semi-finals and two All-Ireland finals between 2005 and 2009 and took great delight in doing so.
Worse again, Cork beat them in the Munster championship in three of those years. Kerry fans probably derived even greater pleasure from that detail, allowing them to loftily dismiss the provincial trinket Cork had won that summer and giving them an extra-loud last laugh at the end of the campaign.
The 2010 Munster championship gave us a Cork-Kerry saga as we witnessed a replay and extra-time and a first Kerry victory in Pairc Ui Chaoimh in 14 years.
That summer represented the height of the media's Paul Galvin fixation. The current Wexford boss's footballing story over the two proceeding years was portrayed as an Eric Cantona-style journey from ignominy to redemption. Though, it could be added that kung-fu kicking a football hooligan wasn't quite on a par with knocking the notebook out of Paddy Russell's hand.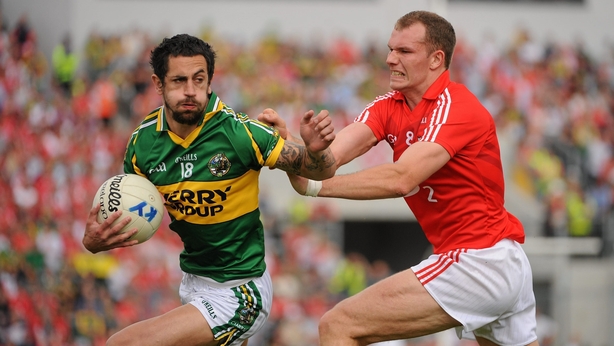 Banned in 2008, Footballer of the Year in 2009, Galvin was one of the most influential figures on both days against Cork and he didn't start either game.
He helped rescue a replay in Killarney and then was a key player as the All-Ireland champions triumphed in extra-time in Pairc Ui Chaoimh.
But the Sunday Game cameras, whose role as a third eye was causing increasing concern among the game's hard chaws, captured him 'fish-hooking' Eoin Cadogan at one point in the fraught second half.
As Paul Galvin made clear on Galvinised – the one-off documentary on his life and career screened at the end of 2010 (we weren't joking about the fixation) – he didn't see The Sunday Game that particular night because it clashed with 'The City' on MTV.
But the men on the GAA disciplinary committees were watching and Galvin was banned for two matches. By the time, his suspension was served, Kerry were out of the championship, knocked out before the final for the first time since 2003.
That brings us to…
Down raid
Kerry's tilt at a fourth All-Ireland title in five years was ended, with startling abruptness, by Down in a rain-sodden Croke Park in August 2010.
Quite where Down came out of was a mystery. It's remains a bit of a mystery. They had done precious little before or since. The previous year, Wicklow knocked them out of the championship in Aughrim.
Without a provincial title since 1994, they rampaged all the way through the qualifiers, disposing of a host of teams, most notably Kerry, before almost denying a ravenous Cork team in the All-Ireland final.
With little else to explain their rise other than the presence of some good players – Benny Coulter, Danny Hughes, Marty Clarke – colour writers turned to history.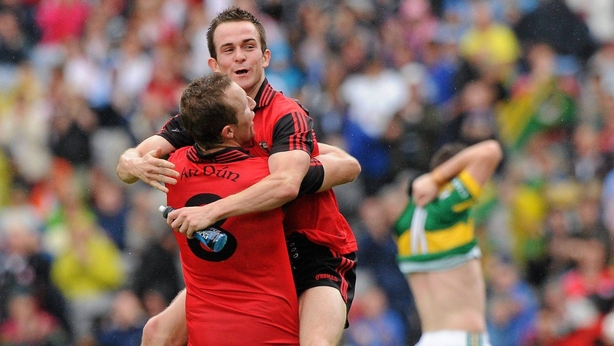 Down, it was said, boasted a fearlessness and a sang-froid derived from that history. They had broken the mould in both the 60s and the 90s. They had won five from five in All-Ireland finals. Hell, they had barely lost a game in Croke Park.
In 1960, just a year after winning their first Ulster title, they went and became the first team from the six counties to win the All-Ireland.
Three decades later, in 1991, they ended years of Ulster failure at the drop of a hat, when they beat Kerry and Meath to win a memorable All-Ireland title, kick-starting an era of dominance for the province.
And they had never lost a game to Kerry in the championship.
Tactical analysts might have scoffed at the relevance of the 60s and the 90s, but journalists had to lean heavily on this stuff to explain Down's improbable surge. After losing to Tyrone in Ulster, they had beaten Longford by four points and Offaly by two points in the early rounds of the qualifiers, hardly results that set the great powers of the game quaking in their boots.
After that, they hammered a shattered Sligo and little was read into it.
Then, with the rest of the country sleepily assuming another Kerry march to the final, Down hit them for 1-03 in the opening 10 minutes and the champions never recovered.
Denouement
Not only were all the demoralised provincial finalists smashed in the last-12 (not uncommon at the time), none of the four provincial winners survived the quarter-finals.
The new workmanlike Dubs found their groove to overcome Tyrone. The two teams who dominated the second half of the noughties were gone.
Cork, having laboured through the qualifiers, soundly dispatched a Roscommon team who were happy to be there.
The best quarter-final appearance was offered by Kildare who overwhelmed Meath with a wonderfully slick attacking display.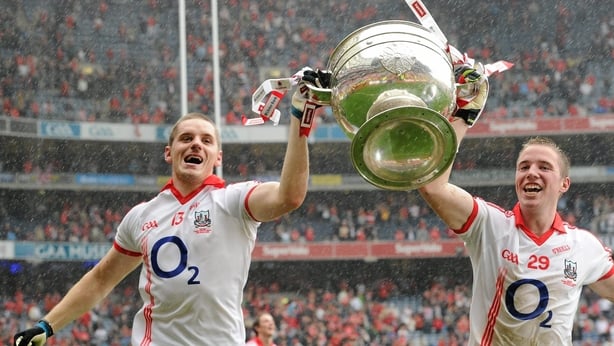 The All-Ireland semi-final victors could both easily have lost. Cork were second best for most of the game against Dublin but the latter's indiscipline cost them in the final quarter.
Kildare were left with gripes and what-might-have-beens after their narrow loss to Down, notably Benny Coulter's dubious first half goal and the last second free which twanged off the crossbar.
The final was relatively humdrum for a one-point game.
For a good portion of it, Down's carefree football looked like winning the day but Cork, with their years of experience and accumulated pain, willed themselves over the line in the closing stages.
Their oft maligned inside forwards, in particular Donncha O'Connor, came good when it mattered.
It wasn't the most swaggering of All-Ireland victories. In truth, they had played much better football en route to the '09 final.
But after years of teeth-grinding disappointment, years of being sneered at for their record against Kerry, Cork finally had their title.
The game, as much as anything else, was notable for being Micheal O'Muircheartaigh's final match on commentary for RTÉ.
In the coming years, like the 2013 hurling season, it would come to feel like a dream. Down, Kildare, Louth and even Cork would retreat to the shadows and the new order would emerge.