Clare are the first team to book their place in the semi-finals of the Allianz Hurling League after a victory against Dublin on Sunday.
But their potential opponents are still not clear, owing to the delay in fixtures in Division 1A caused by Storm Dennis. What we do know is that Cork, Dublin and Laois have finished their Allianz League campaigns for 2020.
Limerick and Waterford are certain to be in the mix, but the winner of Division 1A will be decided next weekend.
The Déise travel to play defending champions Limerick on Saturday evening needing a win to go straight into the last-four, while it's Galway versus Tipperary on Sunday afternoon. If two teams finish on level points, then head-to-head games are used to decide placings.
If three or more finish on the same points total, then scoring difference will come into play.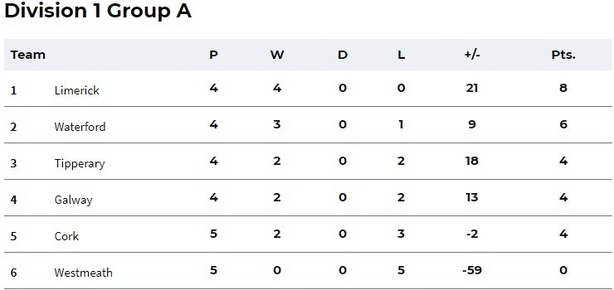 Wexford, who secured their progress last weekend, also with a win over Mattie Kenny's Dubs, and Kilkenny, who beat Laois, have followed them into the knockout stages. Davy Fitgerald's side will play the third-placed team in Division 1A, while the Cats will take on the second-placed team.
The Yellowbellies played three of their five league games at Chadwicks Wexford Park, and can therefore only play a home quarter-final if they draw a county who have also had three home matches. In that instance, a coin will be tossed to decide which county gets to host the fixture.
Meanwhile, the relegation play-off between Westmeath and Carlow will take place at TEG Cusack Park. The counties finished bottom of their respective Divisions with five defeats from five games.
In Division 2A, the final pairing will be confirmed next weekend after the re-fixed game between Antrim and Offaly, while Mayo are relegated.
In Division 2B, Derry just need a draw against Kildare in their re-arranged game to book a place in the final against Down, while the relegation play-off between London and Warwickshire will take place at Ruislip on Sunday.
In 3A, Armagh play Donegal in the final, with Louth facing the drop, while the 3B decider will be between Sligo and one of Leitrim or Fermanagh.
The CCCC will confirm the dates, times and venues for all fixtures in due course.