With our leagues passing the mid-point and tables beginning to lean towards their final shape, progress towards competition goals set in early January is suddenly measurable for most teams.
At the top table, what teams need to achieve over the course of these seven fixtures varies a great deal.
Dublin and Kerry are tinkering to streamline and evolve what they already know works but understand that a failure to find improvements will expose them to being reeled in by the chasing pack. Of course, they have the comfort of knowing that whatever way they play their hand across the course of the division one campaign, relegation will never be a danger.
Meath have the unique if unenviable singular focus of avoiding a swift return to Division 2. Given their player pool and the incremental upward curve Andy McEntee has constructed, every game is about maximising performance in a desperate scramble for points.
That leaves a middle band of teams that must balance the challenge of retaining their top-tier status against the pursuit of team development in terms of personnel and gameplan. The latter cannot be achieved without some element of trial and error across what are seven winnable and losable games with small margins of error.
Is relegation a price worth paying to identify two players who can survive or thrive in a Super 8 environment and so push the collective forward?
Is a positive development in offensive or defensive structure that can tip the balance of a championship match worth relegation? Ultimately, if teams judge their season on championship performances – and they do – then the answer to both questions is yes.
One of those five middle band teams will be heading for the second tier in 2021, so the experimentation will have to bear fruit in the summer.
That team won't be Galway of course.
The New Tribe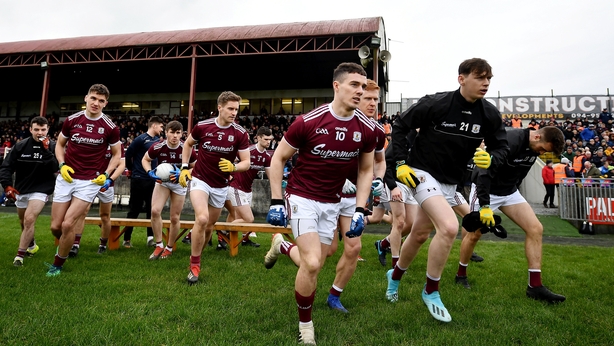 The freshly reimagined Tribesmen have attacked this year's Allianz League with the energy of a squad emboldened by new opportunities. There are only a few new faces, but Pádraic Joyce's players have responded to their new stimuli as well as any management could hope for.
If players feel supported and that they will have opportunities to prove their worth, new coaching teams should always feel a short term bounce in energy and buy-in. Galway have achieved that – as Monaghan have – and the impact of coaching messages will be enhanced as a result.
Opponents have now had four opportunities to examine what is different about Galway so far. Sitting on top of the league, the Tribesmen can expect teams to now set up to counteract their strengths.
What is Different?
There are a number of traits that this Galway team have built in the short window they've had that are different from the Kevin Walsh era – both with and without the ball.
The element of their game identified most readily as progression is the quality of their kicking. This has indeed been impressive and the depth of players capable of looking for and executing the right pass in attack paints a picture of an extremely skilful and perceptive team.
What makes that kick passing so effective is the quality of movement ahead and the collective understanding how and where the space to kick to will be created.
Attacking in Phases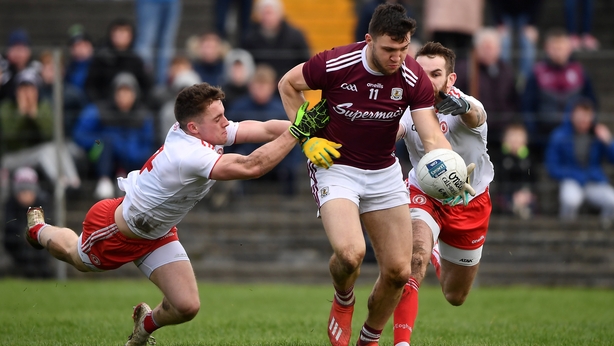 Initially, when breaking from deep, Galway are looking for a longer outlet ball either side of their focal point at centre forward. That was mostly Damien Comer on Sunday but the rotation of their forward roles brings Shane Walsh into this area a lot. Both men bring power to their movement and so are brilliant targets to build off.
What that early ball does is bypass the warzone that middle thirds have become while teams attempt to build attacks. This is the area of the pitch where defending teams are most aggressive in the tackle because a foul beyond shooting range is a very good antidote to direct football.
Of course, Galway's wing forwards Daly and Brannigan will be nowhere near that area of the pitch until the outlet ball is won, thus both wings are available to be utilised if opponents don't protect them.
Inside Movement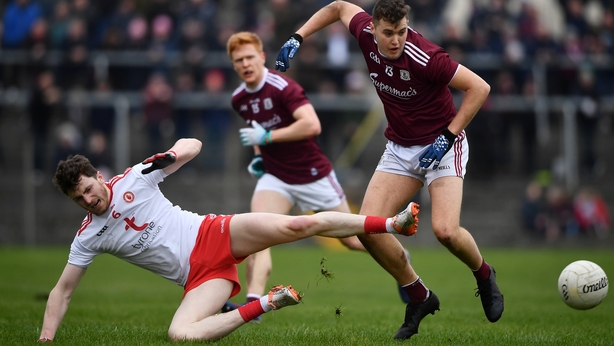 Playing with the elements in the opening period on Sunday, Joyce positioned his 13 and 15 as wide as was practical as their attacks developed. This created a wide central channel in front of Shane Walsh, who was positioned on the square – marked by Ronan McNamee and covered by Colm Cavanagh.
Finnerty and Varley were never getting the early ball inside unless plan A disappeared – their job was to maintain the space for Walsh and time their support runs cutting across from wide.
This is where Galway's kicking was most impressive. Walsh's movement was initially lateral before he shook McNamee off and raced outside Cavanagh. Accurate, angled balls found the Galway captain consistently and they were able to support hard off his shoulder to create shooting opportunities.
The variation of this in the second half when the elements were not as supportive saw Walsh come deeper as an additional outlet runner and Finnerty moved central.
Robert Finnerty has made a significant impact precisely because of Galway's style of play. He was unmarkable in league and championship this season for NUIG and his ball winning and finishing are a considerable addition to Pádraic Joyce's attacking options.
Patience When Required
The final piece of Galway's attacking jigsaw has been their control and collective understanding when their attacks are slowed and bodies are back. Immediately they empty the space in front of goal to create a perimeter around the shooting zone and probe for gaps in the defensive chain.
This is not a new approach by any means but their quick and accurate movement of the ball around contact created shooting opportunities right on the perimeter of comfortable shooting. Invariably they nailed those chances this weekend.
In Defence of the Tribe
Watch the best action of Galway vs Tyrone in the Allianz National Football League, here on GAA NOW! pic.twitter.com/4cgR1cyHNp

— The GAA (@officialgaa) February 23, 2020
Without the ball, what is different is Galway's desire to hunt the ball back around the middle as opposed to the tendency under Kevin Walsh to drop to middle third players into defined areas. Eamonn Brannigan is key to empowering this as his instinct for work means he can latch onto a cover player's man to create that single layer of a shield behind.
Typically, one defender is squeezed out the back of the middle to sit in as a cover player and everyone else gets to work pressing. Sean Mulkerrin filled that role more often than not against Tyrone and that has reinforced the Galway rearguard considerably. Earlier in the league John Daly filled this role and struggled with the decision making required to be effective.
Critical Analysis
The downside of performances to date is that opponents will prepare more diligently to take those effective strategies away and Meath will see opportunities this weekend.
If the Meath wing backs were to occupy their positions permanently, they could take away the early outlet ball that so many Galway attacks are built on. Immediately they are slowing the build up play and have defenders in position to exert maximum pressure as the Westerners try to probe for gaps thereafter.
Without the ball, where the Tribesmen can be exposed is through the time it takes them to drop a cover player back. On Sunday, Tyrone were pedestrian through the middle third and exhibited none of the kicking in attack that added a new dimension last Summer.
Ironically, Galway are vulnerable to their own attacking gameplan of kicking early as they leave a relatively significant window of man on man defence before the mechanics of their transition start to move.
A New Identity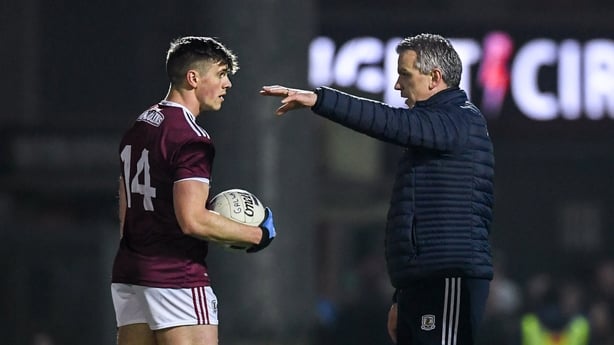 At this stage of the campaign, Pádraic Joyce and his coaching team can only be delighted with the obvious progress they have achieved in forging a new identity through their play. How they use the ball represents many of the traditional values of the game people love to watch.
The next phase of development for Galway will begin over the last three rounds of the league as opponents attempt to take away their preferred style and force them to adapt on their feet. This will be the most important part of their learning ahead of the championship.