"Leah played at the weekend and I swear to God, it was as if she was never away. It was incredible to see her. She is such a competitor."
The words of Dublin Ladies football manager Mick Bohan last month as he lauded the return of star defender Leah Caffrey ahead of the 2020 campaign, as his side strives to win their fourth championship in a row.
Na Fianna's Caffrey missed out on the 2019 campaign, as the Dubs completed a three-in-a-row by beating Galway in the All-Ireland final, as she was enjoying a year away from Ireland, working in Canada where she worked for yoga clothing company Lululemon.
But the two-time All-Star is back and ready to play catch-up to secure her own three-in-a-row, of sorts, with two All-Ireland winner's medals earned from the 2017 and 2018 campaigns.
"It's like I never left," Caffrey who has returned to the Dublin squad following her Vancouver sojourn, told RTÉ Sport.
"I just like being around the girls and being around the team. It's so enjoyable."
Dublin are three games into their League campaign and while manager Bohan believes that his key defender hit the ground running from the first pre-season game back, Caffrey admits that she had to work hard to get back to full fitness.
"I'm happy to be back, but physically, I can definitely feel it. It's such a huge jump.
"But I just like being around the girls and being around the team. It's so enjoyable. It has to be done, the hard work has to be put in.
"I mean the fitness is getting better and better, and the league is great for that as well; getting game time and getting back into things.
"Game-wise and your knowledge of the game and stuff was obviously a bit rusty, but it's good now. I'm happy to be back and happy to be learning again."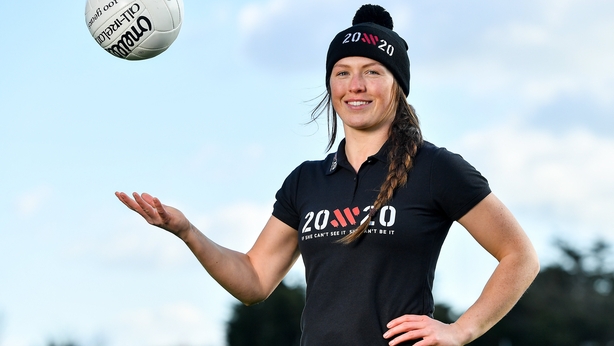 The DCU business graduate looked on from afar as her team-mates secured their third All-Ireland in a row last September and following a mixed start to the league campaign, Caffrey admits that winning the Championship again this year is going to be a very tough task.
"100 per cent," said Caffrey, when asked would her third All-Ireland be hard earned this year with Cork the main threat to the title.
"I would definitely say so.
"Especially Galway in the final last year, Mayo this year, it was very physical when we played them in the league.
"I think everyone is really raring to go, just from what I can tell from the league this year anyway. Tipperary... it's definitely going to be a really good championship and I think as we get more and more into the league, the standard will definitely come up.
"Once the summer comes around, I think everyone will be definitely looking forward to a fairly competitive championship."
Dublin have began their league campaign with one win, one draw and one defeat from their opening three games, while Cork have raced clear with three straight wins, including one over the All-Ireland champions.
The Dublin squad, however, are bringing players through during the campaign and Caffrey expects the champions to be a different proposition once all the senior player return to the team.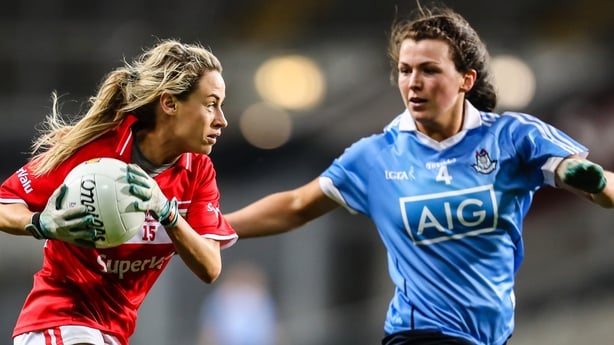 And while Caffrey acknowleged that she would have to fight for her own place following a year away, she believes that the new recruits have brought a different dynamic to Bohan's squad.
"We're just trying to learn information, absorb as much as we can in training to try and bring it into a game. There's a lot of new and younger girls coming in, and we're trying to help them learn the system.
"It kind of awakens that... you're in from the bottom [having returned], you need to go again, which every year basically is as well.
"When I was away, I would have been thinking, 'Obviously I need to get back in shape or whatever,' but I'm very happy to do that as well and more motivated to get into it again.
"It made me realise that I really did miss it, and really do appreciate it.
"The majority of the girls, I would have known from before, from when I was playing at a very young age.
"There also is a lot of new younger girls, which is really nice to have that as well... a different dynamic. And then there's a few new girls who have also come in.
"I think the league is great in that the girls that maybe aren't as experienced are getting more game time.
"Everyone's getting a little bit more experience, but it will be great to have the older girls back in the camp, definitely."
Two such experienced campaigners, Sinéad Goldrick and Niamh McEvoy, are currently in Australia playing with Aussie Rules side, Melbourne Demons, however, both players are expected to return to the Dublin panel in the quest for their fourth successive title this summer.
"Things seem to be going great for them, they seem to be enjoying it and taking advantage of the great opportunity that they have. It's a different lifestyle, as a professional athlete.
"It seems amazing, and they seem to be really enjoying it as well so everyone is very, very supportive of them over there."
And while Caffrey said that the idea of being a professional athlete is very appealing, she has not considered it herself as she has just returned and is ready to begin a new career in recruitment.
"To be honest, it hasn't even entered my mind. I was away last year.
"Anyone who does it, I think it's such a good opportunity… to be living as a professional athlete is kind of a dream for most girls.
"It's definitely a great opportunity. Especially in Australia; such an ideal place, loads of people have loads of friends over there already, it is very attractive.
"But I think a lot of thought would have to go into a decision like that."