I got a bit of a surprise after the game on Sunday - I was informed that I had been awarded a goal!
Stevie-Lee Thompson did all of the work, and I was just there to make sure it had gone over the line.
She kicked it, and as far as I was aware it had already crossed over the line. The umpire didn't call it for some reason, and when it started rolling back out to me I just kicked it in to be sure.
I actually didn't know it was my goal until one of our media people told me afterwards.
More importantly though, we won the game against St Kilda, and that was the crucial thing after losing to Brisbane last time out.
Saints started really well, and it took us a while to get going, but luckily we came good in the second half.
They dominated us in the first half, particularly in the tackle, but we came out all guns blazing after the break.
We had to do that, because we knew the game was slipping away from us, and it was enough to get us over the line.
From a personal point of view, returning to the half-forward line was a welcome move, having played in the backs last week.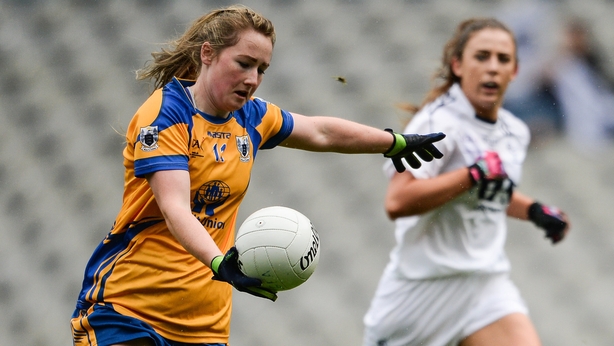 I'm used to being an attacker; that's where I play for my football and camogie teams back home, as well as during my stint over here last year.
After a rare game in the rain last week, the good weather was a welcome return this week. It was sunny, and there was barely any breeze – a perfect day for football.
The Hisense Stadium in Richmond is nice and big, so it suited us to play some open football, particularly in that second period.
Our fitness told in those closing stages, and we could use the space really well, while the weather helped us to execute the skills that we have.
As I was saying last week, I can't spend a huge amount of time under the Australian sun because it doesn't agree with my skin, but I do feel so lucky to have basically been living and training in the sun for the last 18 months.
Between the contract I had last season, then returning to Ireland for five months last summer, before coming back out here for another Aussie summer, it's been a very enjoyable period, even if I'll never get used to 40-degree heat!
But it'll always beat those November and December days training in the wet, and the mud and the darkness.
I can't imagine going back to get ready for the league in that Irish weather, it'd be such a change. So we'll keep doing the pre-season here for as long as possible!
I thought Colm Collins's suggestion about indoor pitches for this time of the year was interesting, and I definitely think it's something that we should look at down the line.
Over here, it's the opposite problem. The weather can get so dry for so long that the grass is nearly burned, and the sprinklers are a must for all the clubs on this side of the world.
Listen to the RTÉ GAA Podcast at Apple Podcasts, Soundcloud, Spotify, or wherever you get your podcasts.
This week we head to Geelong, which is a flight and then another 90 minute drive outside of Melbourne.
We'll head south-east on Saturday morning, before flying back late on Sunday night.
Geelong have lost their opening two games, but we won't be taking them lightly. They've some very good young players coming through, and they move the ball around really nicely.
As the competition goes on and teams get fitter and more used to playing together we certainly won't get away with playing for one half, like we did last weekend
In my first diary I wrote about the fact that I had a different visa this year to the one I had last year which allows me to do work outside of playing football.
This was organised by the club because they realise that it takes the pressure off us a bit, financially, to allow us to do the work on the side.
I don't have to go far; I'm working with the club running clinics for a day or two each week.
"It was difficult to talk about but I felt like it was a perfect opportunity to use my platform as an ambassador and schoolteacher"

Ireland's Eimear Considine speaks to @mariecrowe about the 'Tackle Your Feelings' campaign and dealing with the loss of a loved one pic.twitter.com/OhAyXcju8V

— RTÉ Rugby (@RTErugby) February 17, 2020
I've got to know more people in the club because I'm upstairs working with the people who run the show on a day-to-day basis.
I also go out to some local schools and teach young girls the basics of football.
It's interesting, because I'm really only learning the skills of the game myself so I sometimes end up picking up a few bits!
It's great to see the amount of girls who are taking up football in the last couple of years, since the AFLW Premiership started back in 2017.
The kids in the schools always pick up on my accent straight away. As soon as I begin to explain a drill to them they'll start whispering to each other and wondering where I'm from.
Adelaide doesn't have a huge Irish population, but one of the girls in the school told me last week that she had been born in Ireland, and that her parents were Irish.
It's lovely to have that connection. We're a small country, but we spread around the world pretty well.
It's not about being the best. It's about being your best. #TackleYourFeelings #ImTakingControl #20x20 pic.twitter.com/Cie1eu0k7h

— RugbyPlayersIreland (@RugbyPlayersIRE) February 17, 2020
Back home this week my sister Eimear spoke about the death of our father when I was 13. He died in front of us on the beach at Lahinch after suffering a heart attack.
It's not something that we'd talk about too much, and we've never spoken about it publicly before, but it has been in my head a bit this week.
The Tackle Your Feelings Campaign gave Eimear a chance to talk about it, and it's great to see the positive impact that it's had with people online.
The amount of likes and shares and comments that the video has had over the past few days is incredible.
She's reached out and it's going to help so many younger girls and boys struggling through whatever they might have going on.
Of course thinking about my dad has made me a little emotional every now and again this week. We were so young at only 13 and 14 years old and it was such a difficult time.
Our mother was our rock and she supported us through the toughest time we had in our childhood, and she's probably the reason we are both where we are today.
It was a lovely piece and hopefully it will encourage people to find their support network.