Of the 77 Allianz Football and Hurling league fixtures postponed in the last 11 years due to weather, 66 have been since 2017.
Of that figure, 2018's 'Beast From the East' was a major contributor, with no fewer than 20 hurling and 26 football fixtures having to be re-arranged for a different weekend due to weather events that spring.
The compressed league season, coupled with increasingly disruptive weather events brought about by climate change, have once again caused a headache for the GAA, with the hurling competition requiring an extension for the second year running due to the cancellation of fixtures at the weekend.
The figures for 2020 are approaching last year, with five hurling games moved since the league started last month. With each county still facing at least two rounds of fixtures, this is just one fewer than the amount for the entirety of last year's spring campaign.
In football, 2020, with three postponed fixtures, has already surpassed 2019, which only saw two.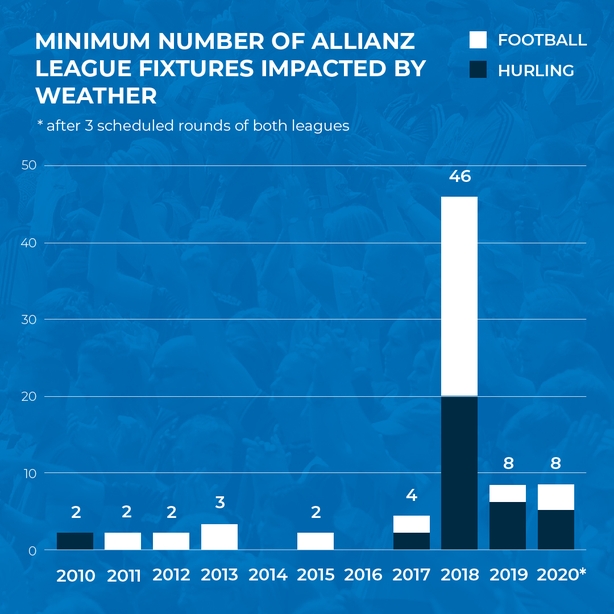 When Galway beat Cork to win the 2010 hurling league, the game was played on the first Sunday in May; the game played at the unusual time of 7pm to avoid a clash with Munster's Champions Cup semi-final against Biarritz.
The original plan for this year's final was for it to be played nearly six weeks earlier on 22 March, although that date isn't possible at this stage unless games are run-off in mid-week.
The football equivalent is pencilled in for a week later, but at this stage there's a chance that we might have a repeat of last year's scenario, where the football and hurling deciders were decided on the same day as part of a double-header.
The reasons behind the move are well known, with the GAA looking to keep April free as a "club-only" month.
The disruption in 2018 led to the final between Kilkenny and Tipperary being played on 8 April.
Listen to the RTÉ GAA Podcast at Apple Podcasts, Soundcloud, Spotify, or wherever you get your podcasts.