Former inter-county hurling referee Barry Kelly suggests it's only a matter of time before a second referee is introduced for top level hurling and argued that score-keeping could be taken out of the refs' hands.
In a wide-ranging discussion on the RTÉ GAA podcast, Kelly, who refereed four All-Ireland finals between 2006 and 2014, re-iterated his view that hurling should be open to considering the introduction of the black card.
And he added that the introduction of a second referee in top level hurling may be required given the speed of the game and the distances players are now hitting the ball.
"I'd be quite traditional in my GAA thinking. But the nature of hurling has changed now. The sliotar is just travelling inordinate distances.
"In the All-Ireland semi-final last year, Kilkenny scored a goal against Limerick where Eoin Murphy's puck-out hopped once and Colin Fennelly grabbed it 15 metres out, raced through a scored a goal. And it wasn't a particularly windy day, he didn't have a gale behind him.
"It's nearly a brand new sliotar every time a puck-out is taken. It's not like they're using a wet ball that's been hammered up and down the field.
"At inter-county level, at the highest level, it probably is only a matter of time before there's a second referee."
Listen to the RTÉ GAA Podcast at Apple Podcasts, Soundcloud, Spotify, or wherever you get your podcasts.
The issue of time-keeping cropped up over the weekend in the Allianz Football League, with referee Ciaran Branagan adding on three minutes to the injury-time period in the Dublin-Monaghan game - a decision which Kelly feels was justified - and Meath manager Andy McEntee lamenting the failure to add on additional time for stoppages at the end of injury-time after his own team's loss to Mayo in Navan.
Similar controversies have flared up in hurling before, notably after Galway's one-point win over Kilkenny in Nowlan Park in last year's Leinster championship.
But Kelly is iffy on the prospect of adopting a LGFA style hooter system for the men's games - as suggested by Pat Spillane - believing it leaves too little room for manoeuvre.
But the ex-official does argue that the referee should devolve at least one of his functions to his officials - but in the realm of score-keeping rather than time-keeping.
"I know it's only a small thing but there's a level of administration in the games these days. 15 years ago, the average score to win a match was 1-17 or 1-18 maybe.
"Today, 51 or 52 scores is par for the course in an All-Ireland final. Nowadays, if you don't hit 30 points, you're not going to win many matches really. That's the target, hitting 1-26, 1-27, 1-28.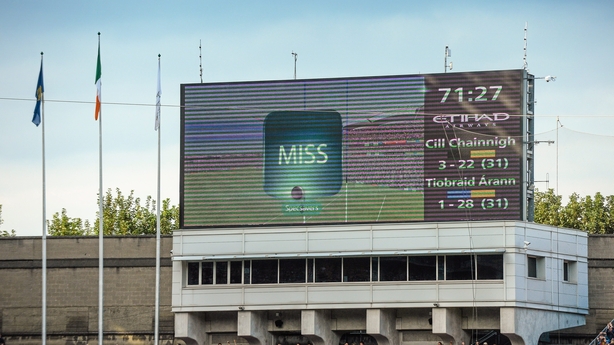 "I know people might say that it's child's play. But it is taking down the score and it's taking down the right score. And making sure it's in the right spot and not going in the wrong column. And suddenly, you've a two-point swing.
"Nothing frightens a referee more than looking at the scoreboard in Croke Park and looking at your notebook and realising they're not tallying.
"That's 55 or 56 times where you're not looking around you, you're not looking at the players, you're not looking at what could be going on off the ball.
"You're jogging out backwards, writing down the score. The goalkeeper is getting irate because Anthony Nash wants to hit a 50-yard pass to Mark Coleman on the wing and you're waiting to blow the whistle because you have to write the score in.
"I think - at the top level - where you have a fourth official, we should be delegating that responsibility to the fourth official and saying 'you keep the score'."