Brian Cody admitted he was "very happy" to beat Dublin in Sunday's Allianz League opener, as he weighs up when to call his Ballyhale Shamrocks players back into the panel.
The Cats were without their All-Ireland winning contingent, but it mattered little as they emerged comfortable 12 points winners at UPMC Nowlan Park.
"It was a good performance, and we're very happy with the win as well," he told RTÉ Sport's Siobhan Madigan afterwards.
"Before the game we would have been looking at it as a huge, huge battle to try to win it. I suppose we got into the game early and we kept it going well, and we're happy today.
"I would always say that the object is to win the league, and also to look at as many players as possible.
"We got a good opportunity to do both today."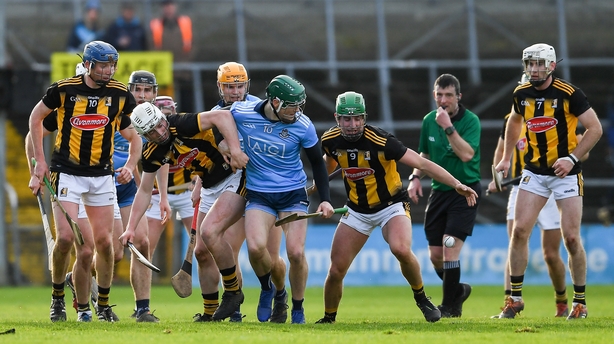 The goals came at good times for Kilkenny.
The visitors had a slender early lead before Ger Aylward capitalised on some space in the Dublin defence and, after Walter Walsh's initial effort was blocked, blasted the ball past Alan Nolan.
Billy Ryan's soft goal with ten minutes to go killed the game as a contest.
"Goals, they're worth three points, but they're worth a lot more as well for the lift that they give a team," continued Cody.
"The two early goals certainly did give us a bit of a cushion."
The second major came just before Richie Leahy was sent to the line for a charge on Danny Sutcliffe. It was the second competitive game in-a-row that a Kilkenny player was shown a straight red card, after Richie Hogan in August's All-Ireland final.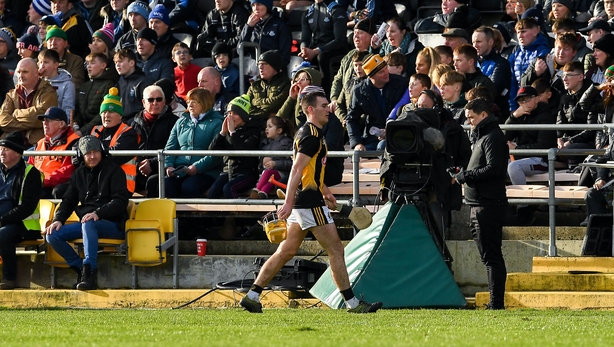 Unlike last summer, when Cody commented that a referee would want to be "very sure" before sending a man off, he was holding his tongue on Sunday.
"I'm not even going to start commenting on it, or discussing it, because we're not supposed to," he joked.
"I didn't fully see the incident to be honest, because everything happened so quickly. There was a ruck of players about the place.
"The reaction to it was very, very positive. It was going to demand a lot of energy and genuineness from the players to combat it, and also good use of the ball.
"The lads did very well considering the situation they found themselves in.
"Richie (Hogan) is going well in training, and he might be available for next week's game (against Carlow)."
The victory followed on from a historic weekend for the county, when Ballyhale (senior), Tullaroan (intermediate), and Conahy (junior) claimed All-Ireland club hurling titles.
None of the Ballyhale players were involved on Sunday, and Cody says it'll be a case of bringing different players back over the course of the league campaign.
"I'll be very much influenced by themselves (the players), by our physios and by our physical trainers.
"We'll judge the condition they're in. Some might need a break longer than others.
"We'll work towards what's best for their recovery and freshness.
"It's a great achievement by the clubs. They deserve huge congratulations, and it's also terrific from the whole point of view of Kilkenny as well."