It was a strange day at Croke Park.
Strange because it was club finals day but it wasn't St Patrick's Day, as the GAA begin the slow transition to calendar year competitions.
Strange because it wasn't raining horizontally, as in recent finals, though it would be expecting a bit much for January sunshine to keep the hardy souls who sat for four hours warm.
Strangest of all because we saw Corofin, exemplars of thrilling, positive football dragged into a low-scoring, niggly dogfight.
The first men's club team in either code to win three All-Ireland senior titles in a row eventually beat Kilcoo by eight points. But scorelines can be worse liars than politicians in election mode.
Having beaten Nemo Rangers by 15 points two years previously and Dr Crokes by 12 last year, Corofin were hotly favoured to put surprise finalists Kilcoo of Down to the sword.
Kilcoo had other ideas. They dropped back in numbers and hit Corofin on the counter, leading a grim dogfight 0-03 to 0-02 at half-time.
The Galway champions went 0-07 to 0-04 ahead after a 34th-minute second yellow for Kilcoo's Dylan Ward and we all waited for them to cut loose.
Instead, they wobbled as Kilcoo slowly reeled them in, Paul Devlin equalising in the 10th additional minute as Corofin desperately wasted time trying to hang on for victory. The teams clashed as they returned to the dressing rooms.
In extra-time, Corofin seemed to remember that wasn't how they usually played the game and blitzed their opponents for a decisive 1-04 in the opening period.
"In the other finals we went out, we were let play football."
For Kevin O'Brien, manager of the Galway village side that have now managed something other, far bigger, clubs could not, winning ugly was in some ways an even greater satisfaction.
"The way we won that final is as sweet as any of the other victories we had over the last two years," he told RTÉ Sport.
"In the other finals we went out, we were let play football. That was the way the other teams set up.
"Today was probably a bit more defensive. It was hard to get scores out there. Kilcoo are very well drilled and set up, they try to hit you on the break. We probably managed that. We went through phases, they went through phases.
"The lads showed, and a lot of the lads in Galway know this, that they can grind out results no matter what way you try to play against us.
"What we have achieved is probably fantastic, but the lads showed great character out there."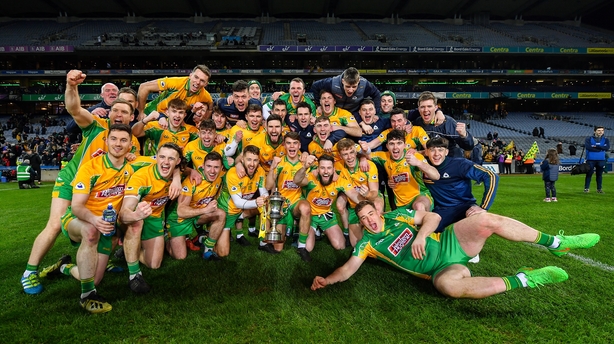 O'Brien, who insisted 'three in a row' hadn't been mentioned, was confident that his team could close it out once the game went to extra time.
"We were happy in the end to see the full-time whistle," he admitted.
"From a management point of view we went through each player we had to see who had legs and who could add a lot of value. We went out, our philosophy was to go really hard at them, to play football. The lads did that really well. I think we got 1-4 in the first half, the goal (from Conor Cunnigham) was probably the key score.
"Our panel has been key. The lads coming in were absolutely fantastic. I knew going into extra-time that we had that panel and they had that experience. It told and full credit to them all, I hope they get their rewards for it now."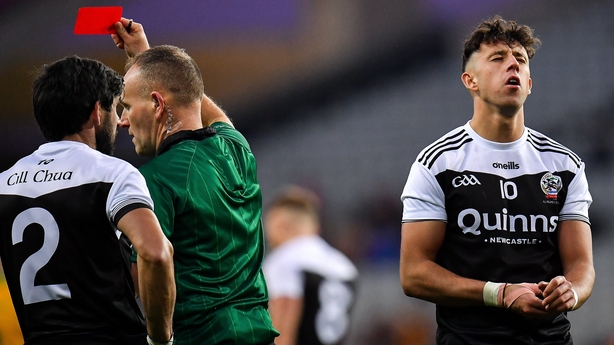 Former Derry star Conleith Gilligan, a selector with Kilcoo manager Mickey Moran, thought that their tactics had been effective but that the toll of playing half an hour with a man down eventually told.
"I thought we played really well in the first 15 minutes," he said. "We had the first five attacks and kicked three wides, dropped one short and missed a goal chance as well. If we had taken one of them it would have given us a cushion.
"They had a period of dominance after that and then we came back into it towards half-time. We were reasonably happy with how things were.
"I think it (the red card) had a huge impact because we had to change everything we were doing. It made life difficult but it was something we had planned for. We didn't have to fundamentally change what we had done but it just meant that our players had to expend so much more energy to get back into that position and then get out again. That was the difficult part."
Kilcoo can be proud of having pushed the overwhelming favourites so close but that was scant consolation to Gilligan.
"The boys are absolutely devastated. We come here and planned to win and any deviation from that wasn't even in the psyche of the boys. It is a fine line between winning and losing but when the final whistle goes if you are on the other end of defeat then it is a million miles of a difference in the game."
Strange days but a familiar name on the cup.