Corofin became the first club to win three All-Ireland senior football crowns in succession as they eventually shrugged off Kilcoo in a surreal extra-time final at Croke Park.
History will record the Galway side's superb achievement but the three-in-a-row was achieved in vastly different fashion to the swashbuckling victories over Dr Crokes and Nemo Rangers that preceded it.
Having failed to get to grips with a deep-lying Kilcoo defence, Corofin trailed 0-03 to 0-02 at the interval in normal time and despite having an extra man for almost the entire second half - after Dylan Ward's dismissal - led by just a single point going in to the closing stages.
The determined Down men missed multiple chances to level before eventually forcing extra-time through a Paul Devlin free after 10 minutes of injury-time had been played.
Corofin came alive in the additional periods, however, hitting their opponents for an unanswered 1-05 to win the Andy Merrigan Cup for the fifth time.
In 2019, Corofin scored 2-07 in the first half against Dr Crokes. The year before, Nemo had shipped 2-09 at the same stage.
In 2020, Corofin managed two points in the opening half. They didn't even kick a wide until the 19th minute.
That was partly down to their inability to deal with the counter-attacking tactics of Kilcoo, who quite reasonably decided giving the best running team around room to do it in was inadvisable, but also that the champs were uncharacteristically sloppy and outfought throughout the half.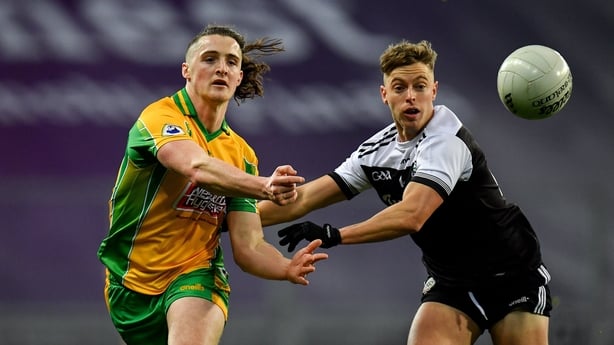 Kilcoo only managed three points themselves in the opening 30 minutes but kicked five wides to Corofin's two and probably deserved the half-time lead.
Ryan McCourt had to come off his line to save smartly from Micheál Lundy in just the second minute but that was the last offensive impression Corofin made for quite a while as they frequently gave away possession against a disciplined Kilcoo team that were happy to keep the majority of their players behind the ball and break with pace.
Paul Devlin missed a scoreable free in the eighth minute but broke the deadlock from another dead-ball five minutes later and added a second just after the quarter hour.
Ryan McEvoy fisted wide when he should have at least managed a point and then finally, in the 24th minute, Corofin got on the board through a booming Ronan Steede effort.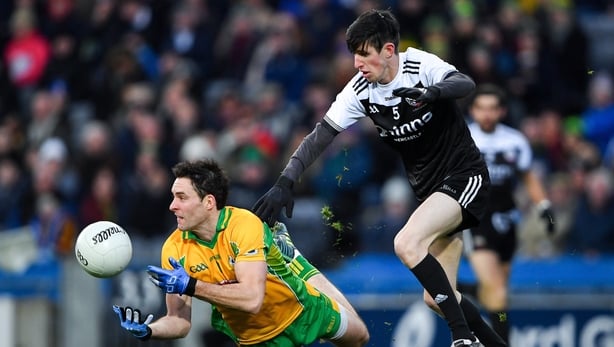 McCourt had to save smartly again, from Martin Farragher this time, as Corofin belatedly started to hit their groove, and Cathal Silke levelled after a lovely 1-2 with Daithí Burke that capped a flowing team move.
Devlin had the last word on the scoreboard though, curling a fine point over for the minimum advantage.
Directly from the restart, Steede powered forward to level, in what appeared a statement of intent. Devlin nudged Kilcoo ahead again from a free but Dylan Wall levelled with the game's third point in as many minutes, the crowd surely feeling spoiled after the grim spectacle of the first half.
Then came what seemed like a pivotal moment, a clash of two Dylans. Both Kilcoo's Ward and Corofin's Wall had picked up yellows before the break and when Ward unwisely tackled Wall around the neck referee Conor Lane had no choice but to show him the line.
Gary Sice converted the resulting free, and the one Kilcoo conceded almost immediately afterwards, making it 0-06 to 0-04 after 37 minutes.
It was still 0-06 to 0-04 after 47 minutes. Kilcoo tried to keep their shape with reduced numbers. Corofin were happy enough to pass it around, knowing they now held the upper hand.
Liam Silke, Ronan Steede and Kilcoo's Ryan McEvoy were all booked as the contest became even scrappier and bad-tempered, Jason Leonard making it a three-point game after the Down side's full-back took down Daithí Burke in the 47th minute.
That should have been that but Corofin didn't score again in normal time as Kilcoo decided to take off the shackles and dug deep.
Devlin was fouled right on the edge of the square by Conor Cunningham. He almost caught out the Corofin defence by playing it short to the onrushing Eugene Branagan but the wing-back's effort on goal was blocked and Conor Laverty tapped over the loose ball.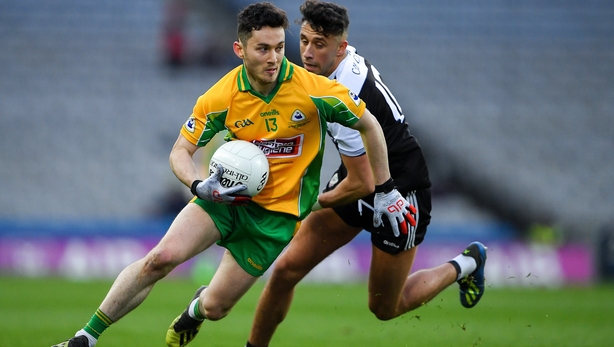 With six minutes left of normal time Darryl Branagan curled over a peach of a score to make it a one-point game.
Corofin were rattled and there for the taking now but Kilcoo seemed determined to let them escape. Devlin (a free), Laverty and Eugene Branagan all missed chances to equalise as at least five minutes of additional time was announced.
Corofin tried to run down the clock with fouls and substitutions so Lane kept the game going. After 67 and a half minutes, Mike Farragher was shown his second yellow card. Two minutes later Darragh Silke, having been on the pitch for only four, got black for a pull-down.
Lane brought the ball forward for dissent and Devlin had a free from 35m, dead centre, to equalise. As the clock ticked into the 70th minute, the 10th added on, he planted it between the posts to make it 0-07 apiece and secure extra-time.
Both sides were back to 15 for ET and you might have expected Kilcoo to have the momentum. Instead, Corofin, having almost thrown it away, suddenly turned on the style.
Steede boomed over his third point. Sub Dylan Canney and Liam Silke added scores in quick succession. Gary Sice scored a free and then Conor Cunningham bundled the ball to the net after Micheál Lundy's shot came back off the post.
Corofin had scored 1-04 in 10 minutes, the same tally they managed in the previous 70.
Seven points was always going to be a huge gap for Kilcoo to overcome and so it proved, Corofin winning by eight after Leonard's second.
If history is written by the winners, Corofin won't care about the fine print. And having won so beautifully in the past, maybe they have earned the right to win one ugly.
Corofin: Bernard Power; Cathal Silke (0-01), Kieran Fitzgerald, Liam Silke (0-01); Kieran Molloy, Colin Brady, Dylan Wall (0-1); Daithí Burke, Ronan Steede (0-03); Gary Sice (0-3f), Mike Farragher, Jason Leonard (0-02); Ian Burke, Martin Farragher, Micheál Lundy.
Subs: Conor Cunningham (1-0) for Wall (35), Dylan McHugh for Molloy (48), Gavin Burke for Brady (57), Ciarán McGrath for C Silke (58), Darragh Silke for Martin Farragher (65), Dylan Canney (0-01) for I Burke (et), Conor Newell for Lundy (et), Conor Newell for Lundy (et), Ross McMahon for L Silke (et).
Kilcoo: Martin McCourt, Niall Branagan, Ryan McEvoy, Niall McEvoy; Eugene Branagan, Aaron Branagan, Darryl Branagan (0-01); Aaron Morgan, Aidan Branagan; Dylan Ward, Paul Devlin (0-05, 4f), Ryan Johnston; Shealan Johnston, Jerome Johnston, Conor Laverty (0-1).
Subs: Justin Clarke for Ryan Johnston (50), Anthony Morgan for Aidan Branagan (57) Felim McGreevy for Morgan (et), Paul Greenan for D Branagan (et).
Referee: Conor Lane (Cork)