Blonde hair. White boots. The ability to kick points from almost any angle.
Ciarán McDonald stood out on a Mayo team that lost out at the All-Ireland final stage in 1997, 2004 and 2006.
A media-shy and softly spoken man at odds with his flamboyant image as a superstar forward, McDonald is now passing on his knowledge as part of James Horan's backroom team.
For captain Diarmuid O'Connor, having one of his boyhood heroes as a coach is an inspiration for the season to come
"When I first started watching football in Mayo, Ciarán was at the height of his career," he told RTÉ Sport at the launch of the 2020 Allianz Football League.
"It's great to have him involved now. He's already done a lot of work in his own club with underage football. Great experience, great knowledge. I'm looking forward to working with him in the year ahead.
"I've only joined in with the panel the last week or two, so I haven't worked with him that much. But I've already got little nuggets off him. Just talking to the other players, you would hear of them getting advice off him. Anywhere he can offer advice he does and it's great to have him around.
"So far it's been more one on one stuff. He wouldn't be one of the biggest talkers in the dressing room so far, but that might change as the year goes on."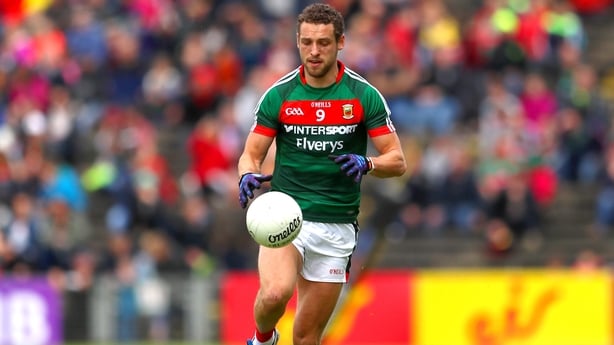 Another source of inspiration is team-mate Tom Parsons, who is set to start his first competitive game since suffering a horror knee injury almost 20 months ago.
The midfielder will line out against Galway in Sunday's FBD League semi-final in Castlebar, despite many predictions the injury would end the 32-year-old's career.
"Ever since the injury happened, Tom has been working to get back," said O'Connor. "The work that fella has put in behind the scenes has been unbelievable.
"To be honest, a lot of people would have said he'd never play on a football pitch again for his club, never mind his county. He's been training well the last few weeks. It'll be great to see him back on the pitch this weekend.
"There's a lot of leaders in that dressing room and Tom is just one of them. He's a great leader on and off the pitch, just giving advice wherever he can. "