Mayo footballer Tom Parsons says he is in good spirits despite the gruesome injury which has put paid to his 2018 season.
The midfielder was stretchered off in the second-half of the Connacht quarter-final defeat to Galway at MacHale Park after battling for possession with defender Eoghan Kerin.
The Charlestown Sarsfields man has already undergone surgery after dislocating his knee and also suffered extensive ligament damage.
Parsons told Newstalk that the goal now is simply to get back walking.
"I'm good at the moment but it's been a tough two weeks," he said.
"The pain was something that I just can't get my head around"
"I've ruptured three of the four ligaments and I've torn the fourth. There are tears to the calf and hamstring as well and knee is fully dislocated.
"The pain was something that I just can't get my head around. Now I understand what 10 is, this was just excruciating. The pain was short term, it was temporary."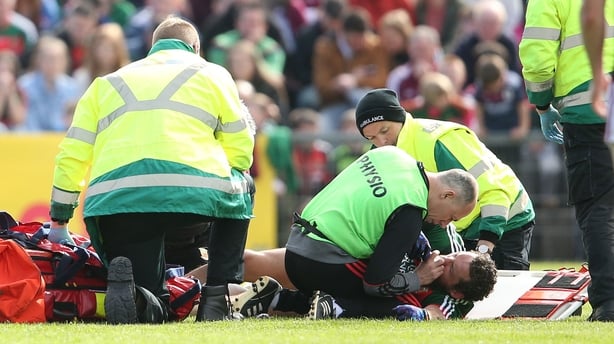 Parsons said he immediately knew there was something seriously wrong when team-mate Aidan O'Shea told him not to look down at his leg.
A key figure in the Mayo panel, his loss will be keenly felt by Stephen Rochford as they prepare to negotiate the qualifiers.
Parsons has begun the long and lonely road back to rehabilitation, but says he has no intention of watching video of the horrific incident.
"I've looked at the pictures, I haven't looked at the video and I'm not going to. I just need to get my head around what happened and understand it and that's why I looked at the picture."