Michael Duignan has said "the timing is right" for him to take on the challenge of turning around the fortunes of Offaly GAA.
Duignan, 51, was elected as the new chairman of the Faithful County on Wednesday, defeating incumbent Tommy Byrne by 76 votes to 62.
As a player he won two All-Irelands with Offaly in 1994 and 1998, as well as five Leinster titles in 11 seasons.
In recent years he drifted into the administrative side of the game, gleaning crucial experience he believes can help him change the culture in a county that has fallen on hard times.
"You decide at different stages of your life where you best place yourself," Duignan told RTÉ 2fm's Game On.
"My wife passed away in 2009. That rooted me to where I had to be to be, which was at home with my lads. That's when I really got into administration.
"In 2010 I became chairman of our local club. That was a small club, Ballinamere/Durrow, but I had a vision for that. I know the project in Offaly is much bigger but the same types of demands would be facing Offaly now.
"I had a plan with Ballinamere/Durrow. We implemented it and we grew our club. We had about 110 kids in 2010 and about 10 or 12 coaches. We have almost 400 kids now and 62 coaches.
"I stepped down in 2017 as the chairman and took a break for a year. My two lads are gone on to college now. My life has moved on to a different stage and I just said, 'look, I have the energy back now to do this for a number of years'. The timing is right."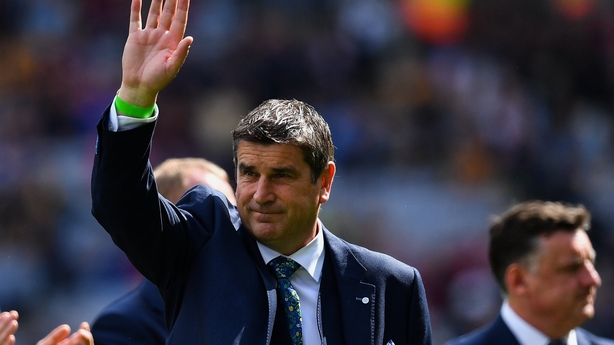 Offaly's hurlers were relegated from the Joe McDonagh Cup in 2019, meaning they will now compete in the third-tier Christy Ring Cup.
The footballers, who last won the Leinster title in 1997, will be playing in Division 3 of the Allianz League.
There has not been much for Faithful fans to cheer, but Duignan is convinced the desire is there to turn things around.
"The last three months really it was fairly full-on in terms of meeting the clubs," he said when reflecting on his campaign to be elected as chairman.
"There's 41 clubs in Offaly. We set out a strategy to go and meet the clubs, to listen to what they had to say. Overall it was a challenging process but it was hugely enjoyable.
"The enthusiasm of the people we met in the club and the passion they have for Offaly, that energised it. I wasn't sure what sort of reaction we'd get, but we were challenged and questioned, people were very tuned in to what we had planned.
"They had concerns about different things and everything was out on the floor. It was fantastic.
"This was never about the people that were there. It was about what we thought we could do to change the direction of Offaly and maybe bring a new leadership and a new vision to the table."
Duignan is under no illusions about the scale of the job facing him now, but he's confident he's in a good position to tackle it head on.
"It's a massively challenging role," he added.
"I've said this long before I ever ran for chairman of Offaly. Years ago it was very much a part-time role in terms of running inter-county teams.
"Every team trained a couple of times a week and that was the way it was. You're expecting voluntary people now to give up massive time to run huge organisations.
"It was never a criticism of people, it was never about politics to me, it's just about Offaly GAA.
"I got a mandate to lead the county and that's what I have to do."