St Patrick's manager Casey O'Brien criticised the introduction of penalty shootouts to Gaelic Games after his side exited the Leinster club SFC on spot-kicks to Portlaoise.
Portlaoise needed an injury-time leveller from Kieran Lillis to force extra-time against the Wicklow champions and also had to fight back from the concession of a goal in the first additional period before winning the shootout 5-4.
O'Brien questioned why a midweek replay couldn't have been scheduled rather than requiring games to be decided on the day, suggesting it was unfair to put the pressure of penalties on amateurs.
"It was a horrible way to go out," he told Sunday Sport on RTÉ Radio 1. "We're still unbeaten but we're out of the competition.
"It was a great battle there today with ourselves and Portlaoise. It looked like we were going to get over the line but a draw after extra-time and then losing on penalties is a cruel way to go out.
"But I can't fault our lads. They battled to the last. They're gutted.
"It's not the right way to go out. It's terrible to put that sort of pressure on amateur players. I don't agree with it at all.
"We would have had no problem in going down to Portlaoise and playing a replay. Even if you have to play it on a Wednesday night under lights, it's a better way of going out than on penalties.
"I think it's something that they have to look at."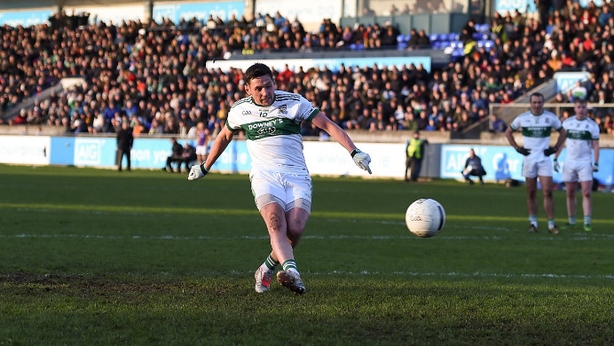 Portlaoise manager Niall Rigney sympathised with the manner of the defeat and admitted St Pat's had probably been the better team.
"It's an awful way to lose," he said. "We got out of jail but we're delighted to get the win.
"It's tough on Pat's, they were probably the dominant team for a long time.
"But I think we showed great resilience too to come back. We never stopped going which is one great thing that we have had all this year in Portlaoise.
"Our best performances all year have been the second halves of our games.
"Kieran Lillis stood up in our county final and stood up again today, chipped in with a goal and a point or two.
"We have a Leinster semi-final now against Eire Og and we know we have a lot of work to do but we're delighted to be there."