Gaelic Players Association CEO Paul Flynn said he couldn't rule out the possibility that players and teams would boycott the new Tier 2 inter-county football competition recently endorsed at Congress.
In a survey taken ahead of the vote at Congress, two-thirds of GPA members were opposed to the published Tier 2 proposals, which stipulated that Division 3 and 4 teams would not contest the Sam Maguire unless they reached a provincial final, being placed instead into an as yet unnamed second-tier competition run off over the remainder of the summer.
The GPA, along with the CPA (Club Players Association), urged delegates to vote against the Central Council proposal but it passed easily with 75.5% voting in favour.
Speaking to Game On on RTÉ 2fm this evening, Flynn said that many county delegates had voted against the wishes of their own county players.
And the GPA CEO added that opposition to the new Tier 2 competition was so strong among some inter-county panels that he couldn't discount the possibility that some boycott the competition outright.
"Two-thirds of players don't buy into this competition," he told RTÉ Sport.
"Forget about Division 1, this is Division 2, 3, and 4 teams, who could be directly affected by this, as of next year, and two thirds of them are against it.
"That's why we advocated against this competition. We got the views of the players, we shared them with the GAA and yet they still go ahead with this.
"Even at Congress, there were some counties standing up and promoting this Tier 2 competition when we knew the players on those respective squads had actually outlined to their county board that they wanted them to vote this down.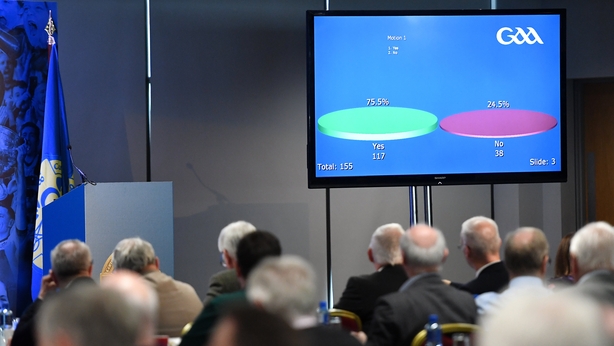 "There's a disconnect and that's where it lies.
"What we need to do is to speak to all the squads, understand what they want to do. There's obviously the risk that some teams are going to boycott it, not play it. That's their prerogative.
"You couldn't disregard that possibility (of a boycott) just yet. There are some counties that are very, very strongly against this - very, very strongly against this. That's for their own reasons and they've the right to have those thoughts. It's their prerogative what action they take. We have to see what the players think.
"We want to get a championship structure based off feedback from players. And from administrators. And other people. We're not the only stakeholders in this but we're an important one.
"Unfortunately, it was ignored. The risk now we run is that the competition becomes unsuccessful.
"The players outlined their positions to the GAA administration and the county boards and they didn't listen to them. It's not the fault of the players. They wanted to buy into a competition. Unfortunately, the solution isn't the solution the players were looking for."
"Even at Congress, there were some counties standing up and promoting this Tier 2 competition when we knew the players on those respective squads had actually outlined to their county board that they wanted them to vote this down."
Flynn also denied that the GPA was trying to force the GAA along a 'pathway to professionalism', saying that they were merely seeking greater supports for players so they don't incur expenses to play.
In August, Flynn bemoaned that players weren't being paid the right expenses in a timely fashion and one of the motions at the GPA's September AGM proposed the introduction of a centrally administered online expenses platform for county players.
The GPA CEO suggested that certain media presentations had framed it in a light which led people to conclude he was advocating professionalism.
For Flynn, however, the key issue was not pay for plays, but that players should not pay to play.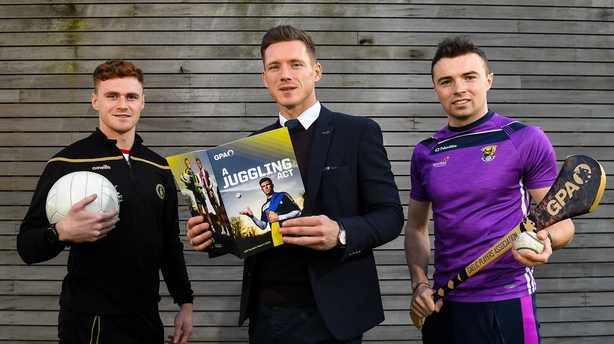 He highlighted the GPA's just published report into student inter-county players - constituting almost one-third of their members - in which 80% highlighted financial supports as their main issue.
"People read articles and they hear me saying things and they say this guy is on this pathway to professionalism. That's not the case.
"What we do need to do is create a long-term sustainable form of amateurism, if we're going to maintain this amateur model.
"Currently what's happening is, the guys are training like professionals, they're putting the hours in like professionals, and they're not being supported to do so.
"And that doesn't mean supporting them by paying them. But it does mean reimbursing them with the expenses that they are incurring to play. Players shouldn't pay to play. And currently, they are.
"Even in the student report, when asked, what's your No. 1 priority, or what's the No. 1 thing the GPA can help you with, it was overwhelmingly finance support. 80% of them highlighted by being an inter-county player and a student, it puts significant financial strain on their families.
"When people see me saying the players need to be supported better, and then they say we want a greater slice of the pie, whatever way they want to frame it for a good story, it's really to support the players and that's what I'll continue to advocate for.
"We need to get more support for players. Where we get it from, we're agnostic to but we need to get more support for players."
Accusations of elitism have been lobbed at the GPA, following on from their advocacy of the inter-county players' cause.
Flynn, however, insists he understands the dilemmas faced by club players (stressing that he is a club player himself currently) and lamenting what he regards as an attempt to "drive a wedge" between the club and county game.
He reiterated his belief that the fixtures task-force, established in July 2019, should be given the space to hammer out a championship structure and a revised playing calendar which can better serve both the club and county game.
"There is a glimmer of light and it is the fixtures taskforce. That's why ourselves and the CPA were saying 'give these guys the an opportunity to finish their work'.
"An eclectic mix of people, stakeholders, really good minds in the one room. We need to get a co-existence between the clubs, the counties, the colleges and all competitions.
"As I say right from the start, I represent the inter-county games. I'm now a club player so I understand the plight of the club player, although the Dublin club championships are run very well.
"I think it's important that we continue to represent the inter-county games. It is the platform for growth for our games. People see this disconnect between club and county. There shouldn't be. The inter-county players are role models for our games all across the country, which impacts on broad participation in clubs all around the country.
"And they grow up and play in their field and say 'I want to play for my county'. That's the beauty of inter-county games but it should be connected to the club, rather than people trying to drive this wedge between them."
We need your consent to load this SoundCloud contentWe use SoundCloud to manage extra content that can set cookies on your device and collect data about your activity. Please review their details and accept them to load the content.Manage Preferences
Listen to the RTÉ GAA Podcast at Apple Podcasts, Soundcloud, Spotify, or wherever you get your podcasts.