Surely it couldn't be happening again?
Padraig Pearses, having lost seven Roscommon SFC finals, and five since 2005, were back for more against Roscommon Gaels on Sunday.
The men in red and white had looked in control at half-time at Dr Hyde Park, goals from Conor Payne and Hubert Darcy easing Pat Flanagan's side into a seven-point lead.
They scored the first two points of the second period to stretch that to nine but, somehow, heading into injury-time, the Gaels trailed by just a goal. Memories turned to 2008 when Pearses had coughed up a draw with the final play of the game and then lost the replay.
Almost nine additional minutes were played by referee Marty Parker following two red cards for Gaels players, but this time Pearses held firm to turn the page on the pain of history.
"When the final whistle went it was just complete relief," Niall Carty, co-captain alongside Ronan Daly, and finally winning at his fifth attempt, told RTÉ Sport.
"Unreal. Just to see lads you had played with the last 10 or 15 years and had put in so much effort and hard work with tears in their eyes. It's for them as well, as much as the 30 of us.
"If you could do it again, you would definitely do it sooner but the way it was made it an even bigger deal. It's fantastic."
Carty won a minor All-Ireland with Roscommon and captained the county to Division 2 and 3 Allianz League titles in 2014 and '15 but to capture the elusive county crown alongside stalwarts of '05 and '08 like Sean Fahy and Niall Finneran puts everything else in the shade.
"You're doing it with the lads that you grew up with, that you suffered with for so many years.
"They (Fahy and Finneran) are the two oldest, along with Mossie Dolan, and they have put in serious time. It was great to get them on the field and meant the world to them. Great to get them over the line for what they had worked so hard for.
"You always had a few doubts whether it would ever happen. You would see the (Pearses) hurlers winning, the ladies winning, see the celebrations and wonder would we ever get that?'
"It was worrying there for a few minutes alright. Thankfully we saw it through."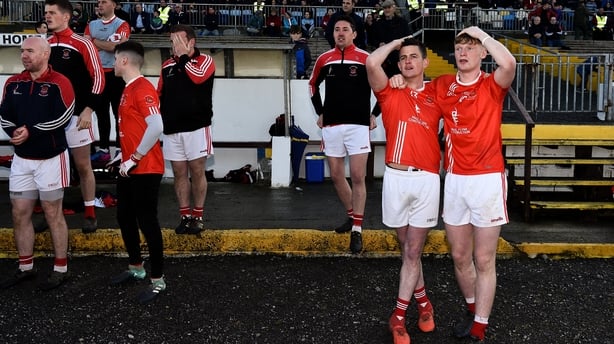 The Gaels' fightback, ignited by Richard Hughes' goal, made for a suitably dramatic finale but it's one Carty could have done without.
"We lost our way a little bit. I don't know did we retreat and try to mind it as much as anything, we didn't really drive forward as much as we should have.
"There were three minutes of normal time left and there was six in it. They had two men sent off and still we were under pressure for the nine minutes of injury time. We just couldn't get our hands on the ball. Even with the two extra men.
"You're thinking 'How are we in this position after being the better team by six or seven points over the course of the game?'
"But you're just doing whatever you can to see it out. There were a few fouls that had to be made and even at the very end the ball was landed in on top of our keeper (Paul Whelan) and there was a bit of a scramble. So it was heart in your mouth stuff right up until the final whistle."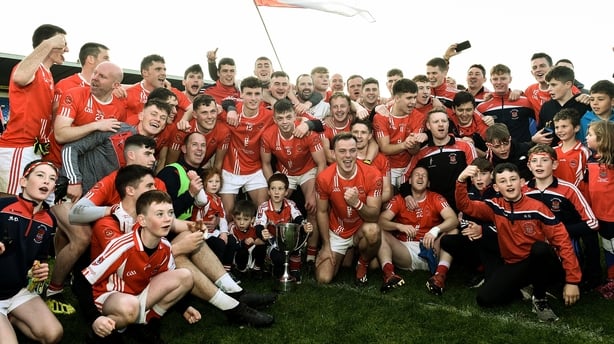 Following an extended trip from Roscommon town back to the Pearses clubhouse near Ballinasloe last night, Carty was back in work this morning at Athlone Community College, where some of his students are members of the club.
"It took us two and a half hours, we did the full loop of the two and half parishes," he says of the journey back.
"It was great to see how much it meant to people. It will mean the world to the kids and do a lot of good for the underage."
A first Roscommon senior title also means a first Connacht SFC club campaign. Pearses did reach the Connacht intermediate final in 2011 after bouncing back immediately from relegation but a test against the Sligo champions represents a step up again.
Carty is confident Flanagan, a former Sligo manager, and his backroom team will have them well prepared for Tourlestrane or Coolera-Strandhill on 3 November.
"We'll regroup probably next weekend and start looking forward to that. We're in bonus territory now and we'll give that a right cut.
"The management team we have is unbelievable. The three club lads, Gerry Kelly, Aidan Fallon and Niall Murray, the effort they put in is inter-county level to be honest, the time and the detail.
"Every club Pat has been at he has won a county championship. He has some record."