Pádraig Pearses 2-10 Roscommon Gaels 1-10
Until today, Pádraig Pearses of Roscommon were known for producing great players, competitive teams, but always finding a way to fall narrowly short. Until today.
This afternoon, they finally reached the promised land against Roscommon Gaels, as first half-goals from Conor Payne and Hubert Darcy powered them to a win over the county town side, a win that was far more commanding than the final score suggested.
Midway through the second half, Emmet Kelly fired over his third point of the afternoon to put them 2-9 to 0-6 ahead, and it looked inevitable that 57 years of history, including eight failed county senior finals (if you count the draw in 2008), was about to be crowned with the club's most famous chapter.
Yet the weight of a history like that can wear down even the broadest shoulders, and the relentlessness of their attacking play receded completely, as fear took over.
Roscommon Gaels chipped away at the lead with three points in a row, though a Hubert Darcy free with eight minutes to play should have settled Pearses nerves again.
Instead they dropped right back into a defensive formation, invited the Gaels onto them, and even after a row broke out on the field that led to straight red cards for Bryan O'Gara and Cian Connolly of the Gaels, they conceded a point to a Ronan Carolan free and a well-taken goal from Richard Hughes that set up a dramatic period of injury time that extended for nearly nine minutes.
The Gaels pushed everyone – including goalkeeper James Fetherstone – up into the Pearses half of the field and won three kickouts, but they didn't get the goal chance they needed and so it was the club from the parishes of Moore, Taughmaconnell and Creagh that secured a famous victory.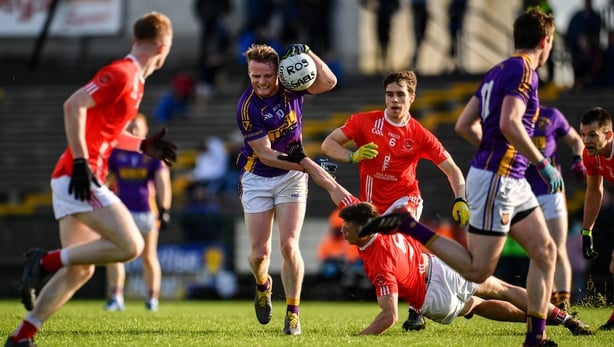 Roscommon Gaels started the tie well with early points from Tim Lambe and Cian Connolly, but Pearses took over for the remainder of the first half and laid the foundations for victory.
Conor Daly and Emmet Kelly drew them level with inspirational scores and then the crowd, which was largely there to support the South Roscommon club, went into raptures when Hubert Darcy and Conor Payne combined brilliantly to give Payne an easy finish into the Gaels' net.
Both sides added a couple of points each before the Gaels net rippled again, this time with Darcy the scorer. A huge amount of credit must go to Emmet Kelly for winning a ball between two defenders, and after the ball was transferred through the hands of Conor Payne, all that remained for Darcy to do was hold onto the ball through a tackle from the goalkeeper and slam it into the net.
That lead was pushed out to seven, 2-7 to 0-6 at the break, and they started the second half in the same vein as they had finished the first, with Conor Daly and Emmet Kelly again the two players that got them going.
At that point, white-line fever kicked in and it was an uncertain final third that saw them fall rather than stride over the line, but after so many stories of heartbreak, that will only be a footnote to a very happy chapter for the club.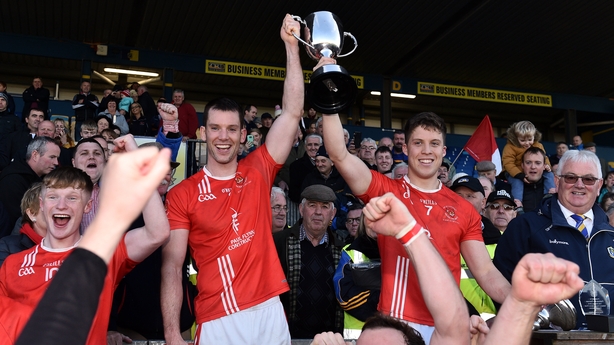 Pádraig Pearses: Paul Whelan; Shane Carty, Mark Richardson, David Murray; Anthony Butler, Ronan Daly, Gavin Downey; Niall Daly, Conor Daly (0-02); Lorcan Daly (0-01), Niall Carty, Paul Carey (0-02); Emmet Kelly (0-03, 0-01 free), Hubert Darcy (1-01, 0-01 free), Conor Payne (1-01).
Subs used: Tom Butler for Kelly (47), Alan Duffy for Carey (49), Sean Ryan for Payne (60+3), Sean Fahy for Downey (60+6), Niall Finneran for L Daly (60+7).
Roscommon Gaels: James Fetherstone; Tim Lambe (0-01), John McManus, Mike McNeill; Kevin O'Gara, Richard Hughes (1-00), Paul Gleeson; Mark Healy, Kieran Kilcline; Scott Oates, David O'Gara, Brian Kelly; Ronan Carolan (0-02, 0-01 free), Cian Connolly (0-05, 0-04 frees), Peter Gillooly (0-01).
Subs used: Mark Nally for Gillooly (39), Bryan O'Gara for Healy (42), Ronan Gleeson for McNeill (44), Cathal Dineen for Kelly (49), James O'Gara for K O'Gara (60+2), Richard Walsh for Kilcline (60+6).
Referee: Marty Parker