Jason Sherlock has admitted that he did have to take time to consider his role with the Dublin senior football panel at the start of this year.
In an exclusive interview with for RTÉ 2FM's Game On, the 1995 All-Ireland winner tells Marie Crowe that he had to be certain that the management team were singing off the same hymn sheet before he committed for another season.
"I'd like to think that any team I've been involved in, I just want to serve the players as best I can," said the Dublin forwards coach/selector.
"No different from any year, I was questioning and challenging that. Sometimes that takes a while to get through. I've no doubt that will happen this year, and it'll happen with any team I'm involved in.
"I hadn't been involved at the early part of the year. People put two and two together and got something else.
"At the time, all I wanted was what's best for the players, and thankfully we got to that situation and things worked out."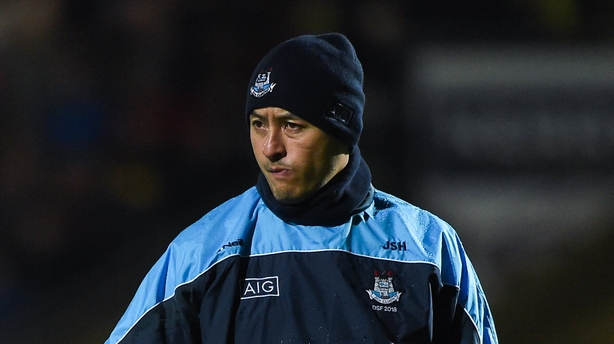 Unquestionably, the season was a success for the Dubs as they claimed Sam Maguire for a historic fifth year in-a-row.
Kerry were the latest final victims, after putting themselves in a great position to claim the title in the drawn final. The Dubs, as they have tended to do in this run, learned more in the two weeks between the games, and Hill 16 were able to find their voice before the end of the replay.
It was in the build-up to the clash between the counties back in February that Sherlock's involvement had first been questioned. Kerry were set to host the Blues in the Allianz League, and he was rumoured to have parted ways with the panel.
Lo and behold, the Dublin team bus pulled up outside the ground on John Joe Sheehy Road in Tralee, and off stepped Sherlock. The eagle-eyed among the sell-out crowd noted the fact that 'Jayo' was in his 2018 tracksuit, but his self-imposed hiatus was over.
'I'm totally aware of all the negativity and criticism about Dublin... what is challenging for me is how entrenched it's gotten' - Jason Sherlock reflects on challenges facing GAA in an interview with @GameOn2FM pic.twitter.com/jj2G88UxyS

— RTÉ GAA (@RTEgaa) October 8, 2019
"Not that I'm aware of," was Sherlock's response when asked whether there was any sort of tension upon his return to the set-up.
"When you say the early part of the year, we're talking a couple of weeks. The lads had only been back (and) I'd been on holiday with them in January. It wasn't as if I was away for very long.
"Obviously I would have been in contact with players and management through that process. It wasn't as if there was a total separation, as such.
"It was just figuring out things in my own head, and then obviously with Jim and Dec (Darcy, Dublin selector) to see that we were serving the players as best as we can.
"I understand media have responsibilities, and they want to create stories. I thought it was important that I was involved down in Kerry when these headlines came.
"It was as simple as that. After that it was parked, and we moved on from there."