There is an appetite among players for a tier-two football championship, but it has to be packaged the right way.
That's the view of Donegal coach Stephen Rochford and former Wicklow manager Johnny Magee, speaking on RTÉ 2fm's Game On.
The GAA announced that a Special Congress at Páirc Uí Chaoimh in October will be held to vote on a motion for a new tier-two championship.
The proposal, if passed by delegates, would put counties from Division 3 and 4 of the league into the new competition unless they make their respective provincial finals.
The GAA tried something similar in the early years of this millennium with the Tommy Murphy Cup and it eventually withered due to lack of interest from eligible counties.
Former Mayo manager Rochford and long-serving Dublin defender Magee fear that the same thing could happen if the GAA don't sell it properly to those likely to be involved.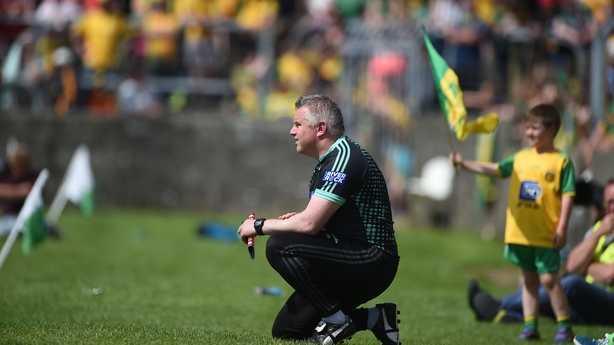 "I think it's a really tricky one," said Rochford. "There's definitely validity in having the debate. It's probably moving a little quickly for some of the counties that may be associated with tier two.
"My concern would be that the buy-in won't be there. Will they buy into it, use it as a platform to drive for the next four or five years so that they can get up to tier one?
"I would like to see it properly trialled and properly platformed on All-Ireland weekend and put it up there as something that players could aspire to.
"It's nice to talk about everyone having a chance of winning Sam Maguire, but we're talking about one team (Dublin) having that and maybe two or three other teams being able to compete at that level.
"I think it should be trialled, but trialled in such a way that brings everyone together and puts a bit of weight behind us."
Magee, who has seen what it's like at the Division 4 coalface with Wicklow, added: "I think some players will buy into it, but there are others that won't because it's seen as a second-class competition and you can understand that.
"I think the GAA need to speak not just to county delegates, but they need to speak to the players themselves.
"You're training a team for the guts of ten months and you get to play nine games in those ten months and there's five months after the championship before there's another quality match. It's not fair for the time and effort that goes into it.
"The GAA are rolling it out, but have they spoken to the players who have played Division 4, beaten in the first round of provincials for the last few years? I don't think so."