During the week, I had the rare pleasure of eavesdropping as recent rowing World championship silver medallist Phil Doyle spoke in depth about his journey to date as an athlete.
Listening to his non-linear path, the hurdles he assaulted and the victory of his will in what can be the most lonely and tortured of sporting environments, I was reminded of an eternal sporting truth: Ability and talent pale into insignificance under the weight of mental toughness.
There is little doubt that today's final pits our sport's most talented teams head to head. The majesty of the drawn game in terms of character, competitiveness and no small amount of quality from both teams framed the beginning of a rivalry that could reignite Gaelic football at the very highest level in the coming years.
Layers of analysis, opinion and review have done little to separate these two gladiators. There is no agreed narrative ahead of what may be the defining game for a generation.
Expectations of Kerry
There is a general acknowledgement that Kerry have an attack that can inflict significant damage to Dublin's chances of regaining their crown. That cutting edge was expected ahead of the first encounter but their inefficiency in front of goal was not.
There is an understanding now that, despite reservations before the drawn game, Kerry have both the personnel and a plan that can deliver beyond parity of possession around midfield. Reproducing that performance would create a platform for the best attack in the country that could be devastating.
Against all expectations, there is now, most importantly, evidence that Kerry's individual and collective rear-guard can blunt the cutting edge of a Dublin attack that looked irresistible throughout the 2019 championship.
Kerry have demonstrated that they have the ability to eclipse Dublin in each of these three sectors – that much is accepted, even if there is not an expectation that this is what will transpire.
Dublin can only be better?
Despite the lack of clearly defined patterns in the drawn game that might accurately predict the outcome of the replay, there is consensus about the underwhelming nature of Dublin's individual and collective performances. It is natural to assume that perpetually excellent players can only be better the second time around.
That is a dangerous assumption that underestimates Kerry's comprehensive plan to neutralise Dublin's leadership on the pitch. Those key Dublin players will have been processing their own frustrations as part of an intention to respond to the same challenge this evening.
On a day where few players hit their expected performance levels, Dublin can take solace from almost winning the game despite playing with 14 men for the majority of the play. Leaving aside the perceived tepidness of their play overall, the champions still created a match winning position down the home straight.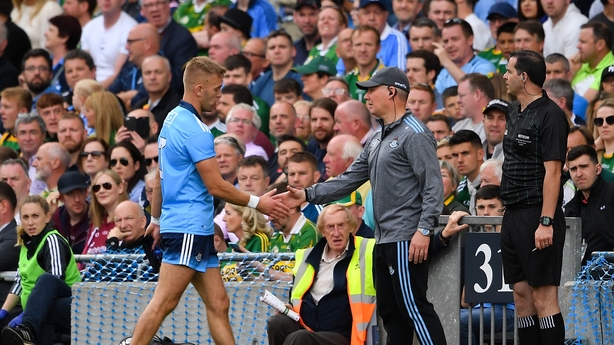 Lessons From An Olympian
When reflecting on how he has pushed himself to Olympic qualification, ahead of seemingly more talented rowers throughout his journey, Phil Doyle had a concise explanation. It was the same reasoning he offered for his capacity to reach into his soul for the energy to find another gear with 500m to go and when lactic acid is shutting his muscles down: mental toughness.
The 'talent' to execute a consistent rowing stroke when your body is resisting every movement is the same talent that pours out of the very best footballers in the last ten minutes of a Championship game under extremes of pressure.
Phil described his mentality as psychopathic. Clinical, strategic, meticulous planning followed by deliberate, ferocious and devastating execution. Often, under pressure, sports people respond manically. Their actions can be unpredictable and desperate. Psychopaths have planned for the frenzy.
Tackling with searing intensity but also with discipline. Finding another support run despite the burn but making the right decision when you get there. Composure and patience. Attacking the ball when logic says, 'be careful'. Being brave enough to kick because you know it's right, when everything depends on the outcome. These are just some of the psychopathic traits we will expect of leaders when we inevitably reach the crescendo this evening.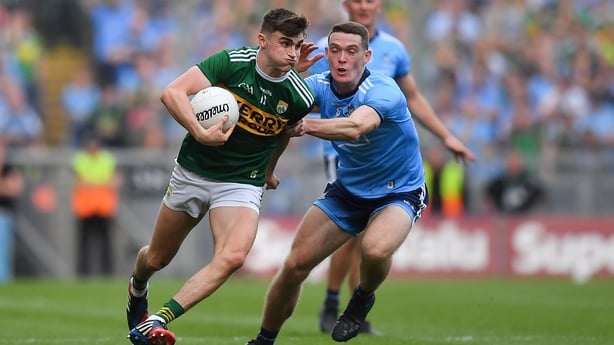 The Deciding Factor
It is not beyond the realms of the possible that both teams will push each other to the very limit again this time around. There are signs that we may have arrived, without expectation, at the crossing of contrasting development graphs for two exceptional teams.
We may have expected Kerry to have been a year early for All-Ireland territory but that may have been hasty and they may be now further down their development path on the back of the draw experience. Similarly, there may have been signs of slowing in both Dublin's key defenders and their impact subs. Again, the warning signs were not of imminent danger but the high intensity of the first contest may have opened these cracks further – certainly in the minds of Kerry players.
Reviewing the drawn game, the Kingdom players and coaches will lament one crucial aspect of what was quite a comprehensive performance. When they hit the front and history loomed large, their composure dissipated. They had not anticipated the scenario in their minds and there was no plan to execute.
Dublin's regrets will centre around composure also in the final 12 minutes of play when they did so much right but failed to execute under pressure for possibly the first time during their reign.
Borrowing from Phil Doyle's expectations of himself under pressure, this game could be decided by the team who have learned most from the final quarter of the drawn game and have planned to better react this time around.
Planning is a key element but executing when it really matters is what can define a legacy. Mental toughness supports all of the decision making around making that happen.
The one clear marker from the first clash of these great rivals that might define an outcome was Dublin's resilience. Not everything went their way and with the sending off and poor key player performances, they could have been understood for believing the writing was on the wall.
Instead, they dug in. They found their focus in defence and a way to stretch Kerry when they could. They did enough.
When the defining moments arrive later this evening, Dublin's resilience could be the deciding factor.
Follow Dublin v Kerry (6pm) in the All-Ireland SFC final replay via our live blogs on RTÉ.ie and the News Now app, watch live on RTÉ2's The Saturday Game or listen to radio commentary on RTÉ Radio 1 and RTÉ Raidió na Gaeltachta.