The opening of Croke Park for this year's women's football All-Ireland semi-finals was another milestone for the sport's slow march towards equality.
The LGFA have been long-term tenants at GAA Headquarters on their finals day each September, though this was the first time that any games from earlier rounds were staged at the historic Jones' Road venue.
Over the past few years the LGFA have put major emphasis on drawing big crowds to their finals and they have repeatedly broken the records they set, getting 50,141 paying punters through the turnstiles in 2018.
However, this has been starkly removed from the figures attending most inter-county games and barely 1,000 bodies gathered at Dr Hyde Park in Roscommon for last year's All-Ireland semi-final double-header.
There were claims that the expected crowd for Sunday's Dublin-Cork and Mayo-Galway matches of 10,000 would be lost at Croke Park. In one way it was, though they generated a decent atmosphere, but that's to miss the point.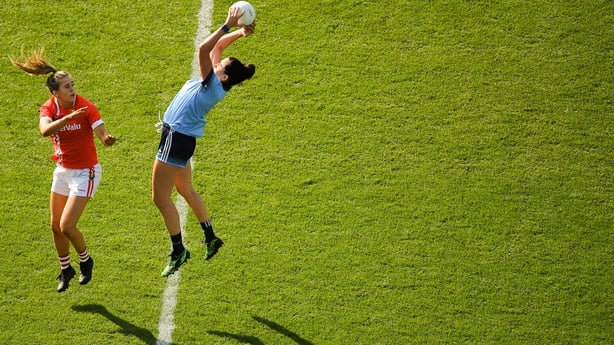 "I think it was a great step forward for the LGFA," said Dublin's Niamh McEvoy, who clipped over a first half point in the 2-11 to 0-11 win over the Rebels.
"I think they have done great work, this was a bit of a trial and if you think about there was 10,000 here - that's 9,000 more than was at our semi-final last year.
"Hopefully as the profile of the game keeps building you'll get more and more at the semi-finals. We love playing on the best surface in the country so we love playing in Croke Park."
On the back of last year's record-breaking All-Ireland final attendance Dublin centre-back Sinéad Goldrick said that her and her team-mates wanted to win and put on a display to show respect to the 50,000 people there and in turn earn their respect.
Manager Mick Bohan echoed these comments in 2019 and added that he isn't bringing up his children so that the boys can aspire to play in Croke Park and the girls can only dream of other, smaller grounds.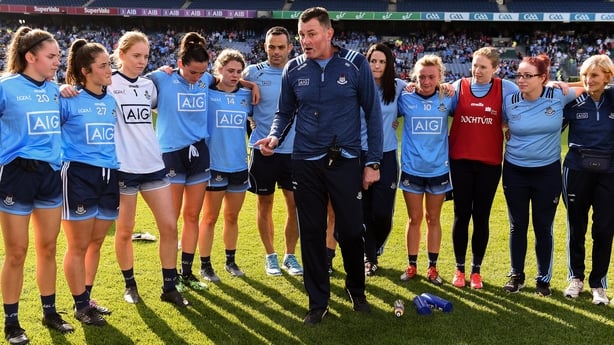 "The reality is Croke Park has its own aura about it with the stories and the history that goes with it, so to bring your family and your kids to Croke Park for any occasion is fabulous, completely different to anywhere else," he said.
"We're terribly aware coming into this that it was a huge occasion and Croke Park made it a bigger occasion. I think if we're we're genuine about this as GAA people that's the way we have to go.
"I didn't bring up my kids for the fellahs to play in Croke Park and the girls to play somewhere else - I didn't do that. If we talk about equality, we have to back it up.
"We're very aware of the fact that once you put your hand up looking for equality then we must deliver with our performances because people come here to be entertained."
And they were entertained, with the All-Ireland champions moving into a sixth successive final as they look for a three in-a-row and Galway beating Mayo in a thriller in the opening game of the Croker double-header.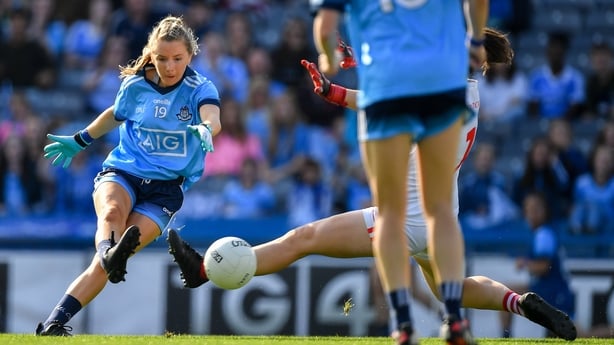 Dublin and Cork have shared the last 14 All-Ireland titles between them, the Rebels taking 11 titles, and Bohan says he understands how they became so dominant.
"These next three weeks are the best three weeks of your life," he said. "You're preparing at a really high level with a view to playing the biggest game of the year. That's what drives them.
"I can understand why Cork became so dominant because this becomes a drug - you want it and you want it as often as you can get it and the adrenaline buzz that comes from that."
"There's in incredible respect for any team that's gone to do what Cork has done, we'd be fools not to.
"In fairness, in the national league semi-final we threw all of our cards at them in that match, it wasn't a case of holding anything back, and they beat us in extra-time so we knew how dangerous they were.
"The achievement today for our group is massive, but ultimately we know that if we go on in three weeks time not to be victors no one will remember this game.