Dublin moved to within one win of a TG4 All-Ireland Championship three in-a-row when they knocked out Cork in their heavyweight bout at Croke Park, winning 2-11 to 0-11.
These sides have shared the last 14 Brendan Martin Cup wins between them, stretching back to Galway's 2004 triumph, and the Dubs came out on top in last year's intense decider.
This semi-final was nowhere near as breathless as their last meeting at GAA Headquarters, though entertaining nonetheless as the Girls in Blue moved into their sixth final on the bounce having lost the first three of those to the Rebels.
They will face Galway, who beat Mayo by a point in Sunday's double-header opener, in the big game on Sunday, 15 September.
Manager Mick Bohan had to think on the move in this game as injuries upset his plans and he showed his flexibility in making changes when some of the tactical moves he tried failed to pay off.
Having gone in level at the break Cork only managed four points in the second half, not helped by playing with 14 for most of the period with two players cooling off in the sin-bin.
It took a while for Dublin to make their superiority in terms of possession, chances and numbers and a cheekily jabbed home penalty in the final minute from captain Sinéad Ahrene gave them a six-point win, an accurate reflection of the game.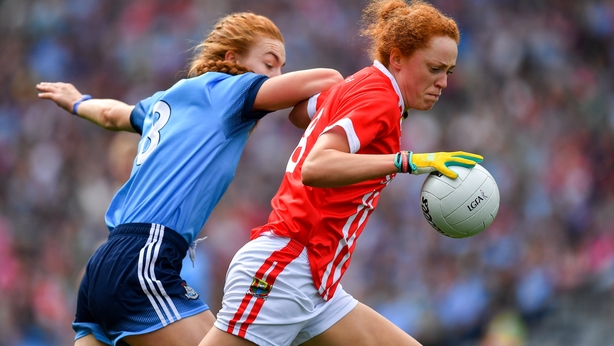 There were changes to both advertised teams before the start, out-of-form star Noelle Healy was benched in favour of Niamh Hetherton with Nicole Owens replacing Jennifer Dunne for the Dubs.
There was talk beforehand that Owens had recently suffered a serious knee injury and she did start with her right leg heavily strapped, though she was just as heavily involved in her team's opener from the hard-running Carla Rowe.
But it didn't last and she had to be helped from the field after just four minutes. The Cork changes saw Doireann O'Sullvain and Saoirse Noonan taking over from Aine O'Sullivan and Libby Coppinger.
The sides went in level at the break 0-07 apiece in front of a crowd of 10,886 at Croke Park.
Some may argue that an attendance of that number is lost in a stadium that holds eight times that, but it's still ten times more than paid through the stiles the double-header at Dr Hyde Park in Roscommon for last year's All-Ireland semi-finals.
The Rebels didn't hit a single wide in the opening period and more than half of their scores before the break came from the dead-eyed free-taking of Orla Finn, the Dubs guilty fouling too often near the target.
Dublin had a greater spread of scorers, five before the break, and only two came by way of Sinéad Ahern on dead-ball duties, though they struggled to get past Cork's well-marshalled and well-staffed defence.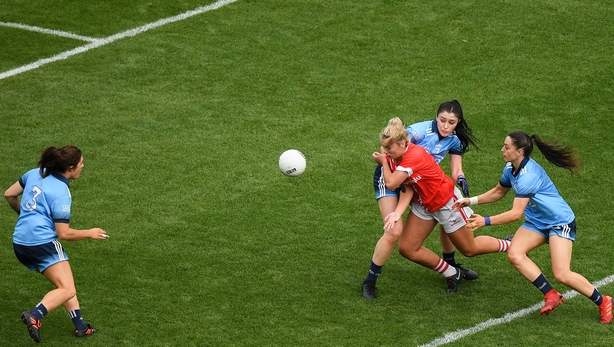 Their wide count may have been low too, just three in the opening half-an-hour, though they were turned over on a few occasions and referee Maggie Farrelly pulled them for over-carrying under pressure in the tackle more than once.
Cork also had more sights of goal than the Dubs, Doireann O'Sullivan shooting against keeper Ciara Trant's legs after just two minutes and a quarter of-an-hour in full-back Niamh Collins did well to cut out a pass that would surely have ended being buried in the back of the net and an added bonus was that the Girls in Blue swept up the field to score the point which nosed them back in front.
A free from Finn put Cork up seven-six as the clock ticked down to the interval, the first time that they led before the break and the first time they had scored twice in-a-row, though an Aherne free sent them in level.
Healy was in for Hetherton on the restart and popped one over with her first touch, though by this stage her side were down to 14 with Collins spending ten minutes in the bin after picking up a yellow card.
The sides were level again in terms of playing numbers 39 minutes in when Collins' opposite number on the Cork team Eimear Meaney joined her in the bin.
With the Rebels down to 14 Dublin struck, substitute Caoimhe O'Connor sliding home a goal after fast hands from Niamh McEvoy and Healy opened up the space as the game entered its final quarter.
The Dubs were well on top now with four between the teams, though they didn't kill off the contest with uncharacteristic wides from Aherne and the tireless Rowe.
Eight minutes from the hooter Ciara O'Sullivan headed to the bin, making Cork's task even more difficult and the nail was driven into their coffin when Collins was fouled in the square for Aherne to stroke home the penalty.
Dublin: Ciara Trant; Éabha Rutledge, Niamh Collins, Martha Byrne; Aoife Kane, Sinéad Goldrick, Olwyen Carey; Lauren Magee, Siobhán McGrath; Carlow Rowe (0-03), Niamh McEvoy (0-01), Lyndsey Davey (0-01); Sinéad Aherne (1-03, 1pen 3f), Niamh Hetherton, Nicole Owens.
Subs: Oonagh Whyte (0-01) for Owens 4 mins; Noelle Healy (0-01) for Hetherton;Caoimhe O'Connor (1-00) for Whyte 39 mins; Jennifer Dunne (0-01) for Kane 50 mins; Kate O'Sullivan for McEvoy 59 mins.
Cork: Martin O'Brien; Hannah Looney, Eimear Meaney, Shauna Kelly; Aisghlin Hutchings, Melissa Duggan, Eimear Kiely; Niamh Cotter, Maire O'Callaghan; Orlagh Farmer, Ciara O'Sullivan, Doireann O'Sullivan (0-01); Saoirse Noonan, Eimear Scally (0-01), Orla Finn (0-09, 8f).
Subs: Aine O'Sullivan for Cotter 39 mins; Emma Spillane for Kelly 44 mins; Libby Coppinger for Noonan 46 mins; Daire Kelly for Kiely 50 mins; Rhona Ní Bhuachalla for Doireann O'Sullivan 50 mins.
Referee: Maggie Farrelly (Cavan)