Nicole Owens is a major All-Ireland final doubt after breaking down early on in Dublin's semi-final win over Cork at Croke Park.
Owens suffered a knee-ligament injury in the warm-up before the quarter-final defeat of Monaghan and was left out of the team announced to face the Rebels.
She did start in place of Noelle Healy up front with her right knee heavily strapped, but she was gone after just four minutes.
"The work she has did to try and prepare it to get back was just colossal," said manager Mick Bohan. "I think she's done something like 30 one-on-one sessions. For her, it's obviously a huge blow.
"The only thing I can say about that is it just reveals the character that's in our group, that we have people that are willing to do whatever it takes to try to be successful. Sometimes it works for you and sometimes it doesn't, but that doesn't mean we're not proud of them."
When asked about Owens' chances of making the All-Ireland final against Galway on Sunday, 15 September, Bohan said: "I wouldn't have any clue. I'm not a medic.
"We'll have to get her scanned again and see what the situation is. It's going to be a tough road for her, but they're made of tough stuff."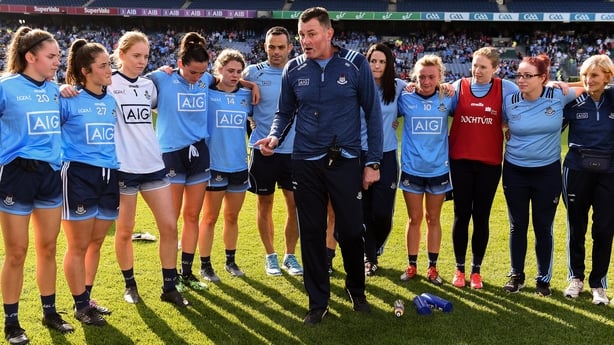 Bohan pronounced himself proud of the way his players played, and also proud of the way they prepared to take on their great rivals from Cork given how the Dubs had played in the earlier rounds.
He said: "Ultimately, three weeks ago we weren't in a good place. We weren't playing good football. We certainly didn't hit the tempo that was required for this end of the championship.
"We weren't good up to three weeks ago, we were only sporadically playing decent football. We were hugely impressed by the way these guys went about it, particularly over the last fortnight.
"Just the maturity in the group in knowing that they had to get up a couple of notches, and the way that they approached training and the leadership they showed to make the thing work.
"Look, we're incredibly proud of that performance. I feel that's as hard as we've ever had to work. I'm so proud of our group, the way they went about their work."
Dublin lost to Cork in three All-Ireland finals in-a-row between 2014 and '16. They're chasing a different kind of three in-a-row now, having won the Brendan Martin Cup the past two seasons to end the Rebel's dominance.