Galway ace forward Mairéad Seoighe says "it's about time" her side edged out high-stakes championship battle, as they prepare for a first All-Ireland final since 2005 after a dramatic win over Mayo.
The Tribeswomen overcame their Connacht rivals with a one-point victory in Croke Park to end a 14-year wait for an All-Ireland final appearance.
Seoighe's two goals in the first half gave Galway a brilliant platform to seek a win, with Roisín Leonard nailing a late free to edge the thriller.
"I'd trust Roisin all day with my life, don't mind taking a free," Seoighe told RTÉ Sport after the full-time whistle.
"It was tough. We knew coming out here today there'd be no easy task. We knew Mayo weren't going to leave anything in the bag and were going to throw everything at us.
"It was just going to come down to who wanted it more. No matter what the lead was at any stage, we knew it was going to be a fight right to the last whistle and that's exactly what it was."
This was the third meeting of the sides this year, with Galway getting the better of their rivals in the Connacht final replay.
Galway reached the All-Ireland semi-finals last year where they were comfortably dispatched by eventual back-to-back champions Dublin.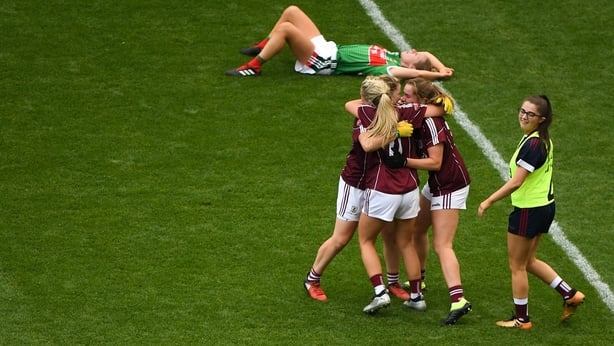 Galway seemed to have the edge on Mayo in the first half but Peter Leahy's side rallied and took the lead after the restart.
Seoighe insists that the experience of past defeats inspired Galway to respond once more to roar to victory.
"We've met Mayo a lot of times this year and I suppose the Connacht final draw, we had to do something similar. We needed the patience to try and bring it back and trust the process [that] we were going to come out on top.
"That's exactly what all the girls did. The subs that came on, everything, just made the right call. Thank God it paid off for us.
"I suppose going back to past experiences, we have to draw on them. We've been on the other side of it on a few occasions and it's about time we came out the right side."
Galway will now face either Dublin or Cork in the All-Ireland decider on 15 September where the Connacht side will hope to win the Brendan Martin Cup for the first time since 2004.
Seoighe says her side will appreciate today's result on its merit but preparations for the final will begin next week.
"Today is a great occasion and enjoy it for today. We'll be back to the ground work again come Monday and I suppose we'll be looking at either Cork or Dublin.
"We've nothing won yet. One step closer but it's not the end of the ladder."