John O'Dwyer said Liam Sheedy's return as Tipperary manager would have meant little had he not assembled a top quality backroom team around him to help lead their All-Ireland assault.
Tipp steamrolled Kilkenny to claim the Liam MacCarthy, Sheedy's second as boss and the first of his second spell in charge.
He is now the Premier County's most successful manager since Michael 'Babs' Keating in the 1980's and '90's, though Bubbles O'Dwyer says his entire backroom team played a huge part in landing the biggest prize.
"Just Liam returning is no good because he is only as good as the backroom team he has around him," he said shortly after his 1-02 in the second half helped power Tipp to a 14-point win over the Cats.
"He came back in with a backroom team that was different class and without them we wouldn't be where we are today. They are hugely professional in the way they go around their business, the S&C (strength and conditioning), coaches, nutritionist - everything is given to us on a plate and no stone is left unturned.
Tipp won the second half 2-16 to 0-9 against a Kilkenny team that was reduced to 14 men shortly before half-time, though O'Dywer insists it was far from easy.
"It probably looked comfortable with them being down to 14 men, but it wasn't," he said.
"After we got our second goal they came at us with a barrage and they attacked us where we are strongest, in their full-forward line. Our scores didn't come easy, but we kept working hard.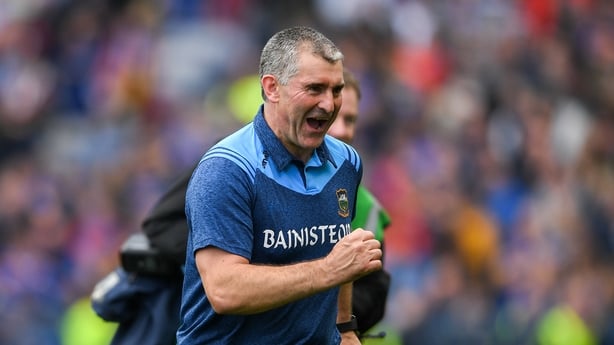 Sheedy also praised his backroom team, saying: "When we started off this journey it was said about the risk. I committed to giving 100% and the group committed 100%. I know win or lose today that I gave everything to get this team right and thankfully we sit here now as All-Ireland champions.
"This isn't about me; it's about the team and the backroom team. Eamon O'Shea, Tommy Dunne and Darragh Egan are unbelievable men and there are numerous more. They challenged the lads and we got the benefit of that."
Sheedy admitted he was pulling out his hair at times during the historic 3-25 to 0-20 win at Croke Park.
Even though his side cruised to a comfortable win, the game essentially decided by Richie Hogan's dismissal on 32 mins, the Tipp boss had moments of serious worry.
In the opening quarter they struggled for oxygen and slipped five points behind, 0-08 to 0-03, and they could have been further behind only for a goal-saving hook by corner-forward John McGrath early on.
And even in the second half with his team well ahead he says he wasn't impressed by the Premier County's use of the ball at times.
"When you start to go a few points down, eight-three, five points is a long way back and only for a great save it could have been more," he explained, speaking to RTÉ Sport. "We saw what Kilkenny did to Limerick in the semi-final.
"We needed that first goal and the second goal was the important score - it gave us the impetus.
"All-Ireland finals are big days and balls that lads would normally pick during a training session in Thurles, we weren't hanging on to. Walter Walsh was moving across the pitch and hurting us, but the players worked it out and got to the pitch of it.
"The half-back line, Brendan Maher, Paudie Maher, Seamus Kennedy. Barry Heffernan was like a man possessed out there; the full-back line, Cathal Barrett and the two men behind him Ronan Maher… Defensively is where that win was built today.
"But that still wasn't the complete performance - we hit a lot of ball away even in that second half."