So Kerry are the team that has the job of pulling down the empire.
They came from behind with a composed second half performance to win their All-Ireland semi-final with Tyrone at Croke Park by three points.
Now they face into a Sam Maguire decider with a Dublin team unbeaten in championship football since 2014 and pursuing the mythical five in-a-row.
The last team to get this close to a football five-timer were the Kingdom themselves back in 1982. The Offaly team that beat them, and Séamus Darby, the man who scored the winning goal, are perhaps more famous than Kerry's players would have been had they actually won it.
So this is the prize that potentially awaits. Not just an All-Ireland title, but the chance to stop the Dubs and their drive for five.
On the evidence of this performance, and Dublin's on Saturday, it's a big ask. But at least they've got a ticket to the big dance - it's more than can be said for any other county.
And it's certainly more than can be said about Tyrone, who had put themselves in a great position to progress at the break and then slowly disintegrated, losing the second half by 1-13 to 0-09
Credit to Kerry and their management for the part they played in this, going from undercooked and tactically naive in the first half to confident, aggressive and authoritative kicking into the Hill 16 goal after the break.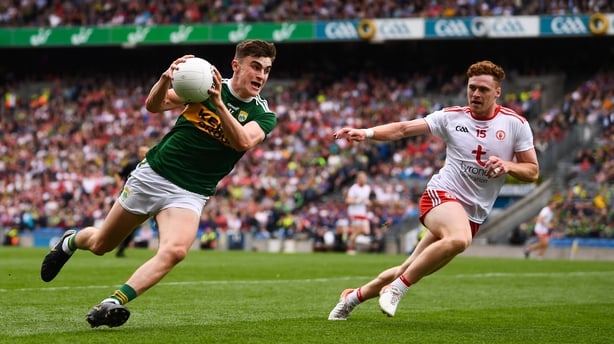 The atmosphere before this one was strangely subdued ahead of an All-Ireland semi-final between two such fierce rivals, almost as if the 33,848 fans in the ground were still troubled by Dublin's awesome display of power to dispatch Mayo in Saturday's last-four game.
Certainly, the first half was a stark contrast to the opening of the Dubs-Mayo game, which was played in front of a cranked-up full-house at 100 miles an hour.
There was no real pattern to this one and the tempo was slack. Teams feed on the atmosphere and crowds feed off players, though neither was giving the other much sustenance here.
Tyrone boss Mickey Harte sent Ronan McNamee to mark Kerry danger-man David Clifford, with Pádraig Hampsey taking up Paul Geaney. Kingdom boss Peter Keane gave Jason Foley the job of marking man-mountain Cathal McShane with Tadhg Morley and Tom O'Sullivan on Mattie Donnelly and Peter Harte respectively.
Foley battled manfully with Tyrone's bear in the square, but there was only so much he could do when left so hopelessly exposed with 40 and 50 metres of clear green grass between him and the next line of defence.
Tyrone are primarily set up as a running team, but plenty of times they looked up to hit McShane long and early. He generally won it or broke it, scoring three points himself and assisting in others.
Half-back Paul Murphy was more often than not free in the sweeper role, but he stayed high between the 45-and-65-metre lines when he needed to drop deep and offer cover.
Keeper Shane Ryan went short with most of Kerry's kick-outs meaning that they had to run through Tyrone's organised banks of defenders and sweepers, something they weren't able to manage. They were marshalled up blind alleys, turned back and turned over
Of their five first half-points, two were from play, two were frees and one was a sweetly struck Seán O'Shea '45'. Clifford's point from play was a thing of beauty, but he found himself starved of possession and drifting out the field looking for ball, thus making himself less of a threat.
They went in at the break trailing 0-05 to 0-09 and staring over the edge of a cliff with the ground crumbling beneath them. Four points to a defensively canny team like the Red Hand is a big lead and one that would take some overhauling.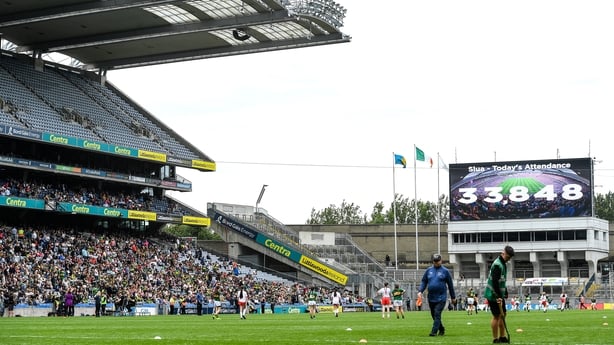 The changes weren't long in coming with Gavin White, the captain demoted to the bench for the start, and the impressive Jack Sherwood replacing Shane Enright at Adrian Spillane for the start of the second half. After 50 minutes Tommy Walsh was sprung to give them their own aerial threat up front.
Five minutes later he collected a short free and set up Clifford for the point that drew this game level. Within 90 seconds they were four up thanks to 1-01 from Stephen O'Brien, the goal created with a pitch perfect Paul Geaney pass and a handy finish from the scorer.
They were much more compact at the back and signifiant pressure was put on the ball carrier, leading to mistakes and Tyrone attacks breaking down.
David Moran took control of this game around the middle, O'Shea was brilliant as usual with the dead ball, Clifford started to find his groove and O'Brien's hard-running style started to make inroads.
It was enough to comfortably see of Tyrone. Whether it will be a match for Dublin, we'll find out on the first Sunday in September.
O'Brien was black-carded deep, deep into stoppage time leading to fears that he may be suspended for the final having picked up two similar sanctions already this season.
Kerry: Shane Ryan; Jason Foley, Tadhg Morley, Tom O'Sullivan; Paul Murphy, Gavin Crowley, Shane Enright; David Moran (0-01), Adrian Spillane; Brian Ó Beaglaoich, Seán O'Shea (0-06, 5f, 1 '45'), Stephen O'Brien (1-02); David Clifford (0-05, 1f), Paul Geaney (0-03), Killian Spillane.
Subs: Gavin White for Enright HT; Jack Sherwood (0-01) for Adrian Spillane HT; Tommy Walsh for Foley 50 mins; Dara Moynihan for Killian Spillane 57 mins; Jonathan Lyne for Crowley 70 mins; Jack Barry for O'Sullivan 74 mins.
Tyrone: Niall Morgan (0-02, 2 '45'); Michael Cassidy, Ronan McNamee, Rory Brennan; Michael McKernan (0-01), Frank Burns; Colm Cavangh, Richard Donnelly (0-01); Matthew Donnelly (0-02), Niall Sludden (0-02), Peter Harte (0-01, 1f); Pádraig McCurry, Cathal McShane (0-07, 3f), Conor Meyler.
Subs: Conor McAliksey (0-01) for Sludden 52 mins; Tiernan McCann for Kieran McGeary; Darren McCurry (0-01) for Cassidy 64 mins; Brian Kennedy for Cavanagh 68 mins.
Referee: Maurice Deegan (Laois)