The momentum behind the drive for five gathered pace as Dublin picked apart Mayo in their All-Ireland semi-final at Croke Park.
In the first half this Mayo side, game, brave and manic as ever, were the only team that brought the intensity, dominating the tackle and knocking the Dubs back time and again.
They would have to produce answers after the break if their hopes of winning five Sam Maguires on the bounce, something never achieved to date, were to remain alive. And what answers they produced.
Controlled aggression was backed up by the highest quality of football from a bunch of once-in-a generation players.
They were ruthless and relentless as the rain fell at the old ground on the northside of the city. Con O'Callaghan got two chances and stuck two goals, Paul Mannion hoisted over points from all angles, Brian Fenton lorded the skies.
From two points up, the Green Above the Red were eight points down inside 12 minutes. Their heads were reeling and they were sinking beneath the blue tide.
They didn't give up, of course. Sure they don't know how. Lee Keegan improvised a goal in a spell when they kept the champions scoreless for 11 second half minutes, but efforts from Patrick Durcan, Keegan, O'Connor and McDonagh that were going over in the first half sailed wide.
Before the end Cillian O'Connor saw red as the losers finished with 14, he picked up his second yellow for flooring David Byrne needlessly.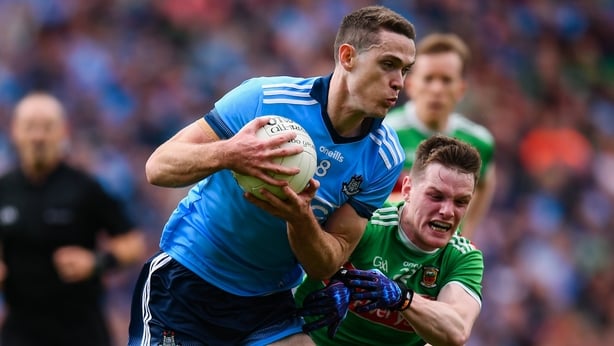 The line-ups for this one remained a closely guarded secret until the morning of the match and even then, there were changes before throw-in.
As expected for Dublin, Jonny Cooper came into defence for Cian O'Sullivan while on the Mayo side Donal Vaughan, Matthew Ruane and captain Diarmuid O'Connor, back from a broken wrist, replaced Kevin McLoughlin, Fergal Boland and Darren Coen.
The match-ups in this one were always going to be fascinating and so it proved - Lee Keegan took Con O'Callaghan, Séamus O'Shea marked Brian Fenton, Colm Boyle went on Ciarán Kilkenny and and Patrick Durcan followed Jack McCaffrey.
This Dublin team haven't been in a contest since the squeezed past Mayo in the 2017 All-Ireland final by a point and it showed in a disjointed first-half performance.
They only got six points before the break, three of them from frees and one of them gifted by a Rob Hennelly kick-out that went short and straight to Paul Mannion.
Elsewhere Mayo's tackling was crisp and clean. How often do you see former Footballer of the Year Jack McCaffrey stripped of possession as he surges forward? The answer is not very often.
This game was played with the rev counter in the red from the off and as the seconds ticked down towards the break there were players on both sides visibly blowing. No one could blame them; the pace was unrelenting.
We need your consent to load this Facebook contentWe use Facebook to manage extra content that can set cookies on your device and collect data about your activity. Please review their details and accept them to load the content.Manage Preferences
As well as keeping McCaffrey quiet for the opening 38 minutes, Durcan got forward for two points from play. Cillian O'Connor clipped two frees and got another from pay while the irrepressible Boyle, Séamus O'Shea and James Carr chipped in with a point apiece.
This was the first time that Dublin trailed at the break since the 2017 final, Mayo leading eight points to six.
The men in red and green played with their customary manic intensity allied with a great composure and Dublin struggled for oxygen in the face of what they brought.
Balls were dropped, passes mishit, wides kicked, tempers frayed. Could the five in-a-row dream be dying? Not a bit of it.
When announcing the attendance the full house sign went up on the big screen and while every ticket may have been sold, the ground was certainly not full with free seats in every stand. The ticket fiasco of Tuesday may well have created an artificial demand, though it was still comfortably the biggest sporting crowd at Croke Park of the year.
The Mayo crowd were in great voice but Hill 16 finally started to rumble as the Boys in Blue produced an angry third quarter, clearly stung by the way they were bossed in the first half.
In the first seven minutes after the change of ends Dublin tagged on 1-05 before Mayo had so much as a chance to kick a wide.
The first lapse in Mayo's concentration was severely punished when Con O'Callaghan got free, onto the end of Ciaran Kilkenny's pass and stuck it in the net. In the blink of an eye Dublin went from two down to 1-11 to 0-8 in front.
We need your consent to load this Facebook contentWe use Facebook to manage extra content that can set cookies on your device and collect data about your activity. Please review their details and accept them to load the content.Manage Preferences
It got worse for Mayo when O'Callaghan got his second on 46 minutes to put nine between the teams. At this stage it was getting ugly as Mayo couldn't hang on to their own kick-outs and were hit by wave after wave of blue attacks.
Fenton added a third as the Dubs stretched out to a ten-point win - their sixth double-digit win in seven attempts this summer. They ended with 14 with Cormac Costello picked up a black card in stoppage time with all six substitutes on.
Late on Diarmuid Connolly came on for just his second appearance of the season following his surprise return to the panel after nearly two years away.
And while this was Dublin's day and they deserve all the credit for a display of poise and power, once they found their stride at least, it would be remiss not to pay tribute to some of these Mayo players, who may not play in Croke Park again.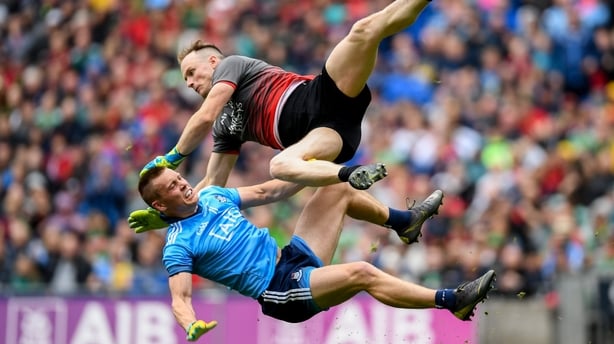 They've been written off before, but the end will have to come for sooner or later. If the likes of Séamus O'Shea, Colm Boyle, Keith Higgins and Andy Moran retire, they'll do so without an All-Ireland medal, but with the undying gratitude of their fans and owing football in their county nothing.
Before the end Tom Parsons came on as a substitute in his first appearance since last year's Connacht defeat to Galway when he blew out his knee, a truly remarkable comeback.
And Dublin roll on for their date with history. Four in-a-row has been done four times before, Wexford, Kerry twice and, in hurling, Kilkenny but five consecutive senior All-Irelands has never been completed in the GAA. Destiny awaits.
Dublin: Stephen Cluxton; David Byrne, Jonny Cooper, Michael Fitzsimons; Jack McCaffrey, James McCarthy, John Small; Brian Fenton (1-01), Michael Darragh Macauley; Niall Scully (0-01), Con O'Callaghan (2-00), Brian Howard (0-01); Paul Mannion (0-05), Dean Rock (0-06, 6f), Ciarán Kilkenny.
Subs: Cian O'Sullivan for MacAuley 49 mins; Eoin Murchan for Small 62 mins; Cormac Costello for Mannion 65 mins; Philly McMahon for Cooper 68 mins; Diarmuid Connolly for for Scully 70 mins;Paddy Andrews for O'Callaghan 70 mins.
Mayo: Rob Hennelly; Chris Barrett, Brendan Harrison, Stephen Coen (0-01); Lee Keegan (1-00), Colm Boyle (0-01), Patrick Durcan (0-02); Aidan O'Shea Séamus O'Shea (0-01); Fionn McDonagh, Donal Vaughan, Matthew Ruane; Cillian O'Connor (0-03, 2f), Diarmuid O'Connor, James Carr (0-01).
Subs: Keith Higgins for Vaughan 28 mins; Kevin McLoughlin for McDonagh 49 mins; Andy Moran for Carr 52 mins; Eoin O'Donoghue for Boyle 57 mins; Tom Parsons for Séamus O'Shea 60 mins; Fergal Boland (0-01, 1f) for Diarmuid O'Connor 68 mins.
Referee: Conor Lane (Cork)