Jim Gavin said that all of the credit for his Dublin team's second half performance in their All-Ireland semi-final win over Mayo belongs to the players.
The Dubs trailed by two at the break, eight points to six and it was the first time they were behind at half-time in a championship match since their narrow 2017 All-Ireland final win over Mayo.
But in the third quarter they blew this game apart, going from two down to ten up with an unanswered 2-06 thanks to two goals from man of the match Con O'Callaghan.
"Their game intelligence is really high - we can't play as a coach or a management team," said Gavin, speaking to RTÉ Sport as his team moved to within one win of the historic five-in-a-row of All-Ireland titles.
"We just give them the framework and they execute the skill set. This is very much a player-driven team; we are very much on their coattails and it's the players that lead it. Our role is to enable and empower them to be the best.
"The half-time message was just keep doing what you're doing. It's an All-Ireland semi-final against an outstanding team and both defences were on top in the first half. There were some great defensive plays and great tackling from both sides.
"It's natural enough that it opens up and we asked the guys to back themselves and the skills they have and be true to that. That second half performance came from the learnings of the first half."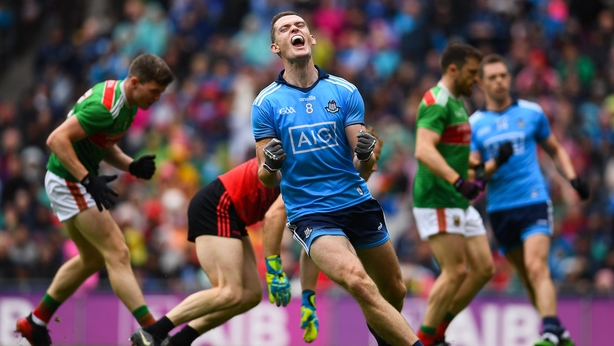 Gavin didn't buy into the theory that Dublin hadn't been tested in the past two years and needed a searching examination in the first half from Mayo before they could get going.
"I thought it was nip-and-tuck," he said. "They had a number of games and were more battle-hardened, but that's an excuse - Mayo are a good team.
"People might be searching for something that wasn't there. I put it down to the class of Mayo and they performed well in those opening exchanges. Our guys adapted really well and showed really good game composure to push on.
"The players themselves are very humble and they prepared well for the opposition, we obviously know Mayo well and understand what an outstanding team they are.
"That shone through in how we adapted through the game and at the start of the second half we got a couple of scores on the run, which was pleasing. They were team scores, great execution. The spotlight shines on the player that gets the score, but they were great team scores."
Dublin are into their seventh All-Ireland final in nine seasons and stand one win away from GAA immortality - a never-before-completed five-in-a-row.