A little less than a year ago Stephen Rochford released a statement outlining his reasons for stepping down as Mayo manager.
A few weeks previously the side he had led to the 2016 and '17 All-Ireland finals, losing a combined three games with Dublin by two points, crashed out of the qualifiers early following defeat to Kildare.
"He won't tell them anything that they wouldn't find out through video analysis" - Luke Dempsey
At the time he spoke about the two years that remained on his deal with the Mayo County Board and his plans for the future. Those plans came to nothing though and the reasons for his departure remain opaque.
Then, in a surprise move last October he was added to Declan Bonner's Donegal coaching ticket and it all comes full circle this weekend when the Ulster champions travel to Castlebar with everything on the line.
He'll know every inch of Elverys MacHale Park well, but for once he'll be in the less familiar surroundings of the away dressing-room ahead of Saturday evening's All-Ireland quarter-final Super 8s clash with his native county, the winner guaranteed a semi-final spot.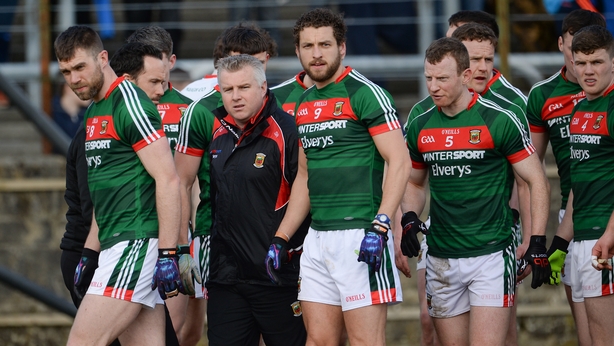 It's far from unprecedented for a football boss to take on a team they led previously or to plot a way to beat players that they once managed, though rarely has the timing been so serendipitous or the stakes so high.
"He'll be motivated, of course, and deep down we'd all harbour those feelings if we felt we were dealt with unfairly," explained Luke Dempsey, who managed Westmeath, Carlow and Longford in the first decade of the millennium and regularly came up against his former players and teams.
"But he won't be saying that and he won't let it interfere with the team's preparations – he won't be roaring and shouting in the dressing-room about how much he hates Mayo!"
In his early forties, Rochford works as AIB's Head of Homes for Mayo, and before he turned to coaching and management he won an All-Ireland club title with Crossmolina Deel Rovers in 2001.
He was a selector with Mayo minors while still playing club football and he progressed through GMIT in the Sigerson Cup to Corofin, who he helped mould into one of the most impressive club teams ever seen, taking in an All-Ireland club title on the way.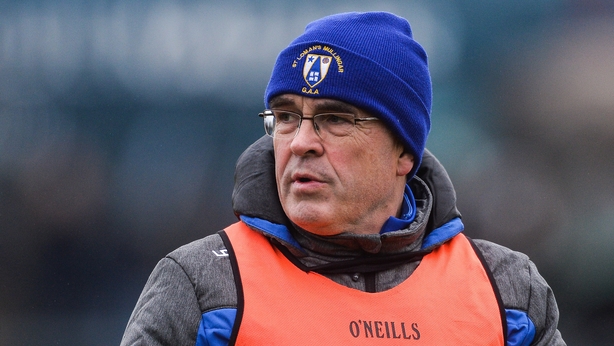 John P Kean picked Rochford to be the first of his seven Mayo minor captains during his term in charge of the county's Under-18s between 1996 and 2002, a run which featured five Connacht titles and two All-Ireland appearances.
Having won Sigerson Cups, All-Ireland club titles and All-Ireland crowns at minor and Under-21 level as a player, Kean has seen plenty of impressive individuals up close and Rochford is a man he rates as highly as any of them.
"I played him as a wing half-back and in our first Connacht final we were seven points to no-score down against Sligo at half-time," he explained, speaking to RTÉ Sport in 2016.
"Coming down the tunnel I heard people in the crowd talking about the worst Mayo minor team they'd ever seen.
"But we came back and were only a point down with a minute or two to go, we got a free, Stephen rumbled up the field, took it short and popped it over the bar from about 40 yards out, though he'd probably say now it was about 75 yards! We won the replay.
"He made it his business to get up the field. He wasn't going to be beaten and he wasn't afraid to take the responsibility himself."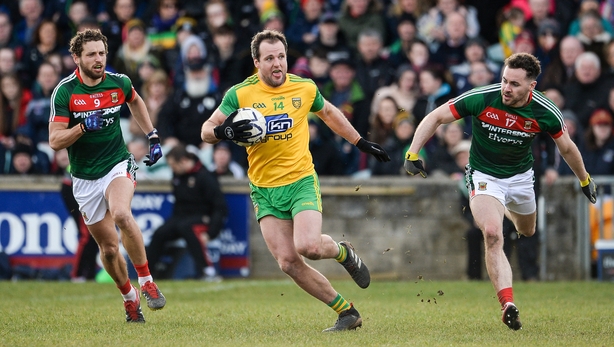 Rochford, who has been heavily linked with the Galway job that is expected to become vacant now that Kevin Walsh is at the end of his agreed term, is a brilliant coach and it is instructive to see how involved he is with the Donegal player during the final minutes before a match.
Manager Bonner leaves the high-intensity warm-up to the Mayo man and 2012 Footballer of the Year Karl Lacey, another of his selectors. It shows the trust he has in his support staff.
But Dempsey doesn't believe that Rochford will be able to give Donegal any particularly valuable insights into his former players.
"He won't tell them anything that they wouldn't find out through video analysis," he said, speaking to RTÉ Sport.
"Of course, he will bring everything he knows because he is in the business of winning, but that won't determine who wins and loses.
"He'll know all of the Mayo lads' idiosyncrasies and he might take aside a player and say 'Aidan O'Shea likes to do this when he's on the ball', but that will only be a tiny percentage in terms of preparation."