Mayo manager Stephen Rochford admits all of the Mayo players that lined out against Kildare in their All-Ireland qualifier exit may not pull on the green and red jersey again.
But he insists that this isn't the end of an era for a team that might just have earned themselves the unwanted tag as the best side never to win Sam Maguire.
The bones of this unit have been together since 2011 when they made their breakthrough in the Connacht Championship and since then they have contested four All-Ireland finals, five if you count the 2016 replay, and three further semis.
Players like Keith Higgins, Colm Boyle and current Footballer of the Year Andy Moran are all the wrong side of 30 and speculation will mount about their future over the winter.
Rochford though was in no mood to talk about the end of this side.
"That has been something said since about 2014 so somebody was going to be right with it," he noted in his calm manner, which he always brings in victory and defeat.
"I don't necessarily think that's going to be today.
"That group, there are four or five guys came into that group this season in their very early 20s. There are a lot of good quality players, Mayo have just won the (Connacht) Under-20 title.
"There may be some of them that won't be available next season, but Mayo football will be competitive in 2019 - I have no doubt about that."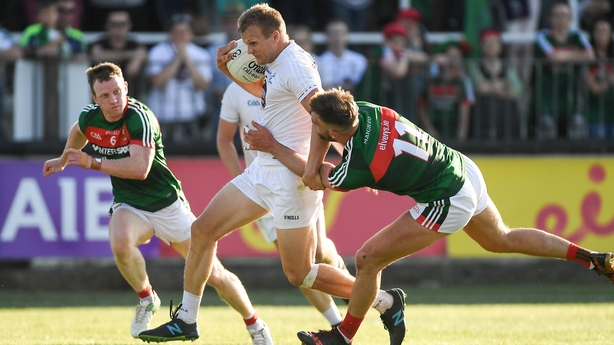 James Horan started this building project before it passed for one season to Pat Holmes and Noel Connelly and then on to Rochford, who has failed to reach an All-Ireland final for just the first time in three attempts.
Inevitably, his own future will come under scrutiny following an earlier than usual finish to the season - the earliest since 2010, in fact - but he wasn't putting that particularly high on his own agenda right now.
"We have two years left on our term so I don't want anyone reading into that either way," he said.
"It's just a case of reflection which would happen if you went to the last Sunday in the competition as well.
"That would be the case no matter when you go out in the Championship - it isn't necessarily a knee-jerk reaction to going out in round three."
Asked to explain his reaction to Kildare defeat, he said: "It's simple enough - we're extremely disappointed after that loss.
"We absolutely fought extremely hard, never relented from the fight, but our qualities weren't as strong as we would have liked them to be.
"We probably tuned over ball at different times in the game in a tension-filled, tight game, so that was inevitable, but just going into that final stretch we turned over a couple of balls inside the Kildare half that allowed them to counterattack and stretch the lead.
"We found it very difficult to claw that back in the last six or seven minutes."