'Newbridge or nowhere' was the Kildare rallying cry during the week.
They won the battle when they forced the GAA into a dramatic U-turn and were given the right to host this All-Ireland round three qualifier at St Conleth's Park rather than as part of a Croke Park double-header.
This backed them into a corner and meant that their players would have to put up a performance to justify their stance.
They more than put up a performance - they won the war.
The Lilywhites won a sweltering game to end Mayo's interest in the All-Ireland championship at the earliest point in any year since 2010.
Kildare are rightly the story after this game, but no one should ever forget the contribution that Mayo have made to Gaelic football for most of the past decade contesting four All-Ireland finals, two further semis and perhaps singling themselves out as the greatest side never to win Sam Maguire.
Once again they played their part in an all-time classic.
Following a pulsating second half referee David Gough called for seven minutes of stoppage time. In the end he played eight as the incidents piled up.
Kildare came from behind late into stretch into a three-point lead.
They looked assured, classy and a million miles from the team that were relegated from Division 1 of the League with a whimper earlier in the year and crashed out of Leinster at the hands of Division 4 side Carlow.
Mayo didn't lie down and in their desperation to stay alive midfielder Aidan O'Shea saw his second yellow card deep into stoppage time as his team finished with 14 men.
They nearly forced a penalty at the death, but Kildare managed to drag the man down right on the edge of the square.
Current Footballer of the Year Andy Moran pulled the trigger on the free point-blank, but with a forest of Kildare defenders on the line his shot was deflected over.
There was to be one more kick-out, but Kildare held on to it and the final whistle blew.
Check out the best of the action from a thrilling @KildareGAA win over @MayoGAA here pic.twitter.com/CL4JHXOe4j

— The GAA (@officialgaa) June 30, 2018
There might have been just over 8,000 fans in the ground but there was bedlam and they made noise of a crowd many times that size. The pitch was invaded and their players were mobbed.
This is what qualifier football is all about - a roasting evening at a packed provincial ground with two teams desperately battling to save their summers.
This game delivered on all fronts - quality, action, incident and drama.
The first half started off at maximum pace on a sticky night in Newbridge, a slight breeze favouring the home side the only thing that offered the hard-working players any respite from the intense heat.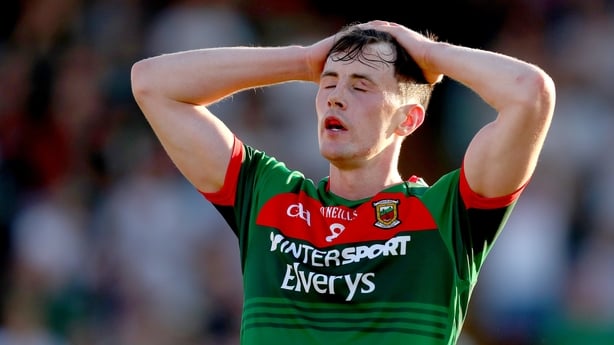 The ball seemed to be in play almost constantly and it was on eight minutes when Kildare keeper Mark Donnellan paused over a kick-out before there was a chance for either side to catch their breath.
There wasn't much to choose between the sides in the opening ten minutes, but then the Lilies started to take control.
Neil Flynn was near flawless from the dead ball, including a converted '45 and a free from even further out, and appears to finally offer a solution to Kildare's long-running issue in this department.
The Lilywhites pushed 0-06 to 0-02 ahead when Paul Cribben clipped over a point with Mayo players and fans vocal in their opinion that their James Durcan was fouled at the other end of the field just seconds earlier.
This got the supporters from both counties really involved and the atmosphere moved up a couple of levels, with the the home team moving five in front shortly after.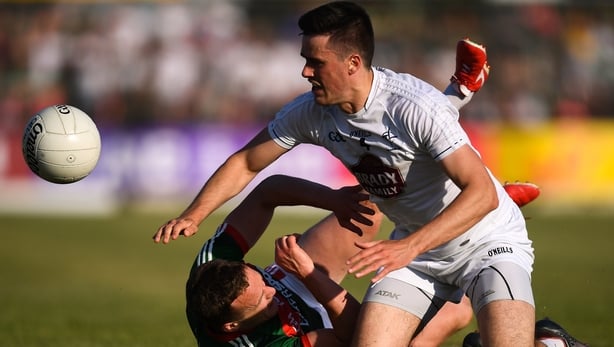 As we all know at this stage, Mayo operate best with their backs to the wall and once they realised they were in a proper game they started to motor.
They put the squeeze on and rivets started to pop in the Kildare machine.
Men in red and green put the serious press on opposition kick-outs and got a lot of joy in this department, while Kildare compounded their woes by conceding needless and sloppy frees.
Within eight minutes the visitors were back level thanks largely to captain Cillian O'Connor's free-taking as the Lilies struggled to cope with the slick moves and fast hands that they were forced to deal with.
Unsurprisingly given the conditions, the pace dropped somewhat before the break and the sides went in for a well earned break deadlocked at 0-09 apiece.
After the break the visitors pushed two ahead and there was a feeling that they were about to make their break for home, but they couldn't shake Kildare.
The scores were tied up 12 minutes from the end of normal time and the Lilies kicked on to register six of the final nine points to move into the next round and one step closer to the Super 8.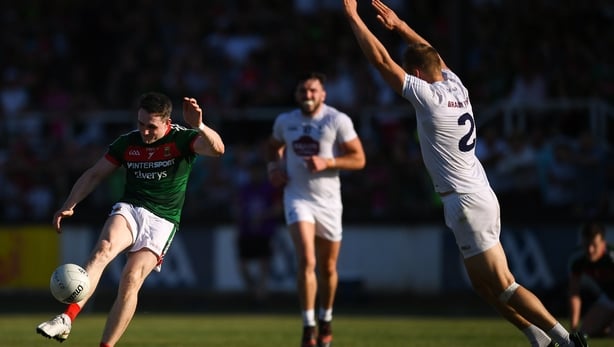 Scorers for Kildare: Neil Flynn 0-08, 5f, 1 '45'; Paul Cribben 0-04, Daniel Flynn, Kevin Feeley 0-02 each; Fergal Conway, Johnny Byrne, Peter Kelly, Niall Kelly , Eamon Callaghan 0-01 each.
Kildare: Mark Donnellan; Mick O'Grady, David Hyland, Peter Kelly; Johnny Byrne, Eoin Doyle, Kevin Flynn; Tommy Moolick, Daniel Flynn; Keith Cribben, Paul Cribben, Fergal Conway; Neil Flynn, Kevin Feely, Paddy Brophy.
Subs: David Slattery for Keith Cribben 47 mins; Chris Healey for Paddy Brophy 51 mins; Niall Kelly for Tommy Moolick 54 mins; James Murray for Johnny Byrne 67 mins; Eamon Callaghan for Eoin Doyle 71 mins.
Scorers for Mayo: Cillian O'Connor 0-06, 5f 1 '45'; Paddy Durcan 0-04;  Andy Moran 0-03, Jason Doherty 0-02 each; Diarmuid O'Connor, Stephen Coen, Kevin McLoughlin, Eoin O'Donoghue 0-01 each.
Mayo: David Clarke; Chris Barrett, Ger Cafferkey, Paddy Durcan; Lee Keegan, Keith Higgins, Colm Boyle; Diarmuid O'Conor, Aidan O'Shea, Kevin McLoughlin, Jason Doherty, Stephen Coen; James Durcan, Cillian O'Connor, Andy Moran.
Subs: Eoin O'Donoghue for Colm Boyle 55 mins; Donal Vaughan for James Durcan 58 mins; Conor Loftus for Jason Doherty 67 mins; Cian Hanley for Kevin McLoughlin 71 mins.
Referee: David Gough (Meath).
It's a Lilywhite Party - @MartyM_RTE reports from St Conleth's Park after a famous @KildareGAA win over @MayoGAA #rtegaa pic.twitter.com/MwP4JVcOsY

— RTÉ GAA (@RTEgaa) June 30, 2018