An emotional Davy Fitzgerald choked up as he spoke to the media after his Wexford team's gut-wrenching All-Ireland semi-final defeat to Tipperary at Croke Park.
The Yellow Bellies went five points up 13 minutes into the second half shortly after Tipp's John McGrath had been shown the line for his second yellow card.
"That's the way to play hurling - not get it between two people and beat the lard out of it. People need to stop and have look" - Davy Fitzgerald

Yet they weren't able to close it out and they lost an epic game, a contest that it's impossible to analyse with a cold eye such was the light and heat that it generated, and afterwards Davy Fitz struggled to hold back the tears on several occasions.
"It's an opportunity missed," he said following the 3-20 to 1-28 defeat to Liam Sheedy's team. "We could be there, but we're not. I can tell you - you don't want this feeling.
"It hurts so badly because Wexford haven't been in an All-Ireland final in 23 years and more than anything I wanted this team to get there. I also adore that bunch…"
It was at this point he had to pause to take a breath and compose himself. "They would do anything to me," he continued, saying that he hasn't had a bond like this with any other team he's managed.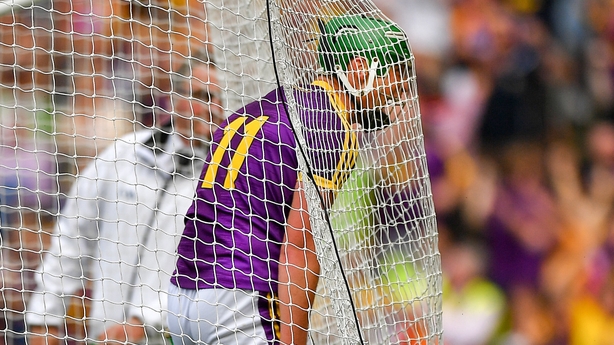 Fitzgerald too launched an impassioned defence of his Wexford team's style of play.
Kevin Foley, picked at midfield, played as a sweeper in a seven-man defence throughout. The manager says this didn't make his team negative, pointing to the three goals and 20 points that they racked up in just over 80 minutes of play.
"I am so proud of how we played that game today," he said. "People talk about the sweeper system being negative, but these people need to get off their high horses and look at hurling.
"People talk about things they haven't a clue about. We were getting attackers free all over the place - we had three goals and we could have had six.
"That's the way to play hurling - not get it between two people and beat the lard out of it. People need to stop and have look."
Asked to pinpoint what went wrong when his team were five points and a man up, Fitzgerald said that they tied up the closer to the finishing line they got and started to sit back too deep.
"It was an opportunity missed, but I'm wicked proud of the boys. We did enough of stuff to nearly get over the line; we felt the sending off would work for us, but it didn't. Tipperary had a bit more space and they played if smart.
"Our half-forward lined dropped too deep. Whether it got into the boys' heads when the Tipp had the man sent off, I don't know. We went long a bit too much. We worked it through the lines incredible at times.
"We didn't stand off them in the first half, we had them pinned, then I thought we defended a bit more when we were five points up when we should have stayed more attacking. You'd have to admire Tipp's resilience."