If you took the script of this one to Hollywood, they would tell you to come back with something more believable.
With 10 minutes to play, a man and three points up, Wexford looked destined to reach their first All-Ireland final since 1996.
But it's Tipperary who advance to face Kilkenny - for the sixth time in 11 years - after a classic comeback win featuring drama, controversy and brilliance at Croke Park.
Roared on by the majority of the 61,852 crowd in attendance, Davy Fitzgerald's men led by two points at half-time, 1-14 to 1-12, but Tipperary had inched ahead within five minutes of the restart.
A red card for Tipp forward John McGrath for a needless strike on Damien Reck and a goal from inspirational co-captain Lee Chin turned the tide back in Wexford's favour, and a second green flag on the day from Conor McDonald seemed sure to seal their place in the promised land.
The 14 men, who had three goals (three!) disallowed, roared back again however and hit seven of the last nine points, with substitutes Ger Browne, Willie Connors, Mark Kehoe and Jake Morris all on target to seal a memorable victory.
Old rivals Kilkenny await in the decider on 18 August and McGrath will be eligible to face them, fortunate to have been shown a second yellow (one of nine on the day) rather than a straight red.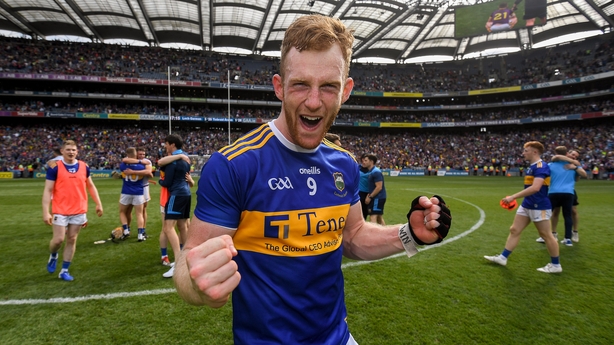 Fitzgerald had said his players would need to "tear into it" from the start and that's exactly what they did, running Tipp ragged in the early stages.
Paudie Foley hit the opening point from his own half after only 15 seconds, and though Ronan Maher replied instantly, Wexford could have had two goals in the opening five minutes.
A shot from Chin fell short, Tipp keeper Brian Hogan uncertainly came off his line but the ball skipped away from Diarmuid O'Keeffe and Wexford had to settle for a point from Rory O'Connor.
Wexford's deep runners and quick offloads were causing havoc in the bewildered Tipperary defence and after Liam Ryan got forward to score, Shaun Murphy stepped inside John O'Dwyer but his goalbound shot was deflected wide by Ronan Maher. Chin converted the 65 and Wexford had a three point-lead.
Surely this blockbuster pace couldn't be maintained? Correct, it got even more intense.
Michael Breen kicked the ball to the Wexford net but it was harshly ruled out for Jason Forde colliding with Matthew O'Hanlon in the build-up.
In the 10th minute, one that there was no doubt about. Niall O'Meara advanced on goal but overplayed his handpass to Seamus Callanan. No problem for a player of the Drom & Inch man's skill, he pulled on the bouncing ball 15 metres to the right of goal and buried it into the bottom left corner of Mark Fanning's net. His seventh in seven games and 34th in Championship.
Tipp now led for the first time, and after Forde's second free it was 1-03 to 0-04 with 15 minutes elapsed.
Paul Morris and Liam Óg McGovern hit fine scores as Wexford continued to find more space in attack but Noel McGrath landed the first of two excellent efforts from play before the Model men pushed on.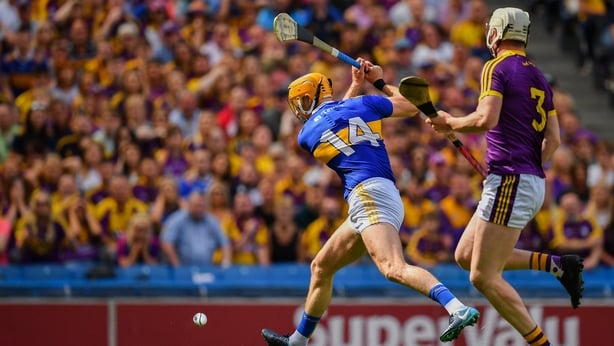 Alarming gaps were appearing in the Tipperary defence. O'Keeffe capitalised to level it up and Hogan tipped a Rory O'Connor effort on goal over the bar but he couldn't stop Conor McDonald in the 25th minute, the towering forward taking a step inside Paudie Maher to rattle the net.
Fanning saved well from John McGrath before a moment of bizarre drama in the 32nd minute.
A Chin free appeared to have dropped short, Hogan gathered and cleared to midfield, where Tipp won a free. They took it quickly and after a delicious flick from Bubbles, John McGrath batted to the net.
The Premier men's celebrations were cut short as referee Sean Cleere got the nod that Chin's shot had in fact cleared the bar, Wexford now four up instead of level.
Perhaps smarting from the (correct) decision, Tipperary responded with three in a row from three of their standout performers: Noel McGrath (0-04 on the day), Ronan Maher again and Callanan (1-02).
O'Dwyer and Forde both landed their first points from play but McDonald and Chin frees helped Fitzgerald's men into a two-point lead at the break.
Tipperary came out with renewed purpose and were ahead by the 43rd minute after Forde (two frees) O'Dwyer, a growing problem for the Wexford defence, and Breen – after a huge catch from Ronan Maher – were on target.
Morris did brilliantly to level it up when he chased what looked a lost cause into the corner before what seemed destined to be the game's pivotal moment.
Tipperary had lost possession when John McGrath, held scoreless on the day, decided to swipe at Reck's back from his knees as the Wexford defender ran past him. Referee Cleere rightly ordered him off but appeared to do so via a second yellow.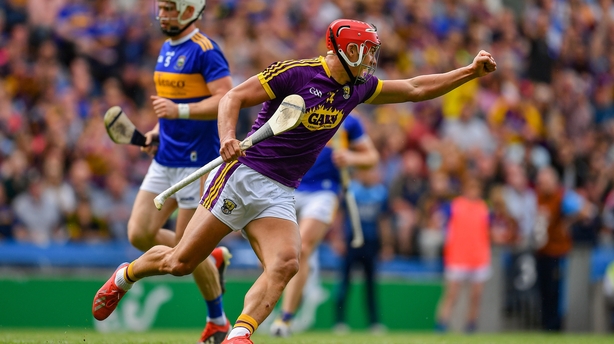 Wexford had a decent shout for a penalty (Padraic Maher holding Rory O'Connor) ignored before Chin burst onto Shaun Murphy's pass and into space. The captain ignored Rory O'Connor outside him to slip the ball under and into the net – 2-18 to 1-16.
Tipp came again. Callanan, Forde, Bubbles and sub Ger Browne, who should have netted after a superb run from Barry Heffernan, all scoring from play as their half-backs and Cathal Barrett started to dominate.
On the hour, it was level when McDonald swept home his second goal from a Morris centre. Discussions took place over a possible square ball but replays appeared to vindicate the Wexford man.
3-18 to 1-21. Surely Wexford could start sweeping the crossroads in expectation for the party to come?
Perhaps that seeped into the subconscious. The 14 somehow found an extra gear as their opponents started to tire.
Man of the match Noel McGrath hit two immense points from midfield and sub Flynn tied it up from the sideline.
Wexford inched ahead again, Maher penalised for overcarrying in front of goal. Willie Connors hit back.
As the six minutes of injury time were announced, another contentious, pause and rewind moment.
Ryan dragged down Callanan and Morris swept the loose ball to the net. Cleere had signalled a penalty however and called it back. Then he decided the offence had been outside the parallelogram. You didn't need to have the fuming Liam Sheedy miked up on the sideline to guess what he was roaring.
Forde nailed the free though and his second 65 of the day when Callanan's shot was deflected out by the superb Kevin Foley.
A Chin free after Paudie Maher was pinged for the second time while bringing the ball out gave a brief boost to Wexford's fading hope but Morris had the last word.
Wexford will wonder just how they lost it. Tipperary will hail a triumph against the odds.
A semi-final for the ages. Can we even dream of a final half as eventful?
Wexford: Mark Fanning; Damien Reck, Liam Ryan (0-01), Simon Donohoe; Paudie Foley (0-01), Matthew O'Hanlon, Shaun Murphy; Kevin Foley (0-01), Diarmuid O'Keeffe (0-02); Liam Óg McGovern (0-01), Conor McDonald (2-02), Jack O'Connor (0-1); Paul Morris (0-02); Lee Chin (1-06, 5f, 1 '65') Rory O'Connor (0-03).
Subs: Aidan Nolan for Murphy (52 mins), Joe O'Connor for Reck (55), David Dunne for J O'Connor (58), Cathal Dunbar for R O'Connor (64).
Tipperary: Brian Hogan; Cathal Barrett, Seamus Kennedy, Barry Heffernan; Brendan Maher, Padraic Maher, Ronan Maher (0-02); Noel McGrath (0-04), Michael Breen (0-01); Dan McCormack, John O'Dwyer (0-03), Niall O'Meara; Jason Forde (0-12, 8f, 2 65s), Séamus Callanan (1-02), John McGrath.
Subs: Willie Connors (0-01) for McCormack (52), Ger Browne (0-01) for Breene (54), Mark Kehoe (0-01) for O'Meara (55), Jake Morris (0-01) for O'Dwyer (67).
Referee: Sean Cleere (Kilkenny)