Wexford manager Davy Fitzgerald said he was "absolutely devastated" that his team came out on the wrong side of a titanic struggle with Tipperary in the All-Ireland semi-final at Croke Park.
Conor McDonald moved the Yellowbellies a goal clear with ten minutes to go, finishing a sweeping move to the net after being set up by Lee Chin.
But Tipperary finished strongly, outscoring the men from the south-east by seven points to two from there.
"It was an epic match out there, it could have gone any way," he told RTÉ Sport's Evanne Ní Chuilinn afterwards.
"We had a few goal chances we should have taken. We stopped running the ball as much as we were running it at the end.
"Maybe we ran out of legs, I don't know, but when we ran the ball we looked incredible.
"I am just disappointed that we went back a small bit too much. We were pushing six or seven inside the 45 at times, and I was trying to get the lads to come out.
"They (Tipperary) never died. I just felt they got a small bit too much space. We weren't as tight as we were in the first-half.
"If you stand off Tipperary any bit, they're going to hurt you because their forwards are deadly."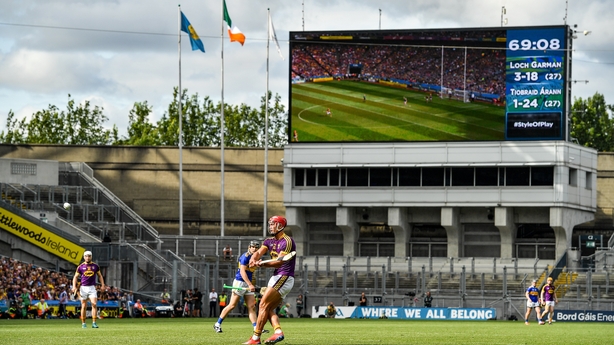 The game looked to be swinging in Wexford's direction on a number of occasions in the second-half. As well as McDonald's goal, there was also one for Chin, while Tipp finished the game with 14 men after John McGrath was sent-off for a slap with the hurl.
"I don't think the sending off actually helped us," claimed Fitzgerald afterwards.
"It allowed a bit more space on our side of the field. I know you'll say you've an extra body, but there was a lot of space. Tipp are really smart with the ball.
"I thought our half-forward line went in a small bit too deep. I needed them coming back a bit more.
"And one or two (other) simple things."
At the end of his third year in charge, of a three year term, the Clare native tried to put some perspective on where his team stands.
"Fair play to Tipperary. They showed tremendous courage at the end. Hats off to them, and we say well done to them.
"I'm so proud of them guys. I absolutely adore the Wexford guys. They give you 110%, and they were right there until the very end.
"I think we could have won it, I really believe we could have won it. You win some, you lose some.
"The boys have their health, we'll get up in the morning and dust ourselves down.
"I can't speak highly enough of that bunch. They're just an incredible bunch of boys."