Liam Sheedy paid tribute to his Tipperary players after they recovered from having three goals disallowed and seeing a man sent off to win an extraordinary All-Ireland semi-final against Wexford.
Tipp had their backs to the wall in this one for much of the game, particularly after John McGrath got sent off on a second yellow card after 45 minutes.
Referee Seán Cleere chalked off three green flags for them too, Michael Breen, John McGrath and Jake Morris all having scores ruled out, but they still came back strong to clinch their place in next month's final against Kilkenny.
"It's a difficult place to turn it around; five points down and a man down," said Sheedy, who is in the first year of his second spell in charge having landed Liam MacCarthy in 2010.
"There has been questions about our character and if they could really bring it. Did they have the pace, energy and resolve? We answered those questions emphatically; this bunch give everything.
"They are challenged every night we go out training and I'm lucky to have a solid bunch around me who put those questions to them.
"A goal is a massive score as you get to the end of the championship. When Jake Morris had the ball in the net (the goal was disallowed) at the end I felt it was going to be the match-winning score…
"I felt when we were coming out with the momentum they got the free in, and when they were coming in with the momentum they got the free. But Seán Cleere is a fine referee and it was a frantic game.
"I sit here a really, really proud man. That comes from the inner-resolve they have. What a contest, what a weekend for hurling and what a spectacle. I'm on an emotional high because you go through so much out there on the sideline."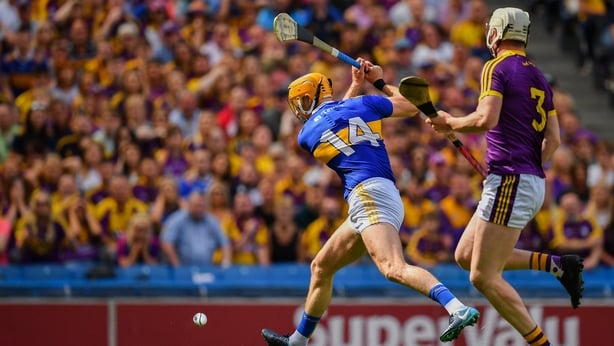 Tipperary really roared into this game following McGrath's sending-off, and in the final 20 minutes of the 70 plus stoppage time they outscored Wexford by 0-12 to 1-02.
This was one aspect of the performance that really pleased Sheedy. He said: "We had periods in that game when we were 15-against-15 and we weren't clinical in our finishing. We should have nailed scores and we didn't.
"When we went to 14 our concentration and execution were better.
"There are lads that don't get to tog for matches we ask the 20 lads who get to play to represent the group really well. We had huge turnovers in the last ten minutes and a turnover is as good as a score in a game like that."
The Premier County take on Kilkenny on Sunday, 18 August in the All-Ireland final at Croke Park - it will be their sixth Liam MacCarthy Cup decider this decade, including their 2014 replay.