If you're at Croke Park on Sunday, you might be forgiven for thinking the stadium announcer has gotten stuck in a moment when announcing the Tipperary half-back line.
Brendan Maher, Padraic Maher, Ronan Maher will wear the No 5, 6 and 7 jerseys respectively and they are only 60% of the mostly unrelated Mahers on the panel - Donagh is among the subs and Patrick 'Bonner' was the unfortunate victim of a cruciate ligament injury in June.
If Wexford are to end their 23-year wait for an All-Ireland final appearance they will have to find a way to negate the defensive dominance and attacking contributions of brothers Padraic and Ronan, and Renaissance man Brendan, all three of whom have scored from play this summer.
Tipp have allowed an average of 23 points per game, and just four goals in six. That is bettered only by Wexford's average concession of 22 and two goals in five, though the Leinster side's scoring average is inferior (24 points per game versus 28), probably due to their sweeper system leading to tighter games.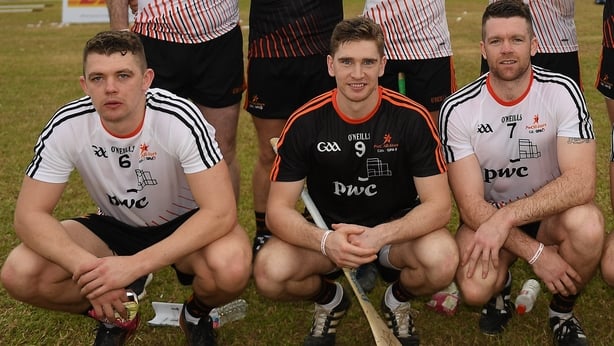 For Eamonn Corcoran, himself an All-Ireland and All-Star winning wing-back with Tipperary, the current Premier trio rank among the all-time greats.
"I feel they are definitely the strongest in the country and from a Tipperary point of view, it's been the strongest half-back partnership I have seen in all my years hurling," he told RTÉ Sport.
"They are three match-winners. At any of stage of the game they can go up the field and put a ball over the bar from 45, 70 or 80 yards out.
"They are strong in the air. They're three hurlers but they're also three defenders as well.
"Individually and collectively they are very strong. If the three lads hit form, I find it hard to see teams counteracting that."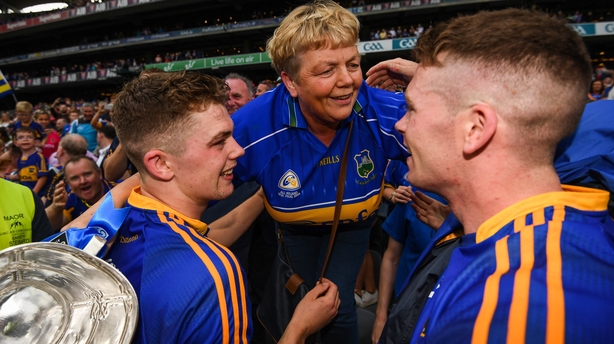 Borrisoleigh man Brendan and Thurles Sarsfields' Padraic first appeared on the inter-county scene with Liam Sheedy's All-Ireland minor winning teams of 2006 and 2007, the latter captained by Brendan.
Seamus Callanan, 'Bonner', and Noel McGrath were among their team-mates in those years and by the time 2010 rolled around, all five were key members of now senior boss Sheedy's side.
Kilkenny's drive for five was memorably halted in Croke Park that September and a week later Padraic captained the U21s from full-back, with Brendan at centre, as the double was secured against Galway at Semple Stadium.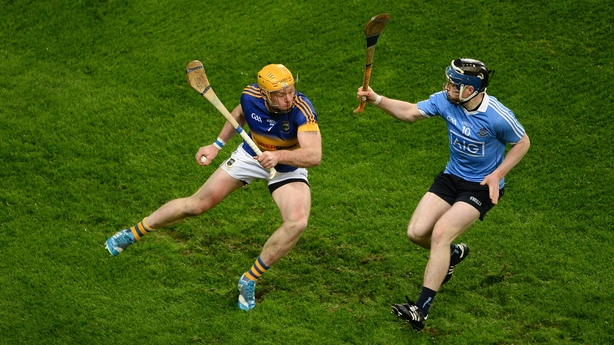 Padraic Maher hasn't won five All-Stars by accident. Standing 6'2, his immense physical strength and dominance in the air has neutered many an attack, not just in his day job as a Garda.
The sight of the yellow-helmeted figure (though white this summer) winning the the ball, weaving shoulder-first around opponents that bounce off him forlornly, and delivering a pinpoint clearance has been a familiar one over the past decade.
Not to mention he can generally be relied upon to chip in with a long-range point or rouse the Tipperary fans with a fist-bump after winning a free.
Padraic Maher with a fantastic long range score! pic.twitter.com/J4IqGWMGZ7

— The GAA (@officialgaa) February 17, 2018
"Padraic is not far off the best defender I have seen and most consistent I have seen," says Corcoran. "You could write on the back of a stamp the number of times he has played poorly. He's a real leader for us.
"People will argue as to his best position. Some feel it's 7, some 6, others that he can go back into the full-back line. I think it's 6 because sometimes when he's 7 the opposition try to keep to the far side of the pitch. When he's 6 he can sweep there.
"There are very few players in the game that can really lift the crowd when they come out with the ball and Padraic Maher is one of them. A lot of the time when he scores points it's when Tipp are under pressure and he can settle the team again.
"He's colossal there, physically, and the team around him seem to feed off his presence."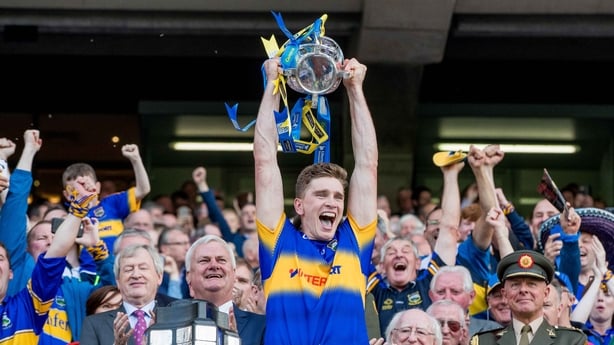 Brendan Maher is Tipperary's Mr Versatile. A primary school teacher, who also has experience in the world of public relations with now county shirt sponsor Teneo, the clever, committed hurler has played in every line of the pitch for Tipp apart from goalkeeper or full-forward.
He lined out at midfield in the 2010 and 2016 (when he was captain) All-Ireland victories, and has divided his time between half and full-back this term, filling in when Liam Sheedy needed a man-marker he could rely on in Cathal Barrett's temporary absence.
Corcoran hails two-time All-Star Brendan, who has bounced back to the top of his game after injuring his cruciate last summer, as the ultimate team player.
"The hurling ability and skill that he has, you want to be out hitting ball in every game but he's able to come off the field having won three or four clear possessions that took his man out of the game.
"He's well capable of putting the ball over the bar if needed but he's a real leader and sacrifices his game. Any young player that is giving out when they're being put in different positions should take a leaf from his book.
"I think No 5 is Brendan's best position. If he needs to man-mark someone he's done it. Tony Kelly, Aaron Gillane. When he marked Aaron Gillane, he did a super job on him but it took a lot from the half-back line when he came out of there. Seamus Kennedy did hurl quite well but Brendan brings a different dynamic when he's going forward with the ball."
"He has been one of our top players. The captaincy isn't beside his name (anymore) but he's still a real leader there."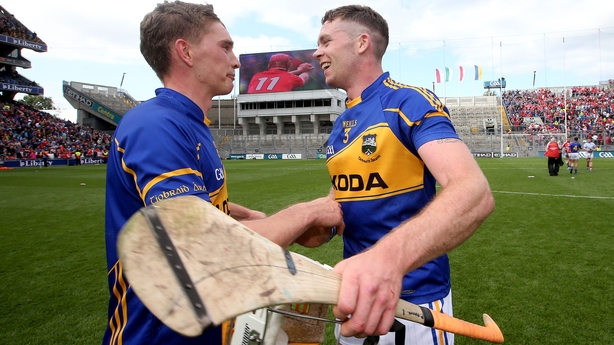 Brendan and Padraic both turned 30 earlier this year. Corcoran name-checks the likes of panel-mate Robert Byrne and current U21s Paddy Cadell and Bryan O'Meara as potential long-term successors but doesn't think there is an urgent need to replace them.
Corcoran's own Tipperary career ended at 31 but he believes both men can both defy the trend of early retirements in hurling.
"They are in their 30s but I think there are a number of years left in these lads.
"Brendan is having one of his best seasons to date. Padraic the same. You have the experience behind you, the head on your shoulders to adapt to situations in big matches. They have played in how many All-Irelands at this stage.
"A lot of it is to do with time commitment more so than the physical pressure or speed. It's seven days a week and you have to try and build a career as well. It's mental tiredness more than physical. If they get the balance right, some lads can go to 33,34.
"If you can see a Munster title or All-Ireland title at the end of the line, that road down from Dublin, Cork or Waterford is much shorter. It's when you're losing and things aren't going right mentally that you start to think it's time to hang up the boots."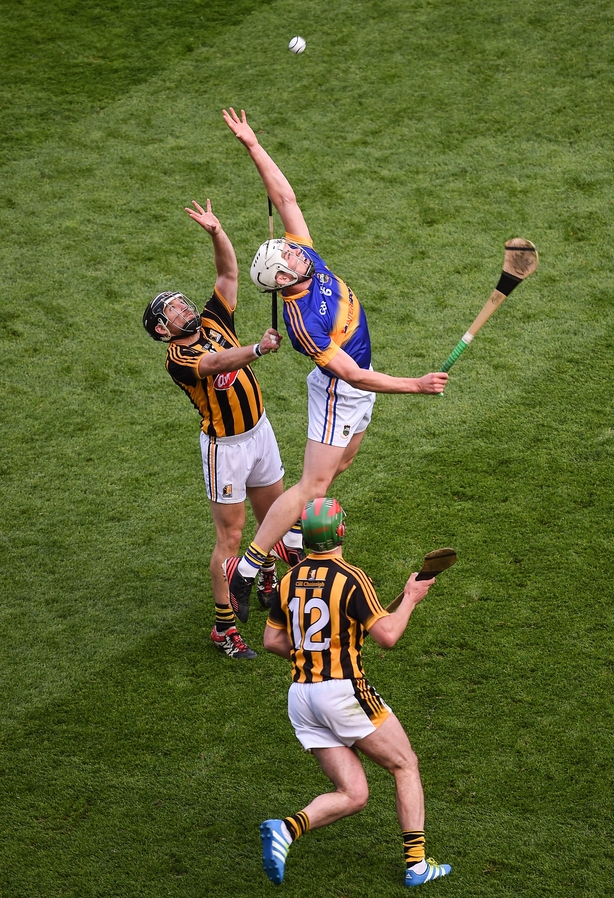 Ronan Maher is six and a half years younger and an inch or two shorter than big brother Padraic. Though such is his ability to claim a high ball that that is sometimes hard to believe.
Ronan, who is in training to follow his sibling into the Guards, won a minor All-Ireland title as a 16-year-old corner-back in 2012 and played in midfield last year but it is at No 6 that he excels and the position in which he won his maiden All-Star in 2016.
Like Corcoran, he is an expert at cutting a sideline over the bar, but the Templemore man admits he didn't quite have the same range. Ronan hit 0-5 in last year's league semi-final win over Limerick, including two line balls - one of which was struck from inside the Tipperary half.
"He has brought sideline cuts to a different level," says Corcoran. "He can put down a line ball and put it over the bar from 70 yards out, left or right.
""He's a breath of fresh air to watch. He's very strong in the air and he consistently produces. This year he has caught a huge amount of ball.
"In the Munster final he caught a few balls over Gearoid Hegarty's head, who is 6'5."
The power, the distance, the strike. What a Sideline from Ronan Maher! pic.twitter.com/Hy7GYm0nwr

— The GAA (@officialgaa) March 31, 2018
So what can Wexford do to limit the trio's influence?
"I'm sure Davy has a plan to take them out of it," muses Corcoran. "I can't imagine too many puckouts coming down on top of them.
"That's what Limerick did successfully in the Munster final. Every time Padraic got the ball they crowded him. They tried to move Ronan around the place. When teams play Tipp, if they nullify the half-back line they are on the front foot to win it.
We need your consent to load this rte-player contentWe use rte-player to manage extra content that can set cookies on your device and collect data about your activity. Please review their details and accept them to load the content.Manage Preferences
Listen to the RTÉ GAA Podcast at Apple Podcasts, Soundcloud, Spotify, or wherever you get your podcasts.

"Tipp will be watching the first five or ten minutes then decisions will be made on the field. Lee Chin can play very deep and they might just try to hold the half-back line.
"Davy will want Tipp to go short but we need to give the right person the ball. I don't think he'll allow Ronan or Padraic to be free for puckouts because he knows the delivery they can give into the forward line. Brendan will probably go to toe-to-toe and Padraic will probably play the sweeper role."
Corcoran predicts: "It will be a tight game but I am confident Tipp will win. We have struggled this year on the bench but I think our 15 are stronger than Wexford's."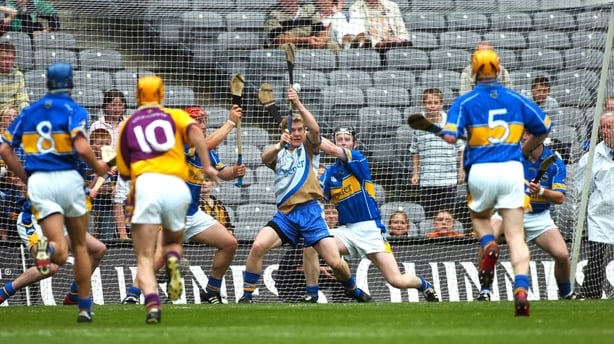 The 2001 All-Ireland winner needs little reminding of what happened the last time the counties met in Croke Park.
Tipperary were two points up late on in the 2007 quarter-final when Corcoran was penalised for running in front of Barry Lambert as the Wexford player prepared to point a 20m free. The ball was moved centrally and goalkeeper Damien Fitzhenry stepped up to bury the match-winning goal.
"To this day I'm haunted over it," says Corcoran. "When we were lining up I said I'd run across to the far side when I saw a free Wexford fella.

"It looked like I was stopping him taking it but it wasn't intentional at all. I didn't realise I was running across the ball.
"If Tipp come up the field and bury one like that I won't be giving out either."
Follow Wexford v Tipperary on Sunday (3.30pm) via our live blog on RTÉ.ie/sport and the News Now app. Watch live coverage on RTÉ2 from 2.30pm and the RTÉ Player and listen to radio commentary on RTÉ Radio 1.