Throughout this weekend's hurling fiesta, one thing a lot of people will be keeping an eye out for is the reaction of Davy Fitzgerald on the sidelines of Croke Park.
But the Yellow Bellies newfound sweeper Kevin Foley says that his manager is a different character away from the spotlight that match days bring.
"He's unique in his ways," Foley told RTÉ Sport's Brian Carthy ahead of Sunday's semi-final showdown with Tipperary.
"Whatever you see on the line, it's nothing like that off the field. He's special to us and he treats us like a big family down in Wexford. It's a unique bond.
"He's calm, he's cool with us. He lays out the formations or the tactics for us and he just ensures that we're going out to enjoy it.
"His hurling brain is second to none. He's so outside of the box and thinking about the next plan or the next game and it's brilliant to be a part of something special like that.
"His brain must be going 24/7 hurling, hurling, hurling. It's fantastic for us to get the opportunity to work with someone so special and so into hurling. His love for the game is incredible."
Passionate but compassionate, Davy Fitzgerald is renowned for his emotional investment in the GAA. Last year, he invited a struggling Lee Chin to his home in County Clare for some time away from the limelight to rediscover his form in peace.
Earlier this year, he brought young hurling fan Michael O'Brien, who is visually impaired, into the Wexford dressing-room to give a team talk to his heroes ahead of their thrilling Allianz League win over Tipperary.
Foley echoed Fitzgerald's sentiments on that inspirational moment, saying: "People go through life with difficulties and challenges. They're faced with diseases and sicknesses and stuff like that but we're going out to hurl for freedom and we're lucky enough to be in that position."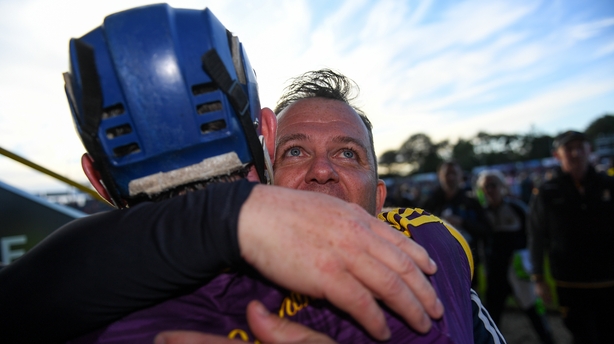 Sweeper systems are a divisive and much debated topic in hurling circles. However, Fitzgerald seems to have unlocked something special in Foley, who has slotted into the role seamlessly this year after replacing Sean Murphy.
"It was interesting going back there first of all," said Foley.
"It was definitely a change of scenery, naturally being a forward, but back there being in a sweeper system is definitely different. I was looking at Sean [Murphy] the last two years I suppose since Davy came in and the role he was playing and I could constantly pick up on stuff he was doing. I sat down with Davy and Sean a couple of times to go through different things.
"Look, it's not that complicated. We try keep it as simple as possible."
Murphy who held the experimental position for 2017 and 2018, was more than happy to share his advice with the newbie this year.
"He surely did. It just shows, Sean has moved back out to wing-back since and he's flying this year. He's having a real good campaign and I'm delighted for him.
"He's definitely passing on a bit of advice every day and we kind of go out and we always have a bit of a chat just to double check."
This sense of teamwork and fluidity in positions has been perfected under Fitzgerald's reign and Foley paid tribute to the 'unique' manager's confidence in his players.
"That's something that Davy has instilled in us. No matter where you are on the field you need to know what your role is or what your job is. And you'll see at different stages we might have some of the backs ending up as forwards and the forwards in the full back line and stuff like that.
"But, we're comfortable enough to try it out. Everyone knows what their role and job is and it's enjoyable as well."
Follow Wexford v Tipperary on Sunday (3.30pm) via our live blog on RTÉ.ie/sport and the News Now app. Watch live coverage on RTÉ2 from 2.30pm and the RTÉ Player and listen to radio commentary on RTÉ Radio 1 and Raidió na Gaeltachta.