Kerry manager Peter Keane says he pays no heed to the critics and that he's perfectly happy with the direction his team are taking.
Pundits from the Kingdom and the rest of the country were lining up to question Kerry's defensive plan after defeat to Mayo in the league final and a stuttering win over Cork in the Munster decider.
Keane's team blew Mayo out of the water in Sunday's Super 8s Group 1 opener at Killarney to get their All-Ireland quarter-final campaign off to the perfect start and afterwards he made his feelings known.
"Look, we're reasonably happy," he said. "We kicked well today, 1-22, 1-19 against Cork, so we're quite happy with the kicking. That's my immediate reaction.
"We're happy enough with where we're going. It's game by game. Like I said to ye after the last game, the first game was against Clare and we wanted to go and win that and we did.
"We went out and beat Cork. There was an expectation going into the Cork game that we were going to hammer them altogether, we never had that expectation. Suddenly when we didn't hammer them after telling ye we wouldn't hammer them, it was our fault because ye were wrong.
"You can't be right and you can't be wrong; you have to be something. We got out of it, it was a tough game and look at what Cork subsequently did. They put up 1-17 yesterday against Dublin, that's a big score against Dublin.
"Today being the first day of a new competition, we were happy to get out of it."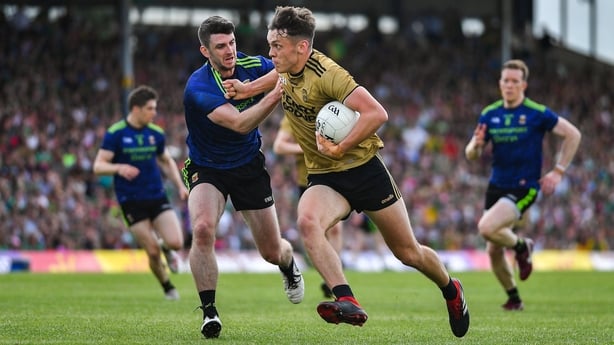 Mayo boss James Horan watched his team destroyed in the first half on their way to a 1-22 to 0-15 beating at Fitzgerald Stadium and he wasn't hiding from an of the facts.
He said: "We were comprehensively beaten. Kerry were very good today, we were a little bit off and they ran out comfortable winners but we have to move on straight away, there's nothing we can do about it now.
When asked what precisely went wrong, he responded: "You never really know, it could be a few things, it could be a combination of things. We just talked down there now, we'll train during the week and we'll get ready as best we can for next weekend.
"We struggled in the middle of the field. David Moran caught a lot of ball in the first half and then ball that we did get, we kicked away a huge percentage of it.
'We're happy to get out the gate, it's only game 1' - Kerry boss Peter Keane keeping a lid on things #rtegaa pic.twitter.com/HdxMcNbhkq

— The Sunday Game (@TheSundayGame) July 14, 2019
"Our kick-passing was quite poor right throughout the game so when you're not winning much ball in the middle of the field and anything you do get, you're kicking it away, you're going to struggle so we put ourselves and our full-back line under immense pressure, particularly in the first half.
Mayo's next game is against Meath in Croke Park next Sunday on the same double-bill as Kerry-Donegal with throw-ins at 2pm and 4pm respectively. It's a must-win for Mayo and the Royals if they are to avoid elimination before the final round.
"They're all big games," said Horan. "You have to try and win every game but obviously it's a big weekend for us so we'll prepare as well as we can."