Hugh McFadden has praised the input of former Mayo manager Stephen Rochford on the Donegal set-up.
The former Mayo boss joined Declan Bonner's backroom team last October after three years helm of his native county.
"We are delighted to have Stephen in Donegal. He is a phenomenal coach, he's been there and done that at the highest level," McFadden told RTÉ Sport.
"For us it's very nice to have someone from outside the county and outside the province come in and share his thoughts and experiences.
"Declan deserves great credit for building a good back room team and himself Karl Lacey, Gary Boyle, Paul McGonigle along with the rest of the staff are doing a very good job. The management team he has built around him freshened things up nicely.
"Declan came in after a very disappointing 2017 season when we were badly beaten by Tyrone in the Ulster championship and badly beaten by Galway in the qualifiers.
"We have developed a nice wee squad now, Declan will be the first to allude to the fact that it's very early days and we haven't done anything to go cheering about as of yet, we are focusing towards next Sunday."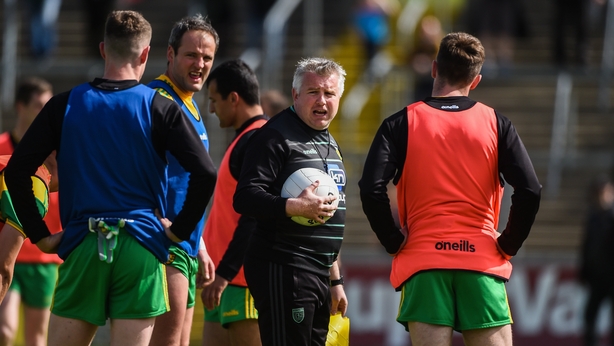 Donegal have been impressive this season, defeating Fermanagh and Tyrone on the way to the Ulster final. They racked up 1-24 in the provincial decider against Cavan last month, winning by five points.
"We'll not hide away from the fact that we defended a lot and we defended en masse at times," McFadden said speaking to RTÉ GAA Correspondent, Brian Carthy.
"I think we have a very high standard of forward in the county, the likes of Jamie Brennan, Niall O'Donnell, Michael Langan, Ciaran Thompson have all added to our game.
"And this year Oisin Gallen has came on and done fantastic, the performances he's delivered for such a young fella...
"Throw in Paddy McBrearty and Michael Murphy on top of that we have a nice style of footballer going forward."