With the county hurling scene on the crest of a wave, Wexford Under-20s boss MJ Reck admitted that it did add some extra pressure ahead of last night's Bord Gais Energy Leinster Championship semi-final clash with Offaly.
Senior and minor success on Sunday in Croke Park meant the U20s, who got a bye straight into the semi-final, had the weight of expectation on their shoulders when facing an Offaly team who had already beaten Westmeath, Carlow and Dublin.
"It is an added pressure, there is no point in saying any different," Reck told RTÉ Sport after the 2-20 to 1-18 win in Tullamore.
"Of course we don't want to let Wexford down but as a group we wanted to win as bad as anyone.
"It is an added incentive, I suppose, but I didn't really bring it up because I don't want to be putting more pressure on them as the pressure was on them already.
"It's just great to get to a Leinster final with this bunch."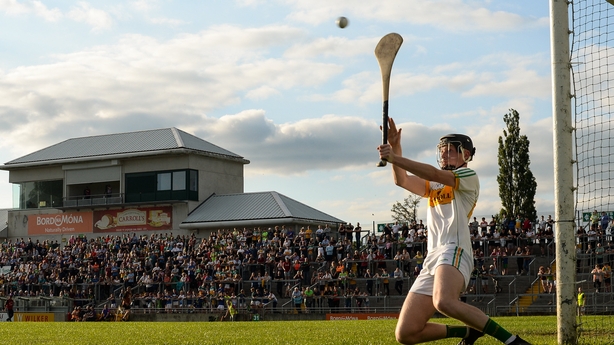 The Faithful County had pulled off a shock away win against Dublin last week and Reck said that getting a chance to see his opponents in action had informed his game plan.
"If I hadn't seen Offaly before tonight we'd probably have been beaten," he said.
"Everyone is saying Offaly is down in the doldrums or whatever but they have a serious U20 team and they are doing a lot of work with these guys. I think they is a lot of them available next year.
"They were very good in the air last week against Dublin, they bullied them really so I knew we couldn't get into that sort of a game.
"We haven't got the men to be honest, we're fast so we kept the balls low and out to the wings to take them on there, try to hurt them there and some of it worked.
"We were wary of Offaly, they are a big physical team. Against Dublin, they were pretty impressive.
"It's great to see Offaly playing like that, but our lads were a little bit better on the night, we probably should have won by a bit more.
"Our lads settled in after going 1-04 to 0-02 up and we started playing hurling.
"They never panicked really and when there was a point in it we got the ball, Diarmuid Doyle was 40 yards out, soloed the ball and buried it. That showed he has an old head on young shoulders."
Wexford, who last won out the three grades in Leinster in 1970, will face the winners of tonight's semi-final between Kilkenny and title holders Galway in Tullamore.
Listen to the RTÉ GAA Podcast at Apple Podcasts, Soundcloud, Spotify, or wherever you get your podcasts.