At the launch of last year's 'Hurling for Cancer' event, there is a clip on YouTube of Jim Bolger taking a shot on Davy Fitzgerald in a portable goal on a racecourse.
The annual celebrity match, organised by Bolger and jockey Davy Russell in aid of the Irish Cancer Society, has been running for eight years now. And Fitzgerald has long been a supporter of the event.
Bolger and Fitzgerald go back a long way but Bolger's personal frustration with Wexford's style of play bubbled over after they drew with Dublin in their opening Leinster championship match in May.
His comments on RTE Radio 1 afterwards, were inevitably aimed in Fitzgerald's direction.
"If we went back to the traditional style of hurling that Wexford always had, we'd be winning more games and we'd be going home winners this evening," said Bolger. "That short game is very energy-sapping and very risky.
"To me it makes no sense whatsoever. Go back to the Wexford traditional style of hurling and we'll win. If someone can't work that out for themselves in a managerial position, there's not much I can do about it."
Bolger's criticism may have seemed like old-school views lashing a new game, but his opinion is highly respected throughout the county. He has funded, sponsored and supported hurling in Wexford all his life.
Bolger has always been a shrewd hurling man, but he is also a successful businessman who fully understands elite sport. A hugely successful racehorse trainer and breeder, a winner of over 50 Group 1 races, including multiple Classics, Bolger's words always carry huge weight in Wexford.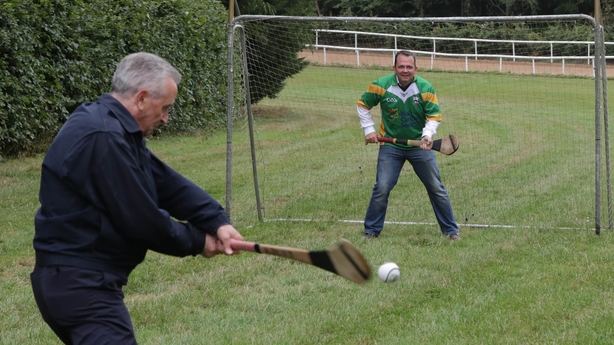 Fitzgerald was bound to have been disappointed by Bolger's comments, but he certainly wasn't going to alter his style because a highly respected figure questioned it. If anything, the criticism strengthened Fitzgerald's conviction in that style, and steeled him even further for the challenges which lay ahead.
After reaching successive All-Ireland quarter-finals, Fitzgerald had firmly established Wexford as a top-six team but the big question everyone was asking of him in Year 3 was whether he could take Wexford any further? And could he do so with his style?
The players were always fully behind Fitzgerald but the biggest challenge was whether Wexford could pose a serious threat to the top teams with their system of play. Galway, Clare and Kilkenny (in the second half) all exposed that approach last summer by disarming the sweeper.
Yet Wexford still could have beaten Kilkenny in June 2018 and Fitzgerald was never going to abandon a gameplan which he felt best suited the players he had.
He just tweaked the sweeper system by deploying Kevin Foley in that role instead of Shaun Murphy. It was a bold and aggressive move but Foley is a highly intelligent and creative player going forward, which clearly signalled an intent to register more scores, especially when a critical part of the sweeper is to launch counter-attacks.
In the last two years, Wexford just weren't scoring enough against the big teams. They averaged 1-18 in the 2017 and 2018 championships (excluding the figures from their win against Westmeath last year), which is never going to be enough to beat the top teams.
They hit 2-19 against Dublin in May but the 1-22 Wexford conceded was also instructive because that was the average they coughed up in their big games last summer. The margin could, and should, have been far higher on that opening day this year; Dublin had 14 wides, and nine more shots in total; one of Wexford's best players was goalkeeper Mark Fanning, who made four excellent saves.
Wexford could have pointed to their 11 wides, and Rory O'Connor converting just one of six shots, but judging the comparative chances from both teams through an expected points model, Dublin should have won by eight points.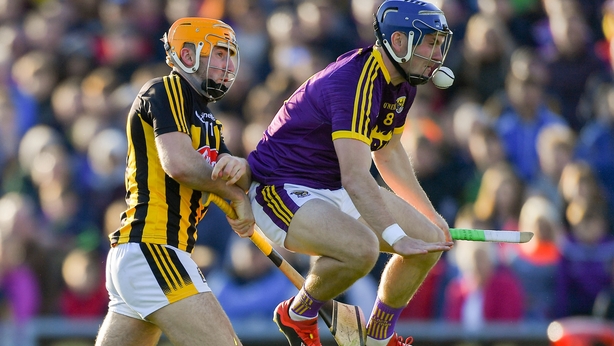 That would have given more air to Bolger's theory, but the other trend Fitzgerald had to try and alter was to keep his side's graph rising, something he struggled to do with Waterford and Clare from Year 3 on. He did win a Munster title with Waterford in his third year, but his first season began midway through the 2008 summer.
So, could Fitzgerald keep making improvements with Wexford to take them to the next level? Sunday's Leinster final success certainly proved that he could.
"It's not that Wexford's system is perfect," said Donal O'Grady in his TV co-commentary after the final whistle "but it was perfect enough to win the game."
It was because Wexford hit all the targets they needed to reach: they made more tackles; they forced more turnovers-in-possession; even though it didn't seem so during the game, Wexford won more rucks (9-8).
Most critical of all though, Wexford were more accurate up front, having a 75% conversion rate from play compared to Kilkenny's 50%. And given his difficulties from placed balls at stages of this season, Lee Chin's 89% conversion rate was massive in the context of such a tight game.
The players are more comfortable with the system now in Year 3 but Fitzgerald's experience and influence has also given them more security, confidence and belief.
Wexford were still adjusting to the system under Fitzgerald in 2017 but the biggest difference between their style back then and now is there is less shorter passing in the middle third, and less bodies coming deeper. Wexford are moving the ball forward quicker now. Their support runs are better, their off-loading game is crisper, but their half-forwards are playing that bit higher up the field too.
Three of their biggest players – Lee Chin, Conor McDonald and Rory O'Connor – hadn't always played well on the same day but they were excellent on Sunday, either scoring, being fouled for, or having a direct hand in 1-16.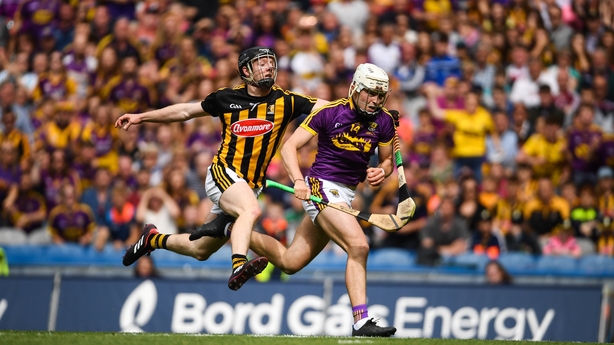 O'Connor's maturation from the teenager sitting his Leaving Certificate in June 2017 has been a key part of Wexford's evolution. His four points from play, and the run which created the penalty, were the kind of scores Wexford struggled to get in the past against Kilkenny.
O'Connor is the X-factor talent that McDonald displayed when he first exploded on the scene in 2014 but, while a young player often struggles to rediscover that form in the intervening years, McDonald showed those X-factor qualities again on Sunday; from 12 plays, McDonald scored four points, was fouled for a converted free and had a hand in forcing a (debatable) converted '65.
Huw Lawlor's excellence prevented McDonald and Wexford from doing more damage when Kilkenny were often wide open. And while Wexford didn't score a goal from play against Galway and in their two games against Kilkenny this summer, the long dink-ball from Shaun Murphy to O'Connor, before he began the run for the penalty, showed how creative Wexford often are with that play. That was evident during the league, particularly in the quarter-final against Galway.
The tactical tweak on their own puckout also provided another insight into how Fitzgerald is always looking for that extra edge. Going long was always going to be a gamble against Kilkenny but it paid off in a number of ways.
Kilkenny did win 16 Wexford puckouts but Wexford still reaped a massive dividend of 0-12 off their own puckouts. Booming the ball down that central channel restricted Padraig Walsh's aerial influence, and playmaking capacity (especially when he had been so influential in Wexford Park two weeks earlier), but it also limited Kilkenny's ability to knit the counter-attack together with so many Wexford bodies under the dropping ball in that area. Furthermore, it also stretched Kilkenny in the middle third and opened up more pockets of space for Fanning to hit on his restarts.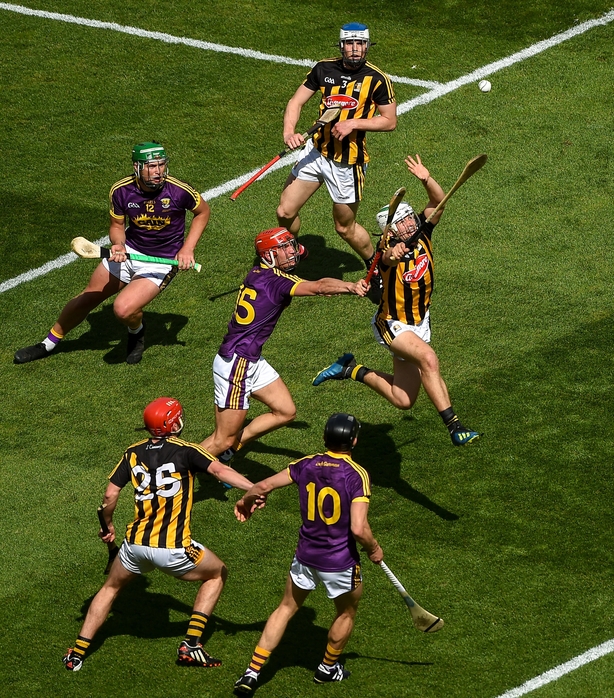 Kevin Foley, Diarmuid O'Keeffe and the excellent Liam Óg McGovern really profited from that manufactured space in the Wexford half. Foley had a big influence on the match, making 20 plays, effectively carrying out his usual sentry-type duties but always being creative too in possession; Foley was directly involved in four Wexford scores.
Placing Rory O'Connor on Enda Morrissey was a cleverly designed match-up but Wexford's most important defensive match-up was Paudie Foley on Walter Walsh, particularly given the damage Walsh has often inflicted on Wexford in the past.
TJ Reid was excellent when scoring four points and being fouled for a converted free but, despite Matthew O'Hanlon's struggles on Reid in the first half, O'Hanlon never dropped his head and Reid was restricted to just three plays after the break.
The 1-23 Wexford hit on Sunday was their highest total against a top-eight team in championship under Fitzgerald. In the past, teams needed to reach that kind of a scoring standard just to match Kilkenny but this is not the Kilkenny of ten – or even three – years ago.
That was evident when the sides met in Wexford Park in the final round-robin game. In the past, if Kilkenny got a goal to go ahead with 25 minutes to play, and with the breeze at their backs, they would have gone on to throttle a team. But this side doesn't have that capacity.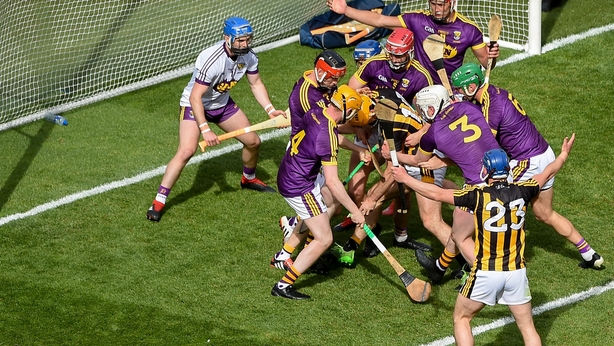 Kilkenny were outsmarted on the line yesterday but the most untypical aspect of the performance was how much they panicked late on. They were looking for goals when they were still only three points down with the guts of seven minutes to play.
There was a time when Kilkenny always had that ability to cut teams throats with goals at any stage of the match but their capacity to spook teams was just as central to that menace, especially late on in games. Kilkenny don't carry that psychological threat anymore and when Wexford stared them down, Kilkenny blinked first.
Sunday was a huge day for Wexford, not just for bridging a 15-year gap, but the occasion was made far sweeter when their minors won a first Leinster title in 34 years.
That proves that a new wave of talent is coming again and, while Fitzgerald is unlikely to be around to nurture it in the coming years, the next generation won't have to endure the suffering that so many of their predecessors had at the hands of Kilkenny.
This was another huge success for Fitzgerald but, deep down, the most pleasing aspect for him is surely the satisfaction of how he managed it – by sticking to his principles and doing things his way.
When Damien O'Meara asked Fitzgerald in a TV interview beforehand if playing in Croke Park would allow for any tactical changes and a more expansive game, Fitzgerald wasn't straight faced but his reply was completely tongue-in-cheek, and aimed directly at his critics. "We'll go out and play 15-on-15 and see what happens," he said.
Wexford's system may not be perfect but it delivered the perfect result.