It's fair to say the 'sweeper system' has divided opinion in the hurling world.
The practice of sacrificing a forward for an extra man in defence, who is usually unmarked and thus free to 'sweep' up loose ball, has been a popular tactic for some teams recent years.
Its application tends to reduce the number of goal chances in a game and All-Ireland winners like former Clare boss Ger Loughnane and Offaly's Michael Duignan are among those to express distaste for the break with the traditional arrangement of backs and forwards.
Wexford boss Davy Fitzgerald is one of the most celebrated exponents of the tactic, employing it in the Banner's march to the 2013 All-Ireland title, though not in the final victory over Cork.
That switch, and Waterford's All-Ireland final loss to Galway in 2017, seemed to justify the popular opinion that a team playing a sweeper could not win a title.
For Fitzgerald, Wexford's Leinster final triumph over Kilkenny shows that that is a misconception.
"The sweeper system, I am certain, is not a negative system," he told RTÉ Sport afterwards.
"It just needs to be shown the way it operates, which is very important. It is good for hurling; not bad. I'm a hurling person.
"Our game (against Kilkenny) below in Wexford Park? I think everyone would say it was manly.
"Look at the short, look at the long, look at the crossfield, look at the catches … you tell me that every element of hurling isn't in our game? It's there.
"I don't really care anymore what people think about it, and I'm sure the lads don't care either, but it isn't bad to watch.
"Even when we were doing poorly in games, they (the Wexford players) didn't knock the sweeper system. And I'm delighted that they've stuck with it."
Sweepers should be outlawed! Not the game I love. Coach players to tackle & to use their heads instead of using extra backs to compensate!

— Michael Duignan (@DuignanMichael) July 23, 2017
Wexford wing-back Shaun Murphy, who in 2017 and 2018 filled the sweeper role now occupied by Kevin Foley, insists the players didn't need silverware to fully persuade them of the system's merits.
"We didn't need to be convinced," he said.
"Every team is playing some sort of structure, whether it be half-forwards going back or holding six. We start out with an out and out sweeper, that might be the difference.
"Things move on. It was nice to win something with it. It might stop people talking about it.
"Every team has some sort of structure. It gives us licence to attack, you saw Simon Donohue, a corner-back getting up for a score."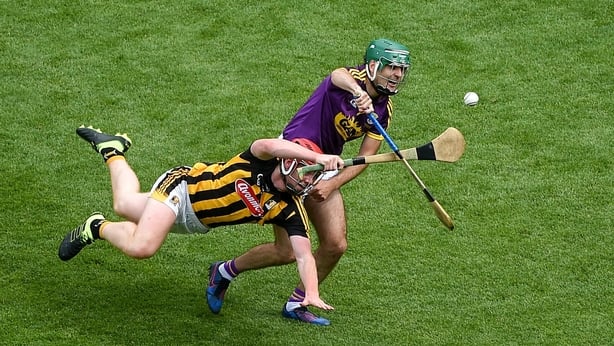 Murphy also paid tribute to Fitzgerald for infusing the Model County with the competitive edge they needed to beat Kilkenny in a Leinster decider for the first time since 1997.
"He's just a pure winner. Whether it's hurling or cards or table tennis, he just wants to win, and he instils that into us. We have to and we want to win every game.
"We've been craving that success over the last while and I suppose he's won it as a player and as a manager and when he tells us we're good enough, you believe him.
"It's not that long ago, 2015, nearly a 20-point trimming that we got against Kilkenny.
"We've beaten them over the years as well probably but maybe on one-off occasions where in the last couple of years we've been building that belief.
"Whether it be Walsh Cup, League or Championship, we've been getting the wins and that instils the belief within the team that we can actually go out and win on the big day."