As Donegal put back-to-back Ulster titles together for only the second time in history, their thoughts turned quickly to the All-Ireland series.
Declan Bonner's team cruised past Cavan at St Tiernach's Park in Clones to win the county's tenth provincial crown.
It has been a golden decade for the Tir Chonaill County, this their fifth title in nine seasons, but they haven't made an All-Ireland semi-final since 2014. Last year's Super 8s campaign was a disappointment and Bonner wants to right some wrongs over the coming weeks.
"We take it one step at a time. We knew coming up here that Cavan would pose a big, big threat to us and they did - in fairness to Mickey and the lads they put it right up to us until the end," he said.
"Now we're in the Super 8s and our first match is going to be at home in MacCumhaill Park and we look forward to that and we'll get ready for that. We want to move on, but we'll take it step by step."
A tweak to the quarter-final stage, which is organised on two four-team round-robin groups, sees provincial champions getting their first game at home rather than at Croke Park and Donegal will be hoping to use this to their advantage.
They retained the Anglo-Celt Cup with style, winning far more comfortably than the 1-24 to 2-16 scoreline would suggest. They had led 0-13 to 0-05 at half-time.
"Just delighted, delighted to get the victory because finals are there for winning," said Bonner. "I thought we played well for long, long periods, we set the foundations in that first half when some of the football was excellent.
"On the downside in the second half we conceded two goals and that's something we need to look at."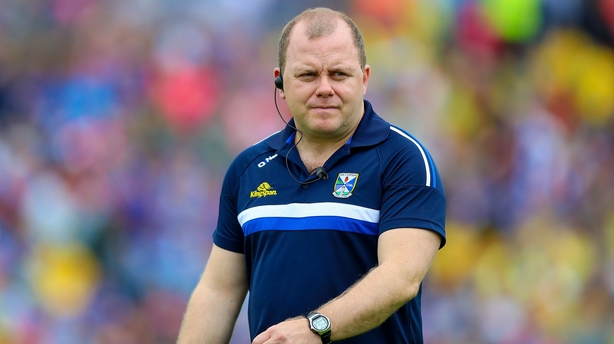 He continued: "Today is about celebrating back-to-back Anglo Celts because they don't come easy. It's only the second time in our history that we've done it, but we'll get back to work again on Wednesday and get ready for the Super 8s."
Cavan manager Mickey Graham wasn't sugar-coating his team's performance following defeat in their first Ulster final appearance in 18 years.
"A lot of things we talked about today didn't happen for us, especially in the first half, when we got turned over," he said.
"When you get turned over against a team whose strength is counter-attacking you're going to get punished every single time and that's what happened.
"We got turned over in the tackle, we dropped a few short, kicked a couple of bad wides and all those were our own doing.
"Donegal made it count on the other end and that's the one thing you can't do against a team like Donegal because they have so many runners all over the field."
Looking at the positives, Cavan are still in the Championship and just one qualifier win away from the Super 8s.
"It'll be a test of our character, but there's huge character in that dressing room," said Graham.
"There's great mentality there and this is a defeat we'll have to learn from. We'll have to learn from it very quickly because we have two weeks to get ready because whoever we play in that qualifier is going to be a tough game."