GAA executives admit Dublin's unprecedented dominance of Leinster could not have been predicted when they began to invest heavily in the capital, but there are no plans to split the county or pull the plug on their investment.
Jim Gavin's side this afternoon go in search of their 15th Leinster SFC title in 16 years when they take on Meath in Croke Park - a monument to the success of the GAA's 2002 Strategic Review, which put in place the plan to resurrect Gaelic games in Dublin after decades of under-investment.
That the Dubs are this summer seeking the first five in a row in the history of senior All-Irelands is proof that the strategic plan worked, perhaps better than anyone expected.
"In all honesty, the authors of the report at the time wouldn't have envisaged that there would be such a period of pre-eminence at senior football level in particular for Dublin," GAA director general Tom Ryan told Marty Morrissey, as part of a special report to be broadcast on today's Sunday Game live programme at 1pm.
"The thinking at the time was Dublin faced particular challenges in terms of where they stood in the scheme of things, GAA wise," added Ryan.
"It is very important for us at national level that the capital city and capital county is in a good place from a GAA point of view. That was the thinking at the time."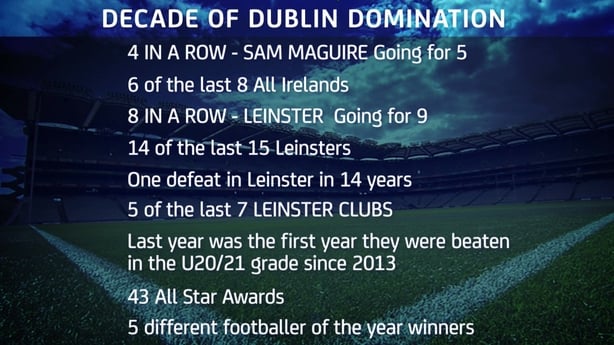 Dublin received almost €18million in game development grants between 2007 and 2018. Cork was the county that received the second largest amount, with €1.4m.
"That money is ringfenced solely for coaching and games development in Dublin," Dublin county board chief executive John Costello told RTÉ GAA correspondent Morrissey.
"We have 54 games promotion officers, we have three regional development officers, we have a hurling development officer and a football development officer.
"Last year Dublin spent €3.6m on coaching and games development. Of that, €1.2m from central headquarters, the clubs paid 50% of the games promotion officers and the balance of the funding comes from the county board funds, through sponsorship and gate receipts."
Dublin, with 10 intercounty sponsors on board, earned €1.46m in commercial revenue in 2017 - more than twice that of their closest rival in the financial stakes, Cork.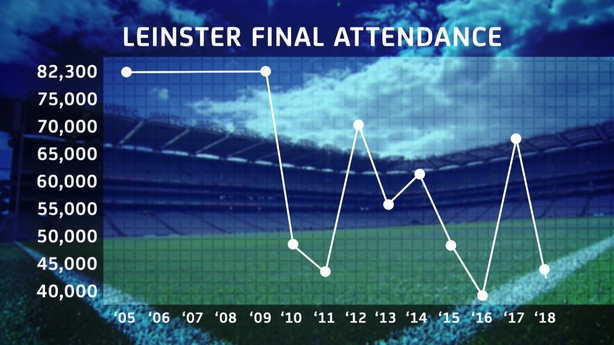 However, Costello rejects the suggestion Dublin no longer need financial support from Croke Park.
"We have huge challenges in Dublin. We have developing areas that we have no presence in: there are areas like Cherrywood, Hollystown and Adamstown."
The Dublin county board has ambitions to develop up to four centres of excellence around the county, but Costello cites the price of land in the capital.
"We paid €9.2m for Spawell, which works out as €275,000 an acre and it will probably cost us a similar sum to develop this land," he said.
"We have the population, the rest of the country has the land. The population is no good unless you have the facilities and the land to play our games on."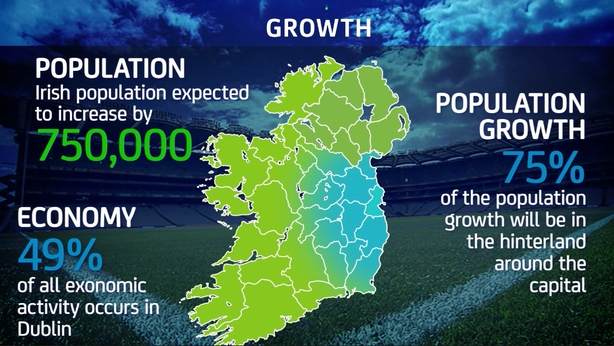 Dublin's dominance within Leinster has seen winning margins skyrocket as final attendances have halved in a decade, but Leinster Council CEO Michael Reynolds does not entertain the idea that the provincial championships are a lost cause.
"The Leinster Championship is quite vibrant outside the Dublin scenario. During the summer, you have some very good matches - the same in the other provinces," said Reynolds.
"I have no doubt the gap will close. It is not up to Dublin to come back, it's up to the rest of us to lift."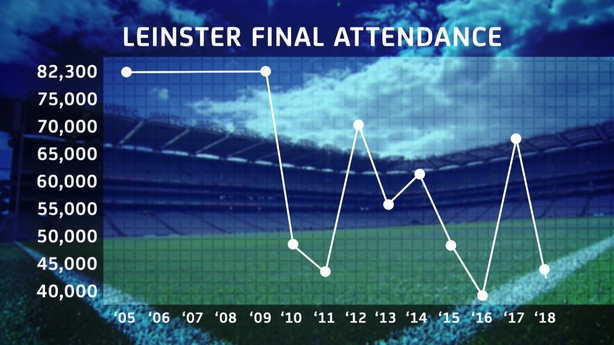 Ryan echoes this sentiment - putting the responsibility on the GAA and the chasing pack to learn from Dublin and close the gap. 
"It is a question of learning what has been successful in Dublin and trying to apply that elsewhere, rather than taking a scalpel to something that has worked."
Neither Ryan or Costello entertain the idea of splitting the county to level the playing field, with Ryan insisting that suggestion would have to come from Dublin themselves.
Costello is unlikely to bring that to Congress: "I have never met anyone yet who wanted to play for a subsection of the county."
The Dublin county board CEO believes people need to stop judging the flow of money in terms of All-Irelands and think about participation rates.
"You look at it through the lense of the intercounty scene. What we look at are the club and participation rates. We have grown participation rates in football in the last 10 years by 58%, in hurling it is 98%.
"In terms of games provision, last year we provided 11,500 fixtures for children between 8 and 12 age group. This is what we are doing. What we are concerned about is growing participation."
These are huge numbers but are unlikely to offer much succour to fans of Meath, or Kildare, or Longford. However Costello believes, despite this massive investment and growth, that Gavin's team are exceptional, and not the new normal for Dublin.
"Now we have a phenomenal bunch of players, we are winning, but it won't always be like that."
Watch the full report on The Sunday Game live from 1pm on RTÉ 2  and the RTÉ Player.