Dublin manager Mattie Kenny says his team wanted to stop being the nearly men of the Leinster championship after last night's enthralling victory over 2017 All-Ireland champions Galway.
Goals from Eamonn Dillon, Seán Moran, and captain Chris Crummey proved decisive in a four point win which sees the Blues extend their summer into July, at least.
For the westerners, it's an early exit from the Championship, with a long winter of reflection ahead of them.
But for Kenny's Dubs, it's the culmination of two years of progress, and a chance to get into the last six against one of the Joe McDonagh finalists next month.
Last night's triumph marks a big turnaround from a 14 point humbling by the same county in Tullamore just over two years ago. Asked what a win like that could do for Dublin, Kenny wasn't getting ahead of himself.
"We'll have to see, but it's a little bit of a monkey off their back," said the Tynagh-native.
"There was a massive game of hurling there tonight, and if we ended up with a draw or Galway winning by a point, and lads are saying, 'ah it was a great game of hurling.' These Dublin players would say they're tired of them moral victories.
"They want to start getting real victories, and in fairness to them, they're after delivering that tonight."
Galway looked like they could step it up when they needed to. Twice the hosts scored goals, only for Michael Donoghue's side to wipe them out with bursts of point-scoring.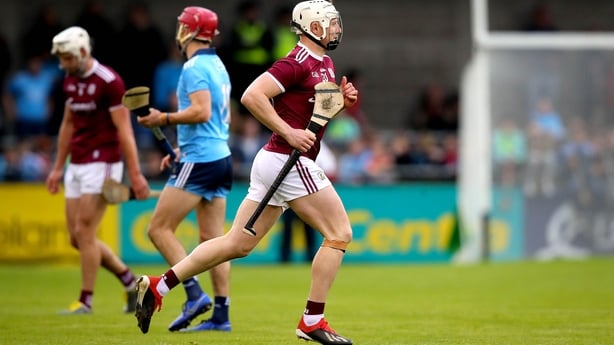 When Joe Canning was introduced mid-way through the second-half, and he put over a point, the Galway crowd sensed blood.
But Dublin didn't panic, and they outscored their opponents by 1-2 to 0-1 in the final five minutes.
"It came down to the goal (Crummey's)," according to Kenny. "Nothing could separate the sides, and when the goal went in I said we just need to get the next score. If Galway goes down and gets a point, they're back to two, and they'll claw it back again.
"The next score came our way, and that gave the lads the belief to push on. (That) point was the key score."
It was a real battling performance from Kenny's side, who came into the game without regular free-takers Paul Ryan and David Treacy, before losing Eoghan O'Donnell, feted by some as the best full-back in the country, to injury inside the opening quarter of an hour.
"We missing our first and second choice free-takers, both of them out injured," confirmed Kenny afterwards.
"Oisín's (O'Rorke) been unlucky not to figure more in the championship, he's been showing good form in training. But he grabbed his opportunity tonight, and played really well for us.
"Playing in these smaller stadiums, it just shows you the atmosphere you can generate. Talking to some of the Galway people coming off, they're very disappointed. But they said to me, 'what a game of hurling, what an atmosphere, what a night.'
"Looking at the permutations myself in the last week, I thought we had a good chance of getting a result here tonight. I never envisaged Galway being out of the championship.
"I'm not here to beat Galway. I'm six years now working in Dublin. My job here is to get the best out of these guys, that was my only focus.
"That's what we did."