Wexford manager Davy Fitzgerald praised his side's "lovely" second half performance as they sped away from a battling Carlow in Innovate Wexford Park.
Fitzgerald's team, who drew their opening two games away to Dublin and Galway, only led by two points at the break after an excellent second quarter showing from the underdogs. 
Trailing by seven points after 15 minutes, Carlow outscored Wexford 0-08 to 0-03 for the remainder of the half to leave the game still well in the balance at the interval. 
It was still only a five-point game after 52 minutes but Conor McDonald's goal sucked the life out of the contest and Wexford moved through the gears, rattling over points and improving their points difference should the need for it arise. Not even the sending off of Shaun Murphy could stall their momentum. 
Speaking to RTÉ Sport afterwards, Davy Fitzgerald was reasonably contented, praising his side's attacking play and second half efforts, while also acknowledging the difficult second quarter and some wayward shooting.  
"2-28 isn't bad. We'd a lot of wides as well but it isn't a bad score. It could have been more but a win is a win and we're delighted. 
"We started the game well but whatever happened our lads, we stood off. And we're doing it in a few matches. We're losing a 10 or 15 minute patches. We can't afford to have patches. When you play the Kilkennys or Galways, if you have patches, they'll kill you. Bar that patch, we were super today and did some lovely stuff 
"In fairness to Carlow, they'll come at you. And they're well able to play the short balls as well. They asked us questions but when we were seven up after 15 minutes, we should have kicked on. That's disappointing. But I was very happy with the manner of the second half (display). There was no let-up, we were relentless and got some good scores.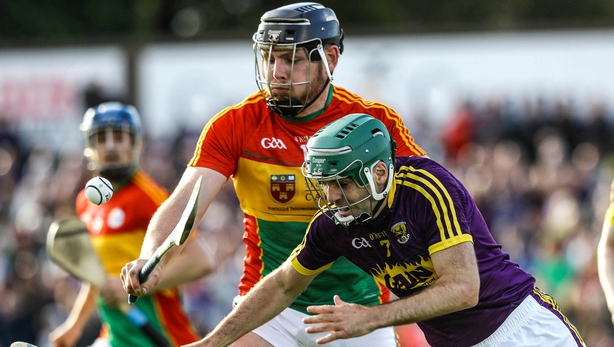 "Some of our play was lovely. Sometimes, people go on about us being negative. There was times today we had too many bodies up front. That's fact. There's that transition we have to be careful of.
"Any time we've played, we've got a lot of shots off. Our conversion rate needs to be a small bit better. We can't afford not to work, but if we work extremely hard, we'll give anyone a fair go of it."
The scene is set for a showdown at home to Kilkenny next week as the Leinster championship round robin phase reaches a potentially dramatic conclusion. 
Should Kilkenny beat Galway in Nowlan Park tomorrow, then only a draw in the Dublin-Galway game could deny Wexford a spot in the All-Ireland final, and even then their points difference is looking healthy. 
Whatever transpires, a defeat will certainly end Wexford's chances of reaching the Leinster final. Fitzgerald is treating the game as an effective semi-final and is eagerly anticipating the arrival of Brian Cody's team. 
"We'll try and relax tonight and tomorrow we'll start thinking of that. Any time you play Kilkenny, you know what you get. We've beaten them twice this year and they're going to come absolutely flat out to beat us. I know that.
"The Leinster championship is going to go down to the wire. You could be out of it if results don't go your way. And we haven't lost a game yet. We just don't know what's going to happen.
"We're going to have to improve a bit on that tonight but we'll get ready and see what happens.   
"Effectively, it's a Leinster semi-final for us. We have to win to have any ambitions of playing in it, even though we haven't lost any games yet. Let's bring it on, it's going to be very entertaining next week.