This weekend the GAA's new and confusing list of ways that games can be decided will be seen in full for the first time.
If Donegal and Tyrone end level in their Ulster semi-final on Saturday it will go to two ten-minute periods of extra-time and if they still can't be separated a replay will be required.
Cavan and Armagh meet in their own Ulster semi-final replay on Sunday and if that finishes level after 20 minutes of extra-time, as it did last weekend, there will be a further two five-minute periods.
And if they're still level then, the game will go to penalties and there will be a 'winner on the day' as the GAA says in their fixtures.
The All-Ireland football qualifiers start this weekend too and they work to a different algorithm. If any of those games finish level after the 70 minutes, there's two ten minutes of extra-time and then it's straight to penalties.
All football qualifiers, from round one to four, and the two preliminary All-Ireland hurling quarter-finals will go to extra-time if they finish level. If two ten minute periods aren't enough to break the deadlock, it's straight to penalties.
Provincial hurling games can end in a draw as both competitions are played on a round-robin basis. Provincial football games up to and including semi-finals, will feature two ten-minute periods of extra-time before going to a replay if required.
Those replays would ten feature two ten minutes and two five minutes of extra-time should they be needed.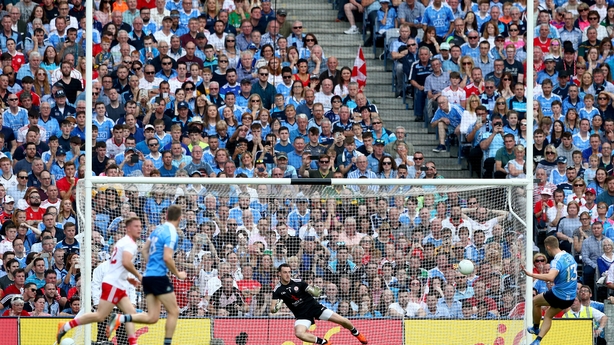 Provincial finals and All-Ireland finals are the only games that go straight to a replay if the teams finish level at 70 minutes, with no extra-time played.
A game-deciding free-taking competition was introduced to football and hurling last year, though the GAA changed that to penalties for 2019.
Once a game goes to penalties, each team has to nominate a goalkeeper, a substitute goalkeeper and five penalty takers – this goes for football and hurling. All of these players, bar the substitute keeper, must have been on the field at the end of extra-time.
If the goalkeeper is injured, he can be replaced by the substitute, but if the substitute is injured they can only be replaced by one of the five penalty takers.
The referee decides which end of the ground the penalty shoot-out will take place and the whistler can decide to switch to the opposite end if the surface becomes unplayable during the spot-kick competition.
The nominated takers will be allowed to stand between the 45 and 65 metre lines closest to the goal in use and everyone else, players and management, bar the match officials must leave the field.
The shoot-out is for goals only – points don't count, and a kick is considered to be over once a goal is scored, the ball stops moving, or it goes dead either over the bar or end line.
If the scores are level after each team's five takers has kicked their penalty, it goes to sudden death. Only the same five players can take sudden death spot kicks, though the order can be changed.